An eventful day at TPC Sawgrass kicked off the 2014 Players Championship, leaving the door wide open for the world's top golfers to seize the PGA Tour's unofficial fifth major.
Martin Kaymer stole the show on Thursday, earning a nine-under par on the day. Even more impressive, the 29-year-old shot a 29 during the first nine holes on the strength of seven birdies.
First back-nine 29 in THE PLAYERS Championship history. Your leader Martin Kaymer at -9 under after rd. 1 pic.twitter.com/TFuga7YCAW

— THE PLAYERS (@THEPLAYERSChamp) May 8, 2014
The sensational start puts Kaymer in the early lead, but victory is far from wrapped up with three rounds remaining. Many other competitors remain close on the trail after strong days of their own, so let's take a look at the leaderboard heading into Day 2.
Early Storylines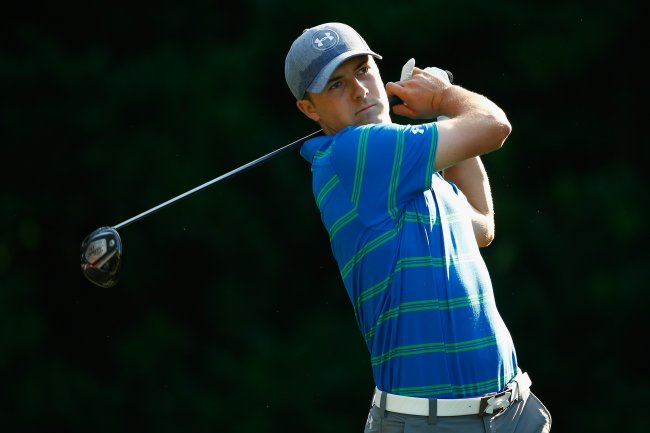 Sam Greenwood/Getty Images
Kaymer has the early edge, but The Players Championship is far from decided.
One of the hottest names in golf, Jordan Spieth, scored a 67 on the opening day. The 20-year-old looked comfortable in his first stab at the difficult course, settling in for a crowded tie at fourth place with several other golfers holding a five-under.
Per NBC's Kelly Tilghman, the rookie is not letting nerves from the grand stage overcome him, which bodes well for his ability to maintain his stroke throughout the weekend:
Jordan Spieth shoots 67 at Players then tells me he can't afford to have "pinch yourself" moments because you'll stop moving forward #gamer

— Kelly Tilghman (@KellyTilghmanGC) May 8, 2014
Fresh off winning a green jacket at the Masters, Bubba Watson shot a three-under, registering three bogeys during the day. He has traditionally struggled at TPC Sawgrass, finishing no better than 37th place in six tries.
He admitted that "me and the golf course don't see eye to eye" to USA Today's Steve DiMeglio, describing the venue as "mean":
When I look down No. 1 and No. 10, just to give you an example, it's hard to tell the fairway and the rough. It all kind of blends in together. I don't like to look at a tree and aim at a tree. I like to see the lay of the land and that's how I hit my shots. So it's very difficult when you look at a golf course like that. So it makes it difficult for me.

But the challenge is there. I'm on a streak. I made cut the last two years, so maybe a 36th this year and I get my best tournament (finish) ever here.
After a solid, yet unspectacular start, Watson has a chance to conquer his demons. He'll need to display more consistency over the final rounds if he wants to climb up the leaderboard in Ponte Vedra Beach.
On the other hand, Adam Scott has a giant deficit to erase after scoring a five-over to begin the tournament. He shot three double-bogeys, including two on the final two holes of the rigorous course.
After failing to replicate his 2013 Masters victory, Scott struggled early in Florida, sending balls into the water twice to sink his tally for the day:
The Gauntlet was unkind to '04 PLAYERS champ Adam Scott today. He found water on 17 and 18 to finish his round at 5-over 77. #pgatour

— PGA TOUR (@PGATOUR) May 8, 2014
Barring a sizzling run, he is no longer a viable candidate to climb into the PGA's No. 1 world ranking. He'll at least look to keep the ball on the green to avoid a larger collapse.