Tickets to the Steve Kerr-Phil Jackson reunion tour could be going on sale at any minute.
The New York Knicks aren't the only dog in the Kerr race, but they're reportedly the leader with the final turn approaching.
Update: Thursday, May 8 at 4:50 p.m. ET
Frank Isola of the New York Daily News reports that Kerr's preference is indeed the Knicks job.
Steve Kerr told a close friend late Wednesday that his preference is the Knicks. Who knows if that changes now that he's home in San Diego.

— Frank Isola (@FisolaNYDN) May 8, 2014
--End of update--
Original Text
"The Golden State Warriors are confident they have a strong chance to land Steve Kerr," ESPN New York's Ian Begley reported, "but the Knicks are still believed to be the favorites in the race to hire the TNT broadcaster."
The Warriors can scratch several of Kerr's itches.
He could stay close to his San Diego-based family. He'd inherit more usable roster pieces than the Knicks can offer. He has relationships with Warriors owner Joe Lacob, assistant general manager Kirk Lacob and team president Rick Welts.
Golden State can't give the Kerr the Zen Master, though.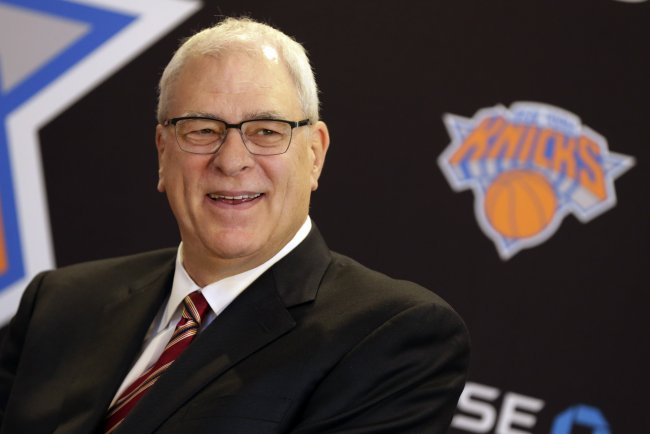 Richard Drew/Associated Press
That, more than anything, appears to be driving Kerr toward the Empire State.
"Unless something changes," a source told Begley, "the relationship with Jackson is a very big part of this, and that's the way it looks like it will go."
Mark Heisler of the Orange County Register had previously heard Kerr's West Coast ties would have the heaviest influence on his decision:
Scratch my Steve Kerr to #Knicks over #Warriors tab. Insider tells me it's likelier to be Warriors with daughter at Berkeley, fam in SDiego

— Mark Heisler (@MarkHeisler) May 7, 2014
Kerr has reportedly had contact with both the Knicks and the Warriors, although the latter reportedly has some concern its being used as leverage to work a deal with the former, the source told Begley.
Golden State has also contacted former Orlando Magic and Miami Heat coach Stan Van Gundy, Marc J. Spears of Yahoo! Sports reported.
At least one scribe has wondered aloud whether that means Kerr has already made his decision:
With the Warriors contacting Stan Van Gundy that could mean Steve Kerr turned them down?

— Frank Isola (@FisolaNYDN) May 8, 2014
Maybe Kerr has decided his future, or perhaps he's still having those conversations.
This much at least seems clear—he's a wanted man in this industry. ESPN's Stephen A. Smith can't figure out why that's the case:
No one should have a problem with being a leading candidate for "a" coaching job.

...

But that would be 'a' job. As in one job. Not two jobs. Or three. Or four, depending on what reports you believe. For any individual with Kerr's lack of experience to have that many opportunities laid at their doorstep, it begs the question: 'What the hell has Steve Kerr done to deserve multiple dabs at the cookie jar?'
Perhaps this level of interest has less to do with Kerr and more to do with the changing landscape of basketball coaching.
Which team will Steve Kerr coach next season?
Experience is no longer a necessary section of the resume. Mark Jackson and Doc Rivers both jumped from the broadcast booth into the coach's chair. Jason Kidd was weeks removed from his playing career when he took over the Brooklyn Nets.
"I think it allows people to look a little broader than they once did," Nets general manager Billy King said, via Bleacher Report's Howard Beck.
Whatever Kerr is doing to build his stock, he seems to be doing it right. The Knicks aren't his only suitor, but they hold the trump card in Jackson.
Maybe the only holdup at this point is finalizing the travel details for this reunion tour. Well, that or trying to explain to Knicks owner James Dolan why JD and the Straight Shot can't come along for the ride.