The list of names in line to replace Mike D'Antoni as head coach of the Los Angeles Lakers shortened a bit on Monday, and not because the Purple and Gold found their man.
According to Bleacher Report's Howard Beck, Derek Fisher will be taking Mike Woodson's vacated spot on the bench of the New York Knicks.
Derek Fisher has decided to accept the Knicks' head coaching position, per source.

— Howard Beck (@HowardBeck) June 9, 2014
Per Beck, Fisher, who won five titles in L.A., figures to fill his staff with other former Phil Jackson confidants, including Lakers assistant Kurt Rambis.
Fisher's staff is very likely to include Kurt Rambis. Others in mix: Rick Fox, Luke Walton, Bill Cartwright.

— Howard Beck (@HowardBeck) June 9, 2014
Rambis interviewed for the Lakers' top job, but never appeared to be a leading candidate in their search. Fisher didn't even have that chance, though Yahoo Sports' Adrian Wojnarowski was among those who insisted he should've.
Frankly, Fisher probably wouldn't have gotten it this time anyhow. As the Los Angeles Times' Mike Bresnahan noted:
The Lakers think Fisher will be a solid NBA coach or executive at some point, but their initial curiosity about him has been replaced by a desire for actual experience, the latest turn in a deliberately slow coaching search approaching the six-week mark.
In truth, then, Fisher's decision to begin his coaching career under the watchful eye of the Zen Master—and take Rambis with him—doesn't change much for the Lakers. Their aim all along has been to find an experienced steward for their franchise, with Fisher's potential return looming as a remote possibility.
"I have to say we're leaning toward the type of the coach we would want (and) I would say there would be experience involved, certainly on some level, but not necessarily," GM Mitch Kupchak told reporters during a recent conference call (via USA Today's Sam Amick). "There's no urgency right now, so it will be a more deliberate process."
That process has already included a number of known quantities.
George Karl
George Karl got his foot in the door fairly early, thanks to his longstanding relationship with Kupchak. The two were roommates when they were in school at North Carolina, where they played for the legendary Dean Smith.
More importantly, Karl is about as experienced of a coach as the Lakers will find. He's the sixth-winningest coach in NBA history, with 1,131 regular-season victories—and 80 in the playoffs—piled up over the course of his 25 seasons with the Cleveland Cavaliers, the Golden State Warriors, the Seattle SuperSonics, the Milwaukee Bucks and the Denver Nuggets. Only three times have Karl's teams missed the postseason, though his Nuggets managed to advance past the first round just once in nine tries.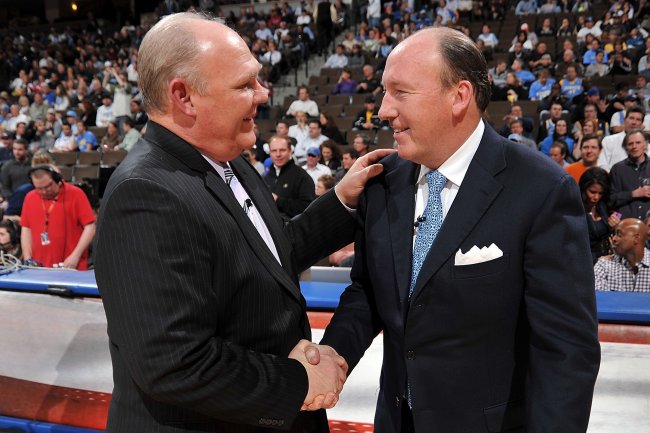 Garrett Ellwood/Getty Images
Mike Dunleavy
Mike Dunleavy Sr. was also among the first to interview with the Lakers about their empty gig. Dunleavy comes equipped with 17 seasons as a sideline minder in the NBA, including two with the Lakers—one of which ended in the 1991 NBA Finals—at the tail end of Magic Johnson's career.
Though Dunleavy's an old hand in the coaching business who's held in high esteem for his creativity on the offensive end, his recent track record isn't exactly the sort that excites. His seven seasons with the Los Angeles Clippers featured just one playoff appearance amidst a regular-season record of 215-326 (.397 winning percentage) for the Lakers' Staples Center co-tenants.
Alvin Gentry
The Purple and Gold might poach another coach more directly from the Clippers' bench. Alvin Gentry, who spent last season on Doc Rivers' staff, was the latest to talk shop with the Lakers. He considered teaming up again with D'Antoni prior to the 2013-14 season, after having served as an assistant for the "Seven Seconds or Less" Phoenix Suns.
Gentry is as well-traveled as just about any "retread" on the coaching market. He's been the head man for the Miami Heat, the Detroit Pistons, the Clippers and the Suns, most notably leading Steve Nash and company to the Western Conference Finals against the Lakers in 2010. Per The Los Angeles Times' Broderick Turner:
The Lakers became more interested in talking with Gentry after speaking with several coaches and executives who raved about Gentry's offensive philosophy, according to one executive.

Gentry, the offensive coach for the Clippers, was credited with helping the Clippers become the top-scoring team in the NBA during the regular season.
Lionel Hollins
Offense would hardly seem the chief consideration in the Lakers' courtship of Lionel Hollins. According to NBA.com, his Memphis Grizzlies never ranked higher than 16th in offensive efficiency during his four full seasons on duty in the River City.
But scoring isn't L.A.'s only concern, and it's the other item of note on the team's agenda—defense—at which Hollins' squads have excelled. The Grizzlies were among the 10 best defensive teams in the NBA during Hollins' last three seasons in Memphis and were once again an elite outfit on that end in 2013-14, thanks in large part to an established infrastructure that Dave Joerger kept in place.
Per Woj, Hollins' defensive credentials and success with the Grizzlies could appeal to one particularly important constituent:
Hollins' history of strong defensive preparation and results, as well as a serious-minded leadership style, assuredly will appeal to Lakers star Kobe Bryant. Like Lakers management, Bryant is hopeful of the team finding a proven head coach with a winning track record.
Byron Scott
Then again, if making the Black Mamba happy is a significant factor in the Lakers' coaching equation, they might as well hand the job to Byron Scott. He's the only candidate of the five remaining who's played with Bryant; the two were teammates during Bryant's rookie season in 1996-97.
"I think the Kobe relationship is going to play a big part," Scott told USA Today's Sam Amick. "Again, I think I've got a hand up on (the job) because of our relationship. We get along extremely well. Kobe knows all about me and what I'm about. He knows that I'm an old-school coach who's very demanding on the defensive end and knows that defense and rebounding wins championships, so I think from that point of view we see eye to eye."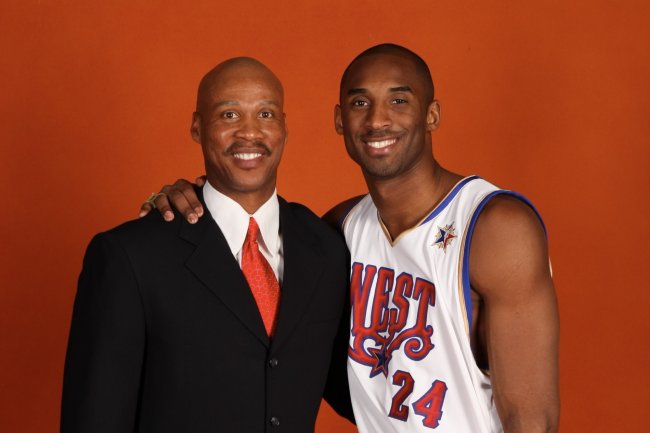 Gary Dineen/Getty Images
So, too, do the Lakers. They know Scott well from his days as a key component of the "Showtime" Lakers in the 1980s and as an analyst on the team's TV network this past season. Scott was close with the late Dr. Jerry Buss, whose children—most notably Jim and Jeanie—now run the organization. Had Scott not signed on for his ill-fated stint with the Cleveland Cavaliers in 2010, he may well have been the Buss family's first choice to replace Phil Jackson in 2011.
Who do you think the Lakers should hire?
As far as coaching accomplishments are concerned, Scott's resume is nothing to sneeze at. He guided the New Jersey Nets to back-to-back Eastern Conference crowns in 2002 and 2003 and had the New Orleans Hornets within one win of the Western Conference Finals in 2008.
Hence, if the Lakers are keen to hire someone who's familiar with both the franchise itself and the day-to-day duties of being a head coach—and who's fared well in both capacities—they couldn't do much better than bring Byron Scott aboard in that capacity.
At present, though, there's no indication that Scott is the Lakers' primary target. Nor is there any hint that the team is done interviewing prospective hires. According to USA Today, the Lakers' job, which D'Antoni vacated at the end of April, could be open for weeks longer, with an eye toward luring a superstar free agent or two—ideally, LeBron James and/or Carmelo Anthony—to L.A. should they opt out of their current contracts before July.
The Lakers can only hope that neither one has Derek Fisher atop his wish list.
Follow me for all the latest news and views on the Lakers' coaching search!