The NFL's Top 20 Quarterbacks For 2009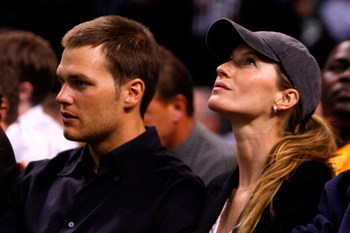 So the 2009 NFL season is approaching.
Yes I know, I can't wait either. Just two months, right?
Here's a countdown of the top 20 quarterbacks in the NFL at the present time.
Note: these rankings are largely based off of 2008. After all, the NFL is a, "what have you done for me lately," league.
That is not to say every QB who had a down year in 2008 will be thrown to the wolves, but that a QB who may have impressed in 2005 but has been average the last three seasons is not going to be regarded very highly.
Although history does count to an extent.
20. Matt Cassel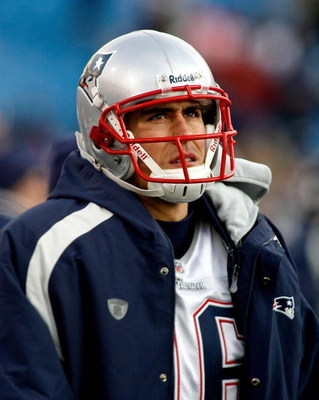 Although I expect Cassel to flop for the Chiefs in 2009, he is good enough for this spot based off his 2008 regular season numbers, although it would have been nice to see what he could have done in the playoffs.
19. Kerry Collins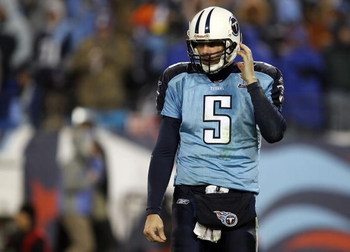 After doing nothing for the Titans in 2006 and 2007, Collins stepped into the spotlight in 2008, leading a Tennessee squad known for its run game and shutdown defense.
Well, the Titans lost a big part of their defense, but the run game is still there. Collins will try to limit his mistakes, and that's all you can ask from a game manager.
18. Jake Delhomme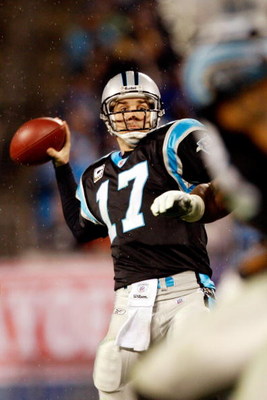 No doubt the man can win in the playoffs, but it's been a bit of a dry stretch as of late. Throwing five interceptions in a playoff game at home will not gain you much praise, either.
After a mediocre 2006 season and an injury bug in 2007, Delhomme was able to lead his team to a division title and 12-4 record.
Offensively he has Steve Smith to rely on, and that's basically his plan. DeAngelo Williams was a monster weapon for the Panthers in 2008 so Delhomme had the pressure off his shoulders.
However, he is not a great statistical QB and will be 34 coming into 2009 with that playoff game to forget.
17. Matt Ryan
The 2008 season was one for rookie QBs—the good kind—and Ryan stepped into the role of replacing Michael Vick quite well.
His offensive line did its job and Ryan was able to make use of his WRs as best he could. He was able to lead the team to a playoff berth, and what more can you ask from a rookie QB on a team coming off a bad season?
Statistically, he has room to improve, but he can do his job winning in the regular season for now.
16. Joe Flacco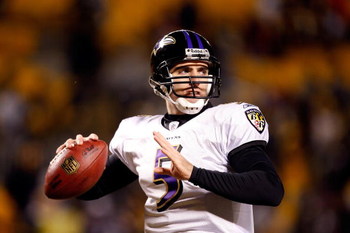 When you become the first rookie QB to go 2-0 in the playoffs, you can claim glory.
In actuality, Flacco is just a decent QB who makes his throws when he has to and does enough to manage the game. He can only get better, but he is not the gem some are trying to make him out to be.
The Ravens constitute a great defense and a good running game, so all Flacco has to do is limit his mistakes. In his 16 starts he managed to only throw 12 interceptions—damn good for a rookie QB—and he did win two playoff games, giving him the advantage over Matt Ryan.
15. Carson Palmer
Since 2005, Palmer has declined.
He was a top five QB in 2005 and lead the Bengals to a divisional title, and were it not for getting injured, he may have won that playoff game against the NFL Champion Steelers.
Despite not making the playoffs the last three seasons, in his healthy 2006 and 2007 seasons, he threw for over 4,000 yards as well as 26 and 28 TD passes, respectively.
In 2008, however, Palmer was sidelined by injury again. In his four starts he went 0-4 due to the lack of quality on his team. He threw for 731 yards and three touchdowns with four interceptions.
I expect him to make a comeback, and when healthy, he still is a top-tier QB
14. Jeff Garcia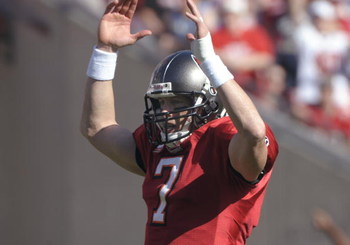 Is Jeff Garcia going to be 39 years old in 2009, yes.
The journeyman QB will be battling Jamarcus Russell for a starting job on his sixth team.
With all due respect, Garcia is past his prime, although we're not sure when that was.
He is still a perfect example of the low risk QB in terms of turning the ball over. Garcia has not thrown for more than six interceptions the last three seasons, albeit not starting more than 13 games.
What cannot be ignored, however, is his low touchdown totals. He did throw ten touchdowns in only six starts for the Eagles in 2006, but he only threw 13 touchdowns in 13 starts in 2007 and 12 touchdowns in 11 starts last season.
The best part about Garcia is at 39 he can still run—the guy averaged 4.2 yards an attempt on 35 rushes.
13. Jay Cutler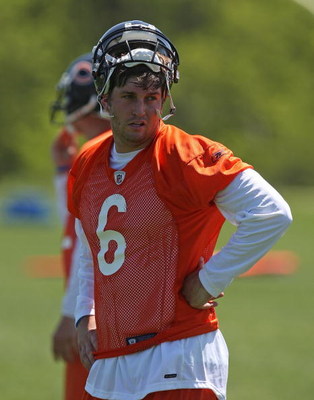 Would I sound like a broken record if I stated Cutler is overrated?
I was in the minority when I stated, way back when, that Cutler would have a hard time surpassing Plummer's success. After all, I was a mild fan of "Jake The Snake" when he beat the Cowboys as a Cardinal in 1998, when the Cardinals hadn't won in decades.
Since taking over, Cutler has gone 17-20 in the regular season, and hasn't helped the Broncos make the playoffs.
This might not seem fair to judge, but consider in 2005 and 2008 Denver was in a very good position to make the playoffs and missed the postseason in the last game of the regular season. In both games the Broncos controlled their own destiny and were in a "win and you're in" scenario.
Statistically, Cutler had the third most passing yards in the 2008 regular season, and threw 25 touchdowns.
But stats are not everything, and the fact remains, Cutler is a perennial loser until he proves otherwise.
12. Eli Manning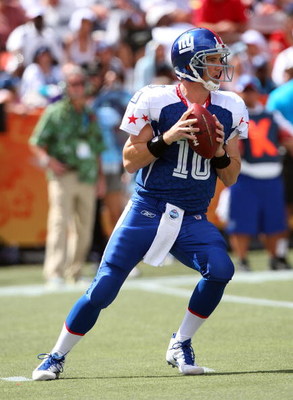 Okay, so you win a Super Bowl as a starter and you get automatic respect, I'm fine with that. Eli Manning also made the Pro Bowl for his statistical accomplishments in 2008, and helped his team to a 12-4 record.
Something to keep in mind, however, is in his four playoff appearances, only once has Eli managed to register a win, and he registered four in 2007.
He is a top 20 QB, but has to work to get into the top ten.
11. Brett Favre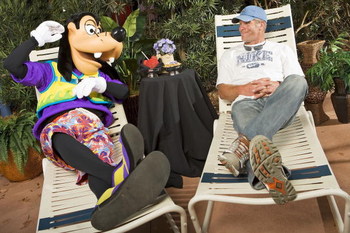 Yes, he is coming back.
Fool me once shame on you, fool me twice shame on me. Did we not learn this from Jordan?
Whether you love or hate his 22 touchdown, 22 interception performance last season, he did have the Jets on the cusp of getting a BYE week. I for one look at his injury as the main reason for the late season struggles.
When healthy, the man can still do it. I only put him at No. 11 because we don't know how healthy he will be and for how long, and he isn't at the elite level he was two seasons ago.
Although I hope you all will recall at Week 12 of the 2008 season when the Jets were coming off victories over the Patriots and undefeated Titans, there were no shortage of analysts picking Favre as a possible league MVP.
10. Chad Pennington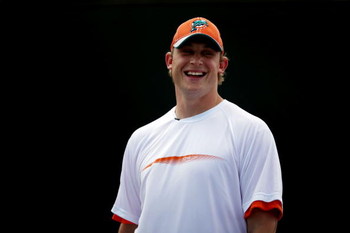 Of course everyone following the NFL knows Pennington has a girl's arm, and his career NFL record completion percentage is due to a West Coast-style offense made up of a lot of short passes.
Still, he does his job, limits his mistakes, and did help get a 1-15 team to 11-5 and a divisional title. Even though he lacks sufficient playoff success, as of 2009, he is a top ten QB.
9. Tony Romo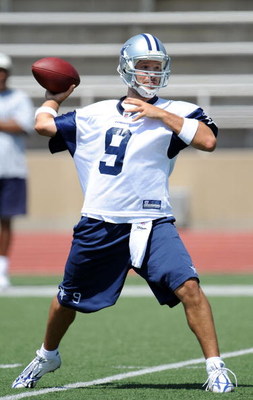 Yes, two playoff losses that should have been wins is not great. And we all know Romo can be held responsible for losing at least one of those games on his own.
However, he is a stat giant, and in the regular season he does help his team win.
Everyone should remember that Baltimore loss and shake their heads at the Cowboys defense, because if they had won, they would have made the playoffs.
Romo, against the vaunted Ravens defense, lead two long touchdown drives late in the 4th quarter, only to have his defense twice allow a long touchdown run on the first offensive play by the Ravens.
Watching that game confirms Romo is not the horrible choker some have labeled him. He has his uses and would make many teams better with his presence. Yet he can lose important games much the same, hence him being No. 9 and not higher.
8. Aaron Rodgers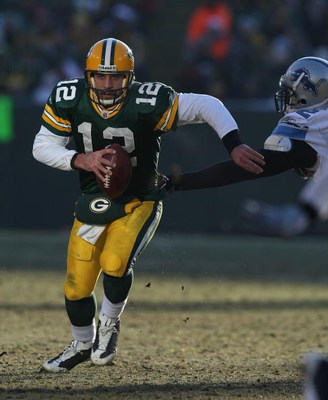 True, his team finished 6-10. Also true, he's only put up one year of play.
Statistically, however, you cannot ignore his numbers, and you must ask yourself how many of his team's losses were on the shoulders of that defense?
He also has a run game, always a positive for a QB.
7. Ben Roethlisberger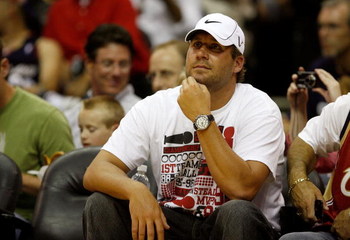 As a doubter myself of Big Ben, considering his Super Bowl XL performance, I turned my head at his statistic accomplishments of 2007, and then he went back to his old form.
However, I saw what I needed to see in that game-winning drive of Super Bowl XLIII. Roethlisberger is a winner, and if you judge him by his stats you need to watch more games; few QBs have to compensate for their lack of an offensive line like this guy.
Yet 51-20 in the regular season doesn't lie. His defense is reliable, but without Roethlisberger the Steelers would not score many points on offense, period.
6. Donovan McNabb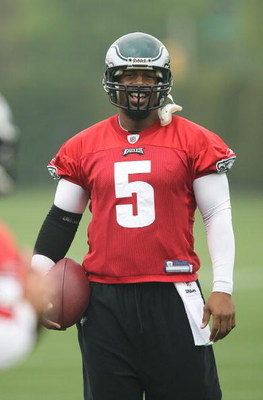 The QB with the best career TD-INT Ratio in NFL history deserves a top ten spot by default.
What puts him at the No. 6 spot is last season's playoff surge. He was able to lead his team to the playoff despite early season failures and two playoff wins to a close playoff loss in the Conference Championship.
With improvements on the offensive line and more experienced, promising, young WRs, McNabb can only improve on his 2008 success, including his 21 touchdown passes.
5. Peyton Manning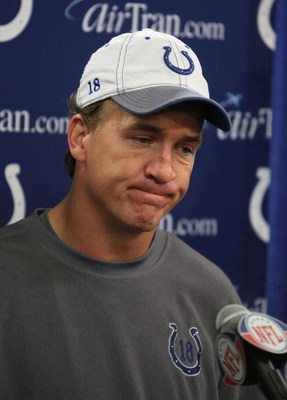 The Associated Press sometimes gets the MVP Award wrong—which is why I follow the Bert Bell Award more—and the 2008 winner was Adrian Peterson.
Peyton Manning has solidified himself as one of the game's all time regular season stat giants, and also an iconic playoff under performer.
Warren Moon went 3-9 in playoff games started and holds the dubious record of greatest playoff choker for the QB position, but in his defense, he seldom had great teams around him.
This is not the story of Peyton Manning, and yet he's gone one-and-done in the postseason on seven occasions.
Peyton Manning lead the league in no category but was able to get his team a wild card spot at 11-5, mostly on beating low-caliber teams.
4. Kurt Warner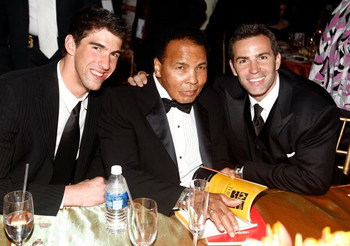 If you are curious about Super Bowl records, you may want to take a look at the single game passing yards record.
No. 1 is Kurt Warner with 414 yards.
No. 2 is also Kurt Warner, and to top it off, No. 3 is also Kurt Warner.
Despite playing one less Super Bowl game than Montana, Warner also holds the all-time accumulative passing yards record in the Super Bowl.
His 8-3 playoff record is a showcase of his greatness; note his three playoff losses have seen his team lose by three, three, and four points, respectively. He threw for no less than 365 yards in all of those losses.
In two Super Bowl losses he rallied his team back from 14 and 16 point deficits, to have the defense fail him.
Although aged 38 years coming into the 2009 NFL season, Warner is an elite veteran who still has much to offer for the next few seasons.
3. Philip Rivers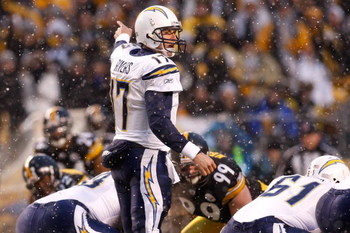 Rivers did not make the 2008 Pro Bowl, and that means nothing.
Not only did Rivers tie the league lead in touchdowns and have the highest QB rating, he lead his team back from the dead to win the division and a playoff game; even though the defense played poorly most of the season.
Rivers does not make many mistakes, and if the defense holds up he should lead the Chargers to the playoffs for a fourth time in a row.
Oh, and his divisional playoff loss saw him lose to the eventual Super Bowl Champion Steelers.
2. Tom Brady
The greatest QB of his generation, regardless of his absence last season due to injury, cannot be put lower than No. 2, and believe me I make a case for the No. 1.
Brady had arguably the greatest single season by a QB in 2007 ever, leading the league and single season record books with 50 touchdown passes and only eight interceptions with a league high completion percentage. Most importantly, his team went 18-0 before losing in the big game.
He was also named league MVP.
1. Drew Brees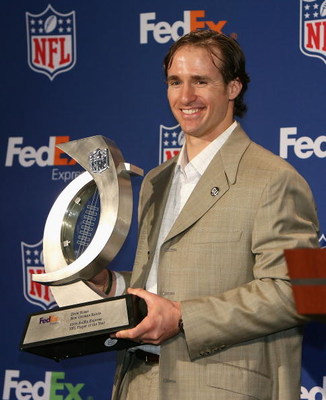 Judge me all you want, but I cannot in all fairness put a QB at the top spot when he played three-quarters of the previous season.
Yes, Brady has history on his side, but try to keep in mind QBs coming back from injury are always question marks.
Of course I understand what happened when Montana came back from his injury—he won two Super Bowls and two League MVPs. However, you cannot make that the default expectation. Brees has proven himself the last three seasons.
If you haven't been following, Brees has quietly made himself into the Marino of his generation.
Just like Marino, he is a great player with amazing stats who has a hard time winning due to a poor team around him.
If you are fuming at my comparison of Brees to Marino, consider they are the only two QBs in NFL history to have three 4,400+ yard seasons. Brees was the first to accomplish the feat in three consecutive years.
Also, consider Brees has thrown for 24 touchdowns or more in the last five seasons as well.
He has also not missed a start since 2003.
To recap, in 2008 Brees lead the league in completions, yards, and tied in touchdowns, accounting for 90% of his team's offense.
My Apoliogies to....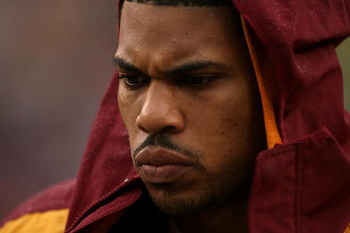 Jason Campbell.
In all honesty he could have been one of the QBs from 20-16, but I decided against it on account of his limited value to his team and them finishing 8-8 last season.
Keep Reading