By and large, WWE Extreme Rules 2014 was a great pay-per-view event that saw The Shield and Daniel Bryan overcome significant opposition, Bray Wyatt conquer John Cena inside a steel cage with a little help from a friend and the youth movement in WWE continued as Paige and Alexander Rusev collected big wins in their pay-per-view debuts.
While the event featured some great moments and one extraordinary match, it also included a few head-scratching booking decisions.
Whether it was the competitors in a given match or the decision to leave a match off the event, poor decisions still stood out among all the satisfying moments on Sunday night's show.
Here's a look at a few of those moments.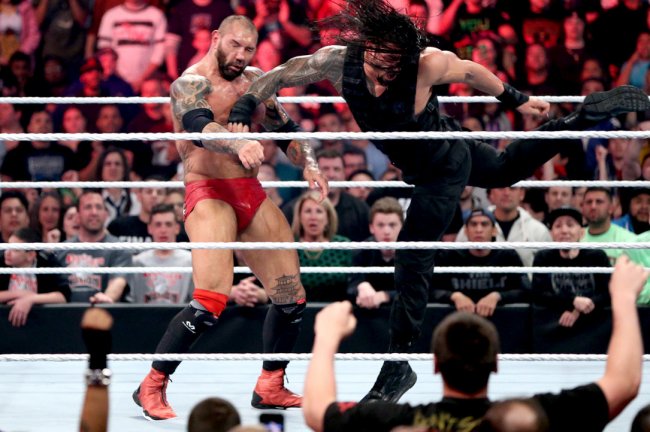 Credit: WWE.com
Batista takes the pin
There is no way The Animal's return to WWE has been what he thought it would be when he agreed to make a comeback after four years out of the spotlight. He has been booed by fans, despite doing nothing wrong at first, and was booked to tap out to Daniel Bryan at WrestleMania XXX.
Sunday night, he again found himself on the receiving end of a loss, courtesy of second-generation star Roman Reigns and The Shield.
Reigns scoring the pinfall over Batista made perfect sense given the fact that it was The Animal who eliminated him to win the Royal Rumble match back in January, thus giving him a measure of revenge. However, it was still a mistake to book Batista to drop another match this close to him leaving to promote the Guardians of the Galaxy.
The poor booking of the former WWE and World Heavyweight champion to this point has to have him questioning his desire to return to the company after he finishes up promoting his film. After all, the company has done nothing to really make him stand out from everyone else, and the number of losses he has been on the receiving end of never would have happened to other part-time competitors returning from Hollywood.
The match order
The way a card is laid out can help or hinder the crowd reaction to a given match. Sunday, WWE learned the hard way as they took the most anticipated match of the night, The Shield vs. Evolution, and put it midway through the card. They then watched as the crowd fell largely silent for John Cena vs. Bray Wyatt in a steel cage and really failed to get back into Daniel Bryan vs. Kane until late in the bout.
Given the hype and build that went into Shield-Evolution, and the fact that the babyfaces went over, it is a wonder that the company did not put that match in the show's closing position. There really was no reason not to.
Sure, Bryan and Kane had the flaming tables spot, but the match was hardly better than the outstanding performances of the six men involved in the match of the night. Same, to a much larger extent, can be said for Cena vs. Wyatt.
With stuff like the Handicap match featuring Alexander Rusev and the Intercontinental Championship match between Bad News Barrett and Big E, there was plenty of buffer material to place between the big three main events to better separate them and ensure better heat for each match.
Usually, WWE is excellent at pacing and composing a card. Sunday night was a rare exception.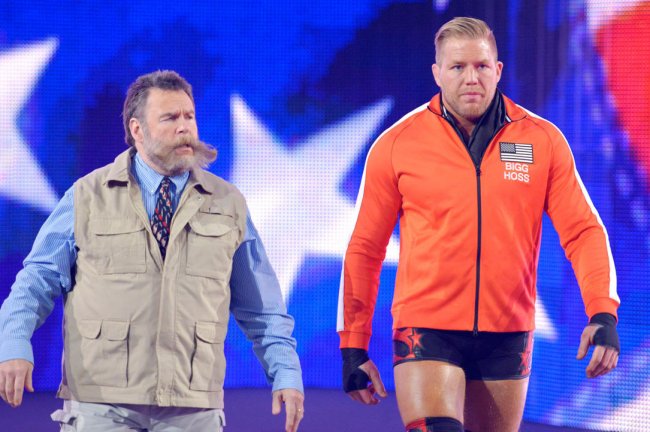 Credit: WWE.com
Jack Swagger's involvement in the Triple Threat match
Jack Swagger lost to Rob Van Dam twice leading into Extreme Rules. He also lost to Cesaro twice prior to the event. So imagine this writer's surprise (or lack thereof, honestly) when he was the first man eliminated from Sunday's Triple Threat match involving those two competitors and himself.
If there were never any plans to actually portray Swagger as any kind of threat to Cesaro or Van Dam Sunday night, why was he even in the match? Yes, he is accompanied by Zeb Colter, who still has unfinished business with Paul Heyman, but there was no settling of business, no physical altercation between the managers and no real, legitimate threat from Swagger to either of his opponents.
With the elimination stipulation, it was not even as though he could eat a pinfall to save either Van Dam or Cesaro's face.
The entire booking made little sense and only served to further damage Swagger, who will likely fall back into obscurity post-Real Americans and post-WrestleMania.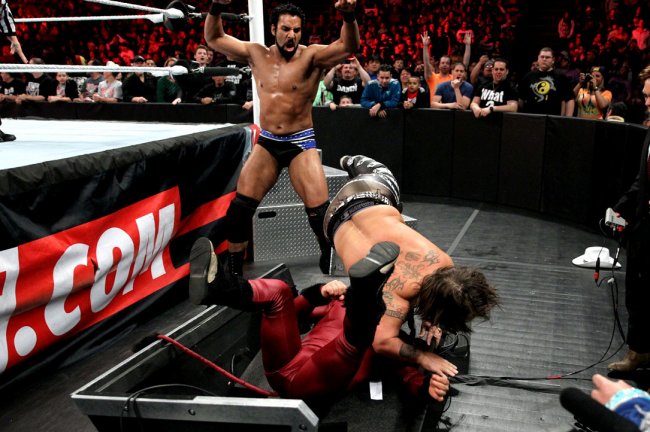 Credit: WWE.com
Leaving Wee-LC off the show (yes, really)
If someone would have said that the Wee-LC match from Extreme Rules between comedy figures Hornswoggle and El Torito would be one of the funnest, most entertaining and satisfying matches of 2014, they likely would have been greeted with harsh criticism. Yet, nearly 12 hours removed from the event, that is exactly what it was.
With fun high spots involving the competitors, nasty bumps from the likes of Heath Slater and Drew McIntyre and fun interactions between commentators JBL, Michael Cole and Jerry Lawler plus their smaller clones at ringside, the overall production was handled perfectly and got the show off to a hot start.
So much so that it should have been included on the main pay-per-view telecast.
Rob Van Dam vs. Cesaro vs. Jack Swagger was a competently wrestled match and picked up towards the end, but it could have easily have been relegated to the pre-show in favor of the gimmick match that was better and had the East Rutherford fans invested.
If you missed the WWE kickoff show, track it down and check out one of the most surprisingly enjoyable matches of the year, a match in which everyone worked very hard and the end result was indicative of it.
Tremendous stuff from all involved.