Twitter had a key part to play in the confirmation of David Moyes' sacking as Manchester United manager. With unconfirmed reports of the Scottish manager's departure flooding the social media platform on Monday, United confirmed the news with a brief statement on Tuesday.
Moyes has broken his silence with a response through the League Managers Association, as reported by BBC 606:
Full statement from David Moyes. #MUFC pic.twitter.com/qalRIXkSr7

— BBC 606 (@bbc606) April 23, 2014
LMA chief executive Richard Bevan called Moyes' sacking "unprofessional" due to Twitter revealing the news before the axed boss had spoken to United, per Sky Sports. Of course, Moyes' statement has produced quite a reaction online, and the footballing world continues to react to yet another seismic shift at Old Trafford.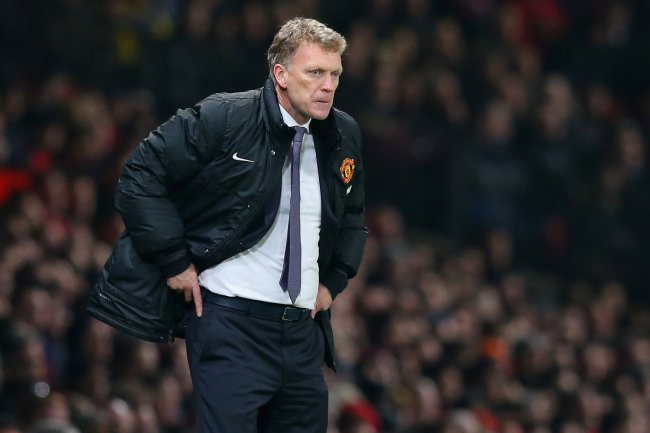 Alex Livesey/Getty Images
Tony Barrett of The Times summed up a feeling of class around Moyes' release, signalling the truth behind his dismissal is yet to appear:
That's a very classy statement from David Moyes. Pitched it exactly right.

— Tony Barrett (@TonyBarretTimes) April 23, 2014
Moyes decided against thanking the players in his statement, despite focusing on his coaching staff and others at the club. Reports of a disjointed relationship with many of United's stars continue to surface, per Jack De Menezes of The Independent, forcing a curious reaction on Twitter.
Sam Wallace of The Independent led the way, suggesting Moyes' relationship with the United squad was less than amicable:
Barely a mention of United players in Moyes' statement. Presumably on basis that if you can't say something nice, don't say anything at all

— Sam Wallace (@SamWallaceIndy) April 23, 2014
Oliver Kay of The Times indicates both United's players and Moyes have dirt to dish out on each other:
If Moyes ever goes public with true thoughts on Utd players' efforts, he'll be absolutely damning. So would they about him, mind you ... .

— Oliver Kay (@OliverKayTimes) April 23, 2014
Daniel Taylor of The Guardian suggests Bevan's annoyance toward United shows double standards considering the way in which Moyes was hired:
Did the LMA criticise Sir Alex Ferguson, one of their own, for "unprofessional manner" in which he recruited Moyes behind Everton's back?

— Daniel Taylor (@DTguardian) April 23, 2014
Ferguson tapped up Moyes and told him he had a new job - admitted by all - two days before Everton played a Merseyside derby

— Daniel Taylor (@DTguardian) April 23, 2014
A large majority of reaction has centred on feeling sorry for Moyes, but Darren Richman, freelance writer for The Guardian, Daily Mirror and FourFourTwo, believes this highlights why he wasn't the right man for the job:
It's impossible to imagine anyone ever feeling sorry for Ferguson and that's why Moyes just wasn't cut out to be United manager.

— Darren Richman (@darrenrichman) April 23, 2014
James Ducker of The Times also says Moyes' statement highlighted his shortcomings and lack of ambition as United boss:
Moyes statement very dignified but the line about being "proud" of guiding #MUFC to CL 1/4 finals rather sums his reign up for me

— James Ducker (@DuckerTheTimes) April 23, 2014
Fresh reaction continues to appear across the social media spectrum as United and their fans get used to life after Moyes. Ultimately, the former Everton boss failed to stamp his authority over a squad that needs a strong, almost impenetrable leader.
Louis van Gaal, Laurent Blanc and Carlo Ancelotti are amongst the favourites to replace Moyes, reported by Phil McNulty of BBC Sport. His successor will need to bring fresh ideas, an attacking attitude and winning mentality to a job that is up there with the most difficult in football.
While Moyes remains dignified after receiving his marching orders, it seems the complete truth behind his exit is yet to be revealed.