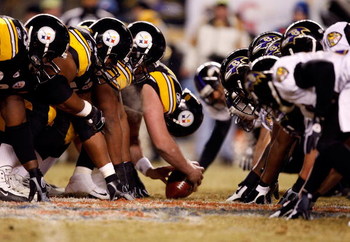 This is the first installment of my All-Division teams for the past 2008 season. It's a little late, but I got caught up with writing about the drama int the offseason. I decided to go with my home division for the first one. The three main coaches will be in this too; Head Coach, Offensive Coordinator, and Defensive Coordinator.
This team is dominated by the Steelers and Ravens, but the Browns and Bengals do make some appearances. If you feel I am being too bias to one team, please let me know so I may avoid doing that in the next installment and next years AFC North Team.
*This includes players who left their respective teams, during the 2009 offseason*
Head Coach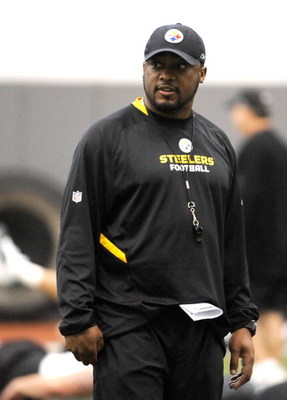 Mike Tomlin, Pittsburgh Steelers
When Tomlin was first hired, people speculated that he was only chosen because of the "Rooney Rule." But I say nay.
Tomlin posted a 10-6 record in his first year, followed by a 12-4 record his second. Top that with two division titles, conference title, and a Super Bowl victory. Tomlin has proved that a young coach can play with the big boys and win.
Second Team: John Harbaugh, Baltimore Ravens
Honorable Mention: Marvin Lewis, Cincinnati Bengals
Defensive Coordinator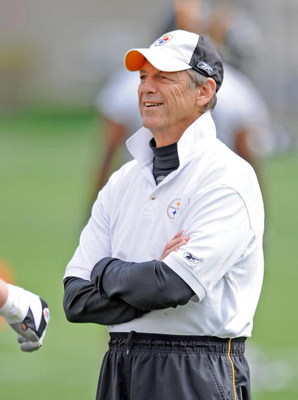 Dick LeBeau, Steelers
One of the oldest coaches in the game, LeBeau has spearheaded some of the best defenses in recent years. He isn't showing any sign of giving up either. 2008 was arguably his best year. He is the mastermind behind the "zone blitz."
Second Team: Rex Ryan, Ravens
H.M: Rob Ryan: Browns
Offensive Coordinator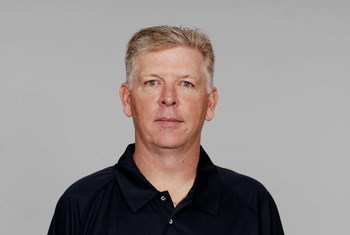 Cam Cameron, Baltimore Ravens
Cameron bounced back nicely from his 1-15 fiasco in Miami. He is know as the "Magic Man" in Baltimore. His offensive playbook is filled with trick plays the opposing defense will never see coming. Expect even more trickery in 2009, along with great things for the Ravens.
Second Team: Bruce Arians, Steelers
H.M: Bob Bratkowski, Bengals
Quarterback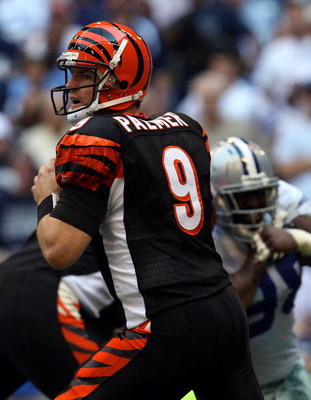 Carson Palmer, Bengals
This was tough. Ben Roethlisberger is a great quarterback. But a healthy Carson Palmer is a top five QB, and blows Big Ben into the dirt. We've seen him do great things. A two-time Pro Bowler, Palmer has an arm like a howitzer, and the speed of a cheetah. The only bad thing about him is that his endurance is comparable to that of a small kitten.
Second Team: Ben Roethlisberger, Steelers. Easy pick, two Super Bowl rings and a clutch QB in the fourth quarter speaks for itself.
H.M: Joe Flacco, Ravens: A surprise rookie nearly identical to Roethlisberger. Strong arm and a good scrambler.
Running Back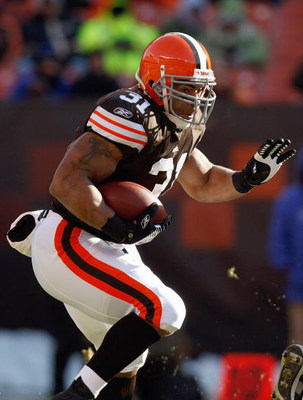 Jamal Lewis, Browns.
Believe me when I say that Lewis still has gas left in the tank. He managed to surpass 1,000 yards. No big deal right? Wrong—Lewis had a very mediocre O-Line and a poor offense around him, yet he still managed to dominate. Something Ray Rice or Willis McGahee couldn't do with a strong O-Line.
Second Team: Willie Parker, Steelers. Parker had a lot of weight on his shoulders once Rashard Mendenhall got put on the I.R. It didn't affect him as he performed great in the regular season, and even better in the postseason
H.M: Ray Rice, Ravens. Regarded as the hero of Rutgers football, Rice is one of the smallest and fastest in the league. Get him alone on the outside and he is gone.
Fullback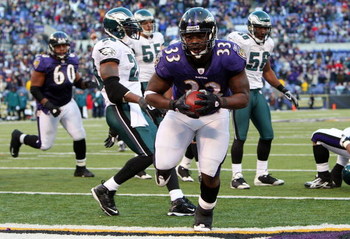 Le'ron McClain, Ravens
How often do you see a fullback come 40 yards short of 1,000 yards and get 10 touchdowns? Not very often, but if you watched McClain last year, you saw it. His most famous run was the 82-yard run straight through the Cowboy defense, putting Texas Stadium to bed with the longest run in the stadium's history.
2nd team: Charles Alli, Browns. Aside from Jamal Lewis, he looked like a bright spot in the Browns dark season
H.M: Carey Davis, Steelers. Was a key component in the Steelers smash-mouth rushing attack.
Tight End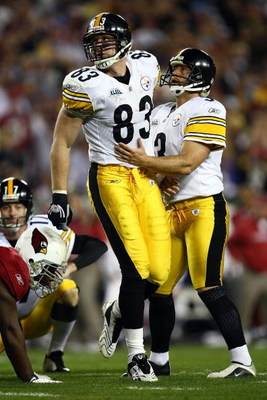 Heath Miller, Steelers.
Heath Miller was at his best during the AFC Championship game—after Hines Ward was knocked out of the game. He is a good blocker, and great catcher, and has amazing speed for a person his size.
2nd Team: Todd Heap, Ravens. Heap didn't have that good of a season, but still remained the number-two TE in the North, which isn't well know for their TE's
H.M: Daniel Wilcox, Ravens: More well know for his touchdown celebrations than his touchdowns, Wilcox did an adequate job picking up Heap's slack.
Wide Reciver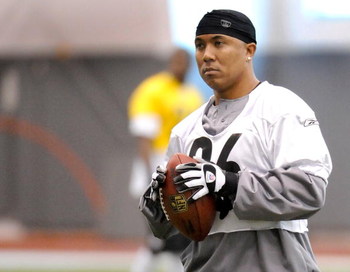 Hines Ward, Steelers.
One of the most physical wide receivers in the game, Hines Ward makes sure that the defensive backs have their eyes peeled when he's in the play. Just ask Kieth Rivers and Ed Reed. Both are known for knocking out wide receivers, but this time, it was the receiver who did the hitting. The Super Bowl MVP, Ward can catch as well as he hit.
Wide Reciever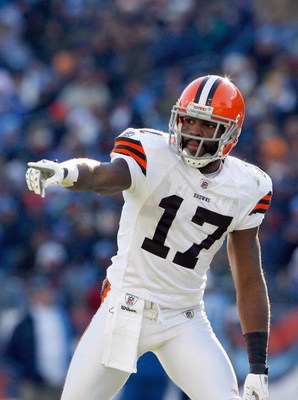 Braylon Edwards, Browns.
Braylon saw his production decrease as much as the rest of the Browns offense. But he remained a bright spot. He made some spectacular catches last year. While he may not have been up to his best performance, he did very well.
Wide Reciever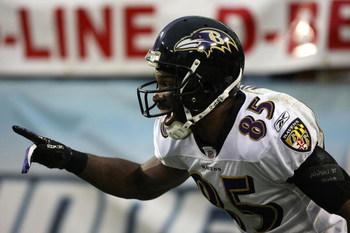 Derrick Mason, Ravens.
A golden oldie, Joe Flacco's late-season surge wouldn't have been possible with out Mason. He is a trooper, having battled a nagging shoulder injury through most of the season. He played and scored against Dallas with a separated shoulder. He has seen better years, but doesn't look like slowing down anytime soon.
Wide Reciever
T.J Houshmandzadeh, Bengals.
T.J took over as the number one receiver when Chad Ochocinoco began to decline. He was the staple receiver for the Bengals, and was a key component in the late-season winning streak that was the lone bright spot in the Bengals season.
Second Team Receivers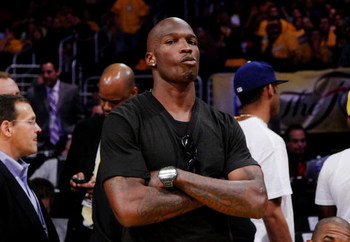 Santonio Holmes, Steelers: Super Bowl winning catch anyone?
Chad Ochocinco, Bengals: Diva who saw a decrease in performance, but still good.
Mark Clayton, Ravens: Good deep threat who had his moments.
Donte' Stallworth, Browns: Before his moronic decision to drive drunk that killed someone, he was a solid wideout.
Center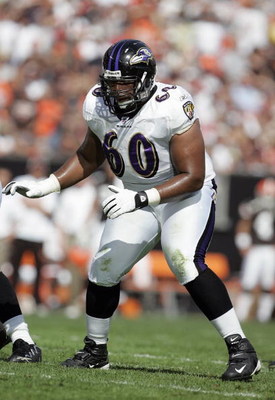 Jason Brown, Ravens.
Although he is off to the Rams now, he was the center of the Ravens. He was moved from guard to center, handling the transition very well. Although he didn't enjoy it, he was part of a very young line with a lot of potential.
2nd team: Justin Hartwig, Steelers
H.M: Eric Ghiacuic, Bengals
Guard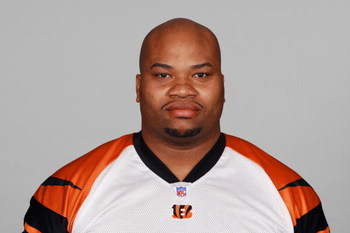 Stacy Andrews, Bengals.
Another player who has left, but made an extreme impact. While their season stunk, their O-Line didn't, and it was made possible by Stacy Andrews. Another factor in the late season surge of the Bengals
Second Team: Ben Grubbs, Ravens
H.M: Eric Steinbech, Browns
Offensive Tackle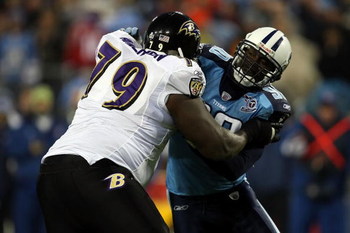 Willie Anderson, Ravens.
Big Willie Anderson is now retired, but he proved to be a great part of the Ravens offensive line. He was a key component in protecting Flacco's blindside, and was able to help him get to the AFC Championship game as a rookie.
Second team: Willie Colon, Steelers
H.M: Scott Kooistra, Bengals
Defensive Tackle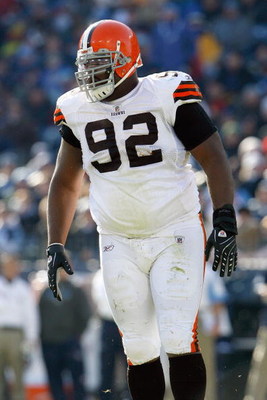 Shaun Rogers, Browns
Rogers was another bright spot in the Browns season. He led all nose tackles with 76 tackles and 4.5 sacks. He made a huge impact around a relatively weak line.
Second team: Haloti Ngata, Ravens. Ngata was an impact player last year, recording an endzone interception against the Texans and sacks in all three games against the Steelers.
H.M: Domata Peko, Bengals: In a poor Bengals defense, Peko still performed well, which attests to his skill.
Defensive End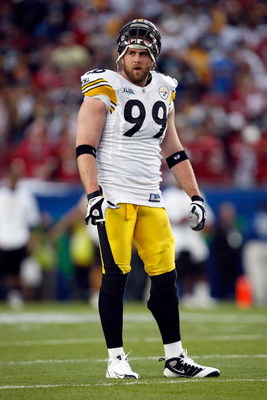 Brett Keisel, Steelers.
An underrated DE, Keisel has made an impact since he was a rookie. Aside NT Casey Hampton, he has anchored the Steelers D-Line for years, and will remain that for years to come.
Second team: Trevor Pryce, Ravens. Pryce has been a major force on the Ravens defense, and proved that last year. He racked up sacked after sack and provided a lot of energy to the team.
H.M: Justin Bannan, Ravens. He did a fine job replacing Kelly Gregg, and had a lot of weight on his shoulder because of it.
Inside Linebacker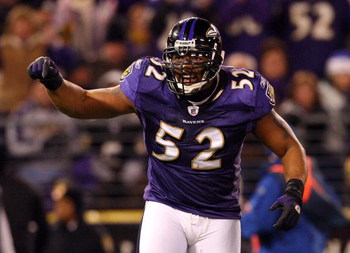 Ray Lewis, Ravens.
This one was obvious. A future Hal of Famer, Ray is already being talked about as one of the greatest linebackers of all time. He is perhaps the best inside linebacker in the NFL today. He's getting old, but isn't showing any signs of slowing down. He brings incomparable leadership, integrity and energy to the field.
2nd team: James Farrior. With his signature neck roll, Farrior simply mows down anything in his path. Quarterbacks, linemen, running backs, receivers you name them, Farrior will wreck them.
H.M: Brandon Johnson, Bengals. Despite being part of a weak defense, Johnson had a breakout year and led the team in tackles.
Outside Linebacker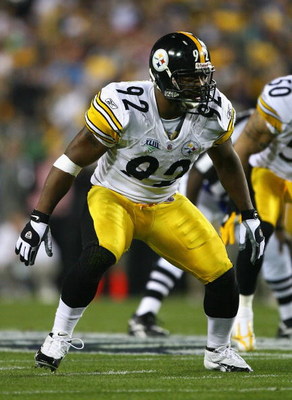 James Harrison, Steelers.
The 2008 Defensive Player of the Year anchored the best defense since the 2000 Ravens. An undrafted linebacker who was cut several times from Pittsburgh and Baltimore, Harrison proved himself as the best LB in 2008. He holds the record for longest interception return for a touchdown in Super Bowl history (100 yards) and if he keeps it up, he could be one of the greats of all time.
Second team: Terrell Suggs, Ravens. Like Farrior, he is only on the second team because the guy ahead of him is that much better. He led the Ravens in sacks in 2008, and has consistently performing outstanding since his rookie year.
H.M: Jameel McClain, Ravens. As a rookie, he tied the NFL record for most safeties in a season with two. One was a blocked punt, the other was an endzone sack.
Outside Linebacker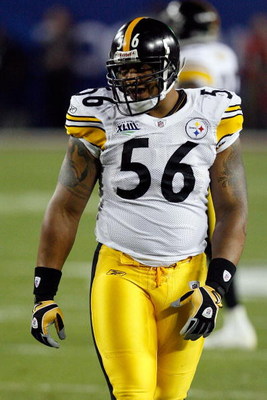 Lamarr Woodley, Steelers.
A strong linebacker who forced the game clinching fumble against the Cardinals in Super Bowl XLIII. Woodley was a key part in the strongest linebacking corps in the league. Woodley has totaled 15.5 sacks in two years.
Second team: Bart Scott, Ravens. Scott is now a Jet, but in 2008 he made a big impact on the Ravens. He was best on a blitz with other linebackers.
H.M: Jarrett Johnson, Ravens. A big strong linebacker, Johnson recorded a an interception and several sacks in 2008.
Cornerback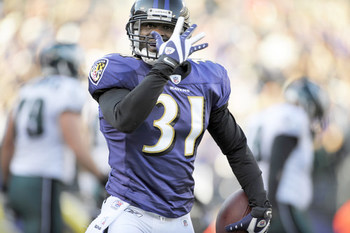 Fabian Washington, Ravens
Washington had a breakout year with the Ravens. When Chris McAlister was sidelined, Washington had big shoes to fill. He filled them well, and had two interceptions in the regular season, along with one in the postseason.
Second team: Samari Rolle, Ravens. Rolle battled injuries all year, but performed well while playing and nabbing several interceptions and blocked passes.
H.M: Brandon McDonald, Browns. McDonald performed very well compared to the rest of the browns defensive backs.
Cornerback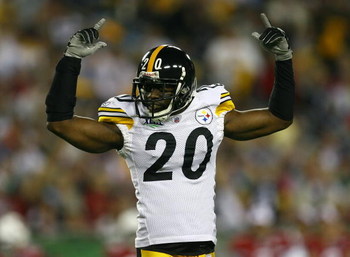 Bryant McFadden, Steelers.
McFadden served as an effective shutdown corner for the very talented Steelers defense. He is now, ironically, an Arizona Cardinal, but was a starting corner for most of his Steeler career.
Second Team: Deshea Townsend, Steelers. Townsend performed very well opposite McFadden, and recorded an interception in the AFC Championship game.
H.M: Leon Hall, Bengals. Despite recent legal troubles, Hall is most likely one of the starters for the Bengals in '09.
Free Safety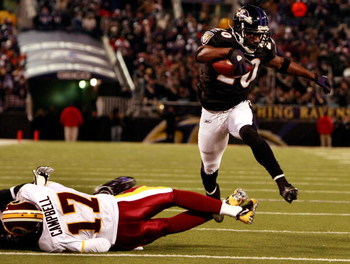 Ed Reed, Ravens.
Two-thirds of the earth are covered by water, the other third is covered by Ed Reed. Arguably the greatest safety of all time, Reed led the league with nine interceptions last year. He broke his own record for longest interception touchdown in 2008 against the Eagles (108 yards, TD). The 2004 Defensive Player of the Year has 11 career touchdowns and has led the league in interceptions three times since he began his career.
Second team: Ryan Clark, Steelers. Ryan Clark is one of the most underrated players in the NFL. He is the hardest hitting safety in the league, and comes under fire for his devastating hits. Wes Welker and Willis McGahee already know that Clark means business. Whether he is a dirty player or not, he is a lot of fun to watch.
H.M: Haruki Nakamura, Ravens. A rookie out of Cincinnati, Nakamura was born in South Korea and came here as a child. It's a good thing he did, because he has the most potential out of the rookie safeties. His most notable accomplishments are sacking Chad Pennington, and breaking three of Ben Roethlisbergers ribs.
Strong Safety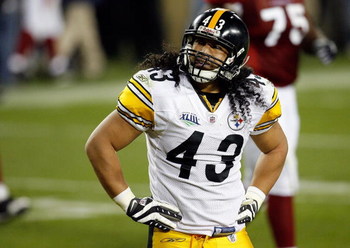 Troy Polamalu, Steelers.
The only thing more noticeable than his hair is the way he plays. He is all-around a great strong safety. He can run, he can blitz, he can hit, you name it, he can do it. He recorded seven interceptions in 2008, tied for second place. He sealed the deal in the AFC Championship game with an interception for a touchdown, and shut down Larry Fitzgerald for an entire half in Super Bowl XLIII.
Second Team: Jim Leonhard, Ravens. Leonhard came out of nowhere last year. He recorded 3 sacks and 3 interceptions, as well as an interception and forced fumble recovery in the postseason. Now a New York Jet.
H.M: Mike Adams, Browns. The anchor of the Browns safeties, Adams performed very well despite a poor season for the Browns.
Punter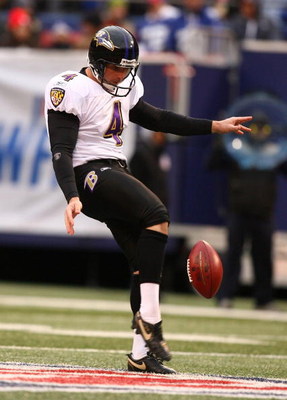 Sam Koch, Ravens.
An underrated punter, Koch is very good at ball placement at long distances. A former running back, Koch is best known for his run off of a fake field goal for a first down to set up a touchdown against the Dallas Cowboys.
Second team: Dave Zastudil, Browns. A former Raven, Zastudil was a very accomplished punter coming into Cleveland, and continued his success with the Browns
H.M: Piotr Czech, Steelers. A key component for the Steelers strong special teams squad.
Kicker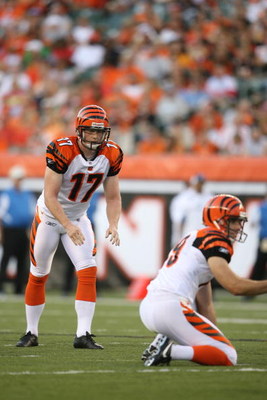 Shane Graham, Bengals.
The franchise player for the Bengals, Graham is regarded as the best kicker behind Adam Vinateri. While he hasn't won as much as Vinateri, he has performed more consistently than him.
Second team: Matt Stover, Ravens. Now a free agent, Stover was the last player on the team from the Ravens Cleveland days. He was getting old and it showed, but he kicked the game winning kick against the Titans to beat them 13-10 in the divisional round of the playoffs.
H.M: Jeff Reed, Steelers. More well known for his hairstyles, Reed was the cornerstone for the first two victories against the Ravens. One was a gaming winning kick in overtime.
2009 Predictions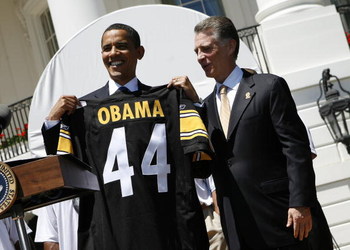 Could the Steelers earn another trip to the White House, and give President Obama another jersey? Possibly.
The Steelers are poised to win the division again, but going 1-1 against the Ravens. The Ravens will probably grab a wild card spot. Give the Bengals one more year and they will be a playoff contender, but the Browns still need more rebuilding.
1. Pittsburgh Steelers: 12-4 (5-1)
2. Baltimore Ravens: 11-5 (5-1)
3. Cincinnati Bengals: 7-9 (2-4)
4. Cleveland Browns: 4-12 (0-6)
Feel free to leave any comments on who you think should be on this list. Remember, if you feel I'm too bias towards a team, let me know so I can avoid doing that in other installments. Next up—the NFC East.
Keep Reading