New England Patriots Draft Countdown: Making the Case for Troy Niklas
April 14, 2014

USA TODAY Sports
Entering the 2014 NFL draft, the New England Patriots are one of the few teams with enough depth to think long term with their selection. 
No, the Pats are not perfect, and there are certainly numerous positions on the roster that could use depth and/or an infusion of youth.  However, as currently constituted, the Patriots possess a deep core capable of challenging for the Super Bowl and do not necessarily need a rookie to immediately bear a significant burden.
Thus, when identifying potential selections, Patriots followers should look for players who could provide long-term value with high ceilings, even if their 2014 contributions may not be particularly impactful.  One such player could be Notre Dame's Troy Niklas, who could develop into this class' best all-around tight end.
Niklas is a bit raw and is currently an inferior receiver to Eric Ebron, Jace Amaro and Austin Seferian-Jenkins, four players who constitute the clear-cut top tier of tight ends.  However, when examining his draft stock, New England's scheme and Niklas' skill set, it appears the South Bend product is the best fit if the Pats decide to invest an early-round pick in a tight end.
What Does Niklas Bring?

Michael Conroy
As alluded to above, Niklas holds the potential to be this year's best all-around tight end.  Though hybrid receiver types like Jimmy Graham, Jason Witten and Antonio Gates get plenty of love in today's spread-oriented offenses, Niklas' blocking could provide plenty of hidden value if he develops as expected:
At 6'6" and 270 pounds, Niklas stands as the biggest of the top-four tight end prospects.  More importantly, he maximizes his physical advantages with excellent in-line blocking technique.  Niklas bends at the knees instead of the back, and excellent footwork allows him to stand up and/or funnel rushers away from their proper lanes:
Youtube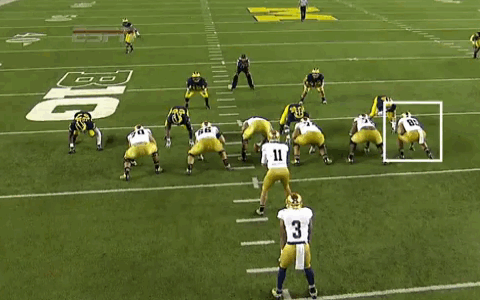 Youtube
It's clear that Niklas should immediately be a net plus in the running game.  The Patriots place a premium on the rare combination of size and mobility in their blockers, and Niklas embodies that mold.  As an effective combo blocker, he should also fit well in the outside zone runs the Pats like to run as a staple of their up-tempo package.
Of course, versatility is the key with tight ends now, and Niklas' receiving skills must also stand out for him to justify an early-round selection.  His most obvious strength lies in his size—like current Patriot Rob Gronkowski, Niklas' size turns him into a deadly red-zone target who can simply box out smaller defensive backs:
Youtube
Where Niklas could use improvement is in his route running, which improved greatly from 2012 but still needs refinement.  However, as his National Football Post scouting report suggests, there are promising signs in that area:
Niklas has just begun to scratch the surface of his receiving talent. In 2012, you couldn't trust that he was going to make the catch because he struggled a bit adjusting to the ball while it was in the air. However, Niklas showed great improvement in that area this year and made some very difficult catches. As a route runner he is still raw, but he has good initial quickness and can get in and out of his cuts quickly. He catches the ball well and really knows how to use his body to shield a defender. He is very good with seam routes and corner routes and when in the red zone, Niklas is a nightmare to defend because of his size.
Don't his strengths sound familiar?  The Patriots have relentlessly eviscerated defenses on the play-action seam route to Gronkowski, and it is not hard to imagine Niklas fulfilling a similar niche right away.  Even though Niklas is unlikely to ever run a full route tree, he would also allow the Patriots to continue running some of their most reliable concepts even if Gronkowski is unable to stay healthy again.
Then again, while Gronk insurance is nice, New England would surely seek to tap into some of Niklas' other skills and infuse their offense with an additional dimension.
How Could Patriots Use Niklas?

Jim Rogash/Getty Images
The Patriots have traditionally been extremely versatile with their personnel groupings, not only in the types of players that are on the field, but where those players line up.  As ESPNBoston.com's Mike Reiss suggests, Niklas would offer the Pats multiple options in both the passing and running game: 
[What] impressed me the most at the combine was the physical makeup/body type of Notre Dame's Troy Niklas. When we think of the tight end position, it's basically two things to me: 1) Is he a real tight end who is a factor in the blocking and pass-catching games; 2) Or is he more of a bigger wide receiver. To me, Niklas, at this point, looks like the top "real" tight end in this class.
Though most think of Niklas as a traditional in-line tight end, he also demonstrated the versatility to occasionally split out in the slot (as he did on the touchdown catch above).  Last season, Gronkowski actually ran 121 of his 215 total pass routes out of the slot, per Pro Football Focus (subscription required).  Therefore, the Pats would not be pigeonholed into using both on the line.
Niklas was particularly impressive on out and corner routes from either the slot or on the line, as both allow him to utilize his size in typically disadvantageous situations outside the numbers.  In the confined area of the red zone, being able to stretch defenses out to the sidelines is a rare trait that makes life exponentially easier for the offense:
Youtube
Still, that does not preclude the Pats from using both Niklas and Gronkowski on the line, a combination that could create some potentially devastating matchups in the running game.  When Gronk was healthy last year, New England often paired him with blocking tight end Michael Hoomanawanui on the line.  Both were healthy between Weeks 7 to 11, and the results on the ground were obvious:
2013 Patriots Run Offense By Intervals
Segment
Yards/Attempt
NFL Rank
Weeks 1-6
4.13
16
Weeks 7-11
4.67
4
Weeks 12-17
4.47
12
via Pro-Football-Reference
Niklas figures to play in similar big-run packages.  So long as he can threaten defenses in the passing game, New England could conceivably trap a team in smaller sub-packages by going no-huddle and switching on the fly to power-running play-calling, all without making any substitutions.
Any Reservations?
Still, there is a reason Niklas currently stands as a borderline second-round candidate, as he is a raw prospect with enough faults that could derail him from fulfilling his tantalizing potential.
When watching Niklas' film, the most obvious problem is the lack of separation on his routes.  He essentially ran the same out, stick, hitch and seam routes over and over again.  While it's impressive that he consistently makes catches outside his body with a defender draped over him, even a slightly errant throw can result in a pass deflection:
Youtube
Indeed, though Niklas possesses surprising quickness in and out of his breaks, his lack of top-end speed will always limit the scope of his usage in the passing game.  Bigger NFL linebackers will shrink the already tiny passing window, so Niklas must subsequently refine his route running to compensate for that difference.
Another problem, albeit a less concerning issue, is that Niklas is not as overpowering as one would expect in the blocking game.  He could stand to add some more core strength, as his lack of ideal strength will occasionally cause him to fall off some blocks:
Youtube
Nonetheless, these problems require Niklas to polish skills he already possesses, rather than develop new ones.  He is not an uber-versatile "Joker" type like Aaron Hernandez was, but he should allow the Patriots to reopen a playbook that became much more limited in 2013 due to personnel shortages.
Bottom Line

Jonathan Daniel/Getty Images
Again, Niklas is not a slam-dunk candidate.  However, the film and scouting report suggest a skill set that should translate well to the NFL.  Consequently, Niklas has a high floor, as he should be no worse than a solid blocker and average receiver.
Of course, his ceiling is far higher, and the Gronkowski comparisons reflect the kind of steal Niklas could provide.  The Patriots have generally drafted more well-rounded tight ends in the past, like Ben Watson and Daniel Graham, making Niklas a seemingly more likely candidate than his peers.
Moreover, while someone like Amaro could be enticing as a Hernandez-like complement to Gronkowski, it's important to remember that banking on Gronk is not a reliable proposition.  The Patriots hold a $10 million bonus on their injury-prone tight end in 2016, one that would extend his contract by five years.  It's a huge commitment that would tie New England to Gronkowski for the majority of his career.
If Gronk simply cannot stay on the field, the Pats will have no choice but to decline.  At that point, if Niklas has already had two years in the system and proven a capable replacement, the Patriots can walk away without needing to scramble to provide Tom Brady more skill position help in his twilight years.
And if Gronkowski rebounds from his injury woes, then the Patriots could once again have a devastating tight end duo that provides even more versatility than the Gronk-Hernandez pairing did.  For all the handwringing over needing complementary skills, why not line up two tight ends who excel in all facets of the game?
Niklas could require a bit of patience, as he figures to have some limitations in 2014.  Ultimately though, he provides a terrific combination of value, skill set and long-term upside that should make him a serious consideration for New England.