For someone supposedly too daft to succeed in Formula One in 2014, Lewis Hamilton didn't do too badly in winning the Malaysian Grand Prix.
Ahead of the season, it was thought that the only thing that could deny Hamilton a second world championship title was himself. He had the car. He had the team. He had the structure. But did he have the discipline, the composure, the sense and even the willingness to make the sport's new regulations work for him?
Those regulations, of course, require a driver to pace himself over the course of a race distance, conserving the fuel, eking out the tyres—the type of demands that Hamilton has never seemed truly comfortable with but are tailor-made for Nico Rosberg, his teammate.
Even in the early stages of this race, at first glance at least, it appeared as though Hamilton was blindly driving toward his own downfall. He ended the first lap two seconds clear of second-placed Rosberg, a gap which was stretched to 3.2 seconds by the second lap, according to AutoSport Live.
That became four seconds after three laps. Then 4.3. Then 4.7 after the Mercedes drivers had briefly traded fastest lap times. The gap was 5.2 seconds after eight laps, and when Rosberg became the first of the pair to pit after 14 laps, the distance between them was 6.6 seconds.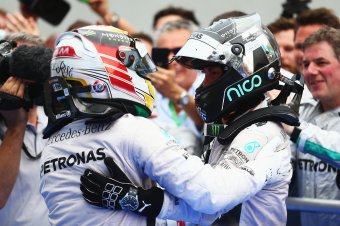 Clive Mason/Getty Images
In his first flying lap on new tyres after pitting on Lap 15, only one lap later than Rosberg, Hamilton set what was then the fastest lap of the race, 1 minute, 46.190 seconds—a second faster than his teammate—and extended his lead to 9.4 seconds.
This looked for all the world how a standard 2014 race was always set to play out: Hamilton bursts out of the blocks from pole, builds a strong, early but misleading lead while Rosberg craftily, carefully holds back and waits for the perfect moment to pounce, ideally when Hamilton reaches the point of no return on either fuel or tyres.
Staggeringly, however, this was the new, improved Lewis Hamilton in action.
On the 15th lap, seconds after a call for Hamilton to "box" had been broadcast to the globe, a graphic appeared on the FOM live television feed detailing the fuel-flow rate of each car. Of the drivers in the top 10—five of whom were using Mercedes powertrains—only the ninth-placed Williams of Felipe Massa had used less fuel than Hamilton.
Hamiltons fuel situation looks good considerign his lead, Ricc is fuel hungry and Massa streets ahead pic.twitter.com/Jm9bOAKa0v

— Craig Scarborough (@ScarbsF1) March 30, 2014
Compared to Rosberg, who had used 25.06 per cent of his fuel at that stage, Hamilton had consumed only 24.53 per cent of his allotted fuel—a remarkable difference of 0.53 per cent.
Hamilton had been driving a heavier car in contrast to Rosberg and was therefore driving well within his limits, yet he still managed to lap over a second quicker than the German, who had looked unstoppable in Australia only a fortnight earlier.
Among the most impressive aspects of Rosberg's victory in Melbourne two weeks ago was his ability to assess the race from the cockpit. In particular, his radio messages on Lap 15, when he told the team he would be positioning his car at an angle during his second stop to drive out of the pitbox more easily, and on Lap 42, when he asked his crew for extra suggestions to ensure perfect reliability, were of exceptional note.
Both instances were used as evidence to suggest exactly why Rosberg's intelligence and spare capacity would lead to him having the edge over Hamilton in 2014. The latter, however, took a leaf out of his teammate's book in Sepang, asking Mercedes:
Anything more I can do to look after this engine?
Hamilton's concerns were valid, with the race-winning power unit being the very same one which failed only a matter of laps into the Australian Grand Prix. The fact that he asked the team was promising enough, but the timing of the request—only halfway through the grand prix, with the threat of rain lingering—highlighted just how comfortable an afternoon the No. 44 car had enjoyed.
Hamilton was eager to dismiss claims of an easy win, however, telling Mercedes' official website:
The race was tougher than it perhaps looked today and the conditions here always make it a great challenge. But I was able to look after the car, the tyres and the fuel and still keep a bit of pace in hand which made my job that little bit easier.
Though, in terms of his final gap to the second-placed car, Hamilton's victory was less convincing than Rosberg's in Melbourne, the Malaysian Grand Prix has provided greater clues over Mercedes' performance advantage and efficiency as well as Hamilton's championship prospects.
Feeling incredibly happy! The whole team have worked so hard so thanks goes to them! This win is for those affected by the tragedy of MH370

— Lewis Hamilton (@LewisHamilton) March 30, 2014
If he does go on to claim this year's title, his win in Sepang—only behind the 2008 Chinese Grand Prix as the finest, most assured win of his career—will come to be remembered the day which Hamilton enhanced his repertoire and completed that long and sometimes painfully difficult transition from boy to man.
For now, though, Hamilton have to settle for it being the day he finally passed the intelligence test.