Combat sports don't register in the pecking order of geopolitical concerns amplified after Russian president Vladimir Putin moved to annex the Crimean peninsula from Ukraine.
But with relations between Russia and the West quickly approaching pre-Rocky IV levels, an emerging group of Kremlin-governed mixed martial artists may be caught up in the fray just as they're poised to do big things in the U.S.
Should tensions rise, Richard Wilner, a California-based immigration lawyer familiar with MMA promoters and competitors, expects the current state of affairs in Russia, Ukraine and Crimea to effect visa processing, "not just for Russian athletes, but for all persons applying for visas through U.S. consulates in Russia." U.S.-based MMA organizations such as UFC and Bellator "should anticipate encountering delays in the consular processing of visas for Russian fighters. And, that even if approved here, the delays and 'issues' overseas might, practically speaking, make a fighter unavailable."
Any political outcome that stalls bouts like Khabib Nurmagomedov-Rafael dos Anjos, and Rustam Khabilov-Benson Henderson, is plainly undesirable for MMA fans, which, of course, includes the Russian president. Putin's government recognized MMA as a state sanctioned amateur sport in 2012, and has considered partnering with big-money professional events in the not-so-distant future.
With some luck, Russian fighters can go about their business uninterrupted, and UFC, Bellator, or any Stateside promoter that wishes to will make matches for them. If so, rising international tensions could actually lead to a promotional opportunity: the jingoism of flag-draped marketing campaigns.
@StormShlemenko Vs @SwaggleBerryFin super fight next weekend in @BellatorMMA cage!! @BjornRebney @jimmysmithmma pic.twitter.com/kNkJeA37p9

— Bellatorushka (@Bellatorushka) March 22, 2014
East vs. West. Drago versus Rocky. It's nothing new.
For example: Bellator's middleweight title fight Friday at the Maverick Center in West Valley City, Utah, pitting Russian champion Alexander Shlemenko and American challenger Brennan Ward. Quoted in a press release announcing the bout a month before Putin flexed his muscles in Crimea, Ward declared: "Simply put, I'm looking forward to bringing the heat and taking the belt away, Cold War style."
****************
Russians owns a valued place in MMA history.
Winning and surviving based on grit and the effectiveness of Sambo -- a martial art developed by the Soviet Red Army in the 1920s with a well deserved reputation as a leg-breaker -- Oleg "The Russian Bear" Taktarov carved a name for himself inside the Octagon during the early days after Glastnost.
Ten years ago, during Putin's first term as Russian president, Andrei Semenov and Amar Suloev arrived in the UFC showcasing a fun, wide-open style hampered by limited wrestling and the fact that they were undersized for the competition.
Despite failing to reach terms to fight for Zuffa, "The Last Emperor," Fedor Emelianenko, retired as Putin's ally and the stony face of Russian MMA. He currently heads the state-sponsored Russian Union of MMA, an emerging regional network for amateur competition and regulation.
In 2014, in the spirit of that lineage, the latest generation of Russians appear primed to leave a large mark. Especially back home.
"The maturation of mixed martial arts in Russia is similar to the maturation and timing of talent [in America] and in Brazil," said Bellator CEO Bjorn Rebney, who's seen Shlemenko, heavyweight Vitaly Minakov, and a spate of Russians rise through his promotion to win tournaments and titles. "It's a sport that over the last three to four years has really evolved. The question you have to ask yourself is what's the wrestling background like?"
Like a kid from Iowa who's predisposed to cauliflower ear, Dagestanis are born wrestling. That's one significant advantage over their Russian Federation counterparts, and the reason they pose a serious threat to fighters from across the globe.
UFC's current crew, a strong mix from autonomous Russian republics around the Caucasus Mountains, appear capable right now, for the first time really, of winning belts inside the Octagon. At 155 pounds, Khabib Nurmagomedov and Rustam Khabilov, brothers in arms back in Dagestan, are considered the cream of the crop.
@TeamKhabib got in a good work out today. I'm putting him on the @cainmma training workouts!! pic.twitter.com/kkiulIiJJR

— javier mendez (@akajav) March 21, 2014
"Having a chance to train with American and UFC fighters was certainly not something Taktarov and Semenov had the luxury of," said Sam Kardan, a Russian expat living in New Jersey who represents many of his countrymen fighting in the Octagon. "This new generation of fighters can definitely be better in terms of experience, technique, and conditioning for the fight."
From Jackson's MMA, to American Top Team, to American Kickboxing Academy, to a wide swath of gyms across the U.S., Russians are benefiting from America's strong MMA infrastructure. Results have been exciting so far, both in terms of talent level and dynamic style.
If they can strike. If they can wrestle. If they can use submissions. If they're in shape and competing at the appropriate weight, the belief among many informed MMA people is that Russians are set up to be well represented on Top 10 lists for a long time to come.
"I don't think there's any doubt they can be champions in the UFC," said trainer Greg Jackson. "You're going to have kids coming from Dagestan, Chechnya and Russia."
****************
Competition among American promoters seeking quality Russian prospects has turned intriguing over the last couple years. Both UFC and Bellator MMA believe they signed athletes from that part of the world that can reach No. 1 status.
Compared to UFC, which has essentially no presence in Russia, Bellator, the Viacom-owned property, holds a solid footing on television alongside soccer and Formula-1 on sports-specific network Russia-2, one of 10 free Federal channels broadcast throughout the country.
Fights like Shlemenko-Ward are shown live early in the morning, then replayed multiple times across the country's nine time zones.
"We're in a really good place in Russia, and most of the top contenders coming out fall to us first for a look," Rebney said.
That was certainly the case a year ago, though the recent emergence of a Russian pipeline to UFC suggests the terrain could be shifting. "Probably more Russians wanted to be in Bellator than UFC," Kardan said. "But now that we kind of opened the doors to Russians into the UFC, I see the trend of fighters trying to get into UFC more than Bellator."
At UFC 169, Kardan introduced Zuffa brass to Ruslan Suleymanov, the president of big-spending upstart Legend MMA. Kardan believes among the litany of Russian MMA promotions, Legends would make a solid partner for the UFC if the American juggernaut chose to go that route.
Suleymanov made a point to present gifts to Lorenzo Fertitta and Dana White, as well as matchmakers Joe Silva and Sean Shelby. He opted for symbolism. Traditional burkas designed for shepherds operating high in the Caucasian mountains, and ornate daggers signifying friendship and trust -- essentially, you're armed and I'm not, let's be pals.
The owner's name is Ruslan Suleymanov. The other guy in the pic is Sam Kardan of Red Fury MMA. Taken today. http://t.co/7W16Gpj78N

— Ariel Helwani (@arielhelwani) February 1, 2014
This scene falls in line with traditions of the region between the Caspian and Black Seas, where the bulk of UFC's "Russian" talent hails from.
Having spent time coaching several fighters whose names can run together like a jumble if you stare at them long enough, Jackson labeled Dagestan a "machismo culture," a difficult but exciting journey where pride and shame are traded in place of stocks and bonds, where and men are bred to be men.
"They want their respect. They're willing to fight hard for it," said Jackson. "That's a motivating factor more than money."
Jackson cornered Rustam Khabilov, a suplex machine, for a fight in Derbent, Dagestan, in 2011. The high-altitude surroundings reminded the trainer of New Mexico, and ranks among the favorite places he's ever visited.
"I literally could've stayed there two weeks longer than I did," Jackson said. "By the time I left there was a 30 or 40 man entourage with us. Everyone was very friendly. They gave you gifts. So warm. So amazing. If they have $5 left and you're their guest, well you're going to get that $5."
You can't read about Dagestan, however, without bumping into descriptors like "troubled" or "embattled" or "jihadi." Reporting three years ago from the country's capital, Makhachkala, BBC called Dagestan "the most dangerous place in Europe."
Dagestani fighters view themselves as Dagestani first, not Russian, said featherweight Shahbulat Shamhalaev, a highly-touted Bellator tournament winner.
"In Dagestan, decisions are made on the go," Shamhalaev explained. "A lot of times you can make due. You don't have to follow all the rules."
By comparison, the U.S. feels boring, he said, a good place to retire.
Perhaps Shamhalaev doesn't see it this way, but he and most of his compatriots also live under strict rules. Predominantly Muslim, they pray five times a day, eat specially prepared foods, take care to avoid many things, all the while enduring the difficult routine of being a professional fighter.
Eat. Sleep. Pray. Train. Recover. Again. And again. That's life, which partly explains why Dagestan's Magomedrasul "Frodo" Khasbulaev is dying to return to the U.S. and fight for Bellator, which owes him a featherweight title shot.
Without explanation last year, the State Department revoked Khasbulaev's P-1 visa. Uncertainty over "his near future made him miserable," said Khasbulaev's manager, Alexei Zhernekov.
Bellator confirmed that Washington recently denied Frodo's visa application outright. "Any of the -stans makes it more difficult" to receive a visa, said Wilner, the immigration attorney. The stout fighter is free to reapply at his leisure, though with everything that's happening in the world, it may prove futile.
****************
Living in Omsk, Siberia, Shlemenko hasn't had the luxury of sleeping in his bed while being near enough to a wrestling room to train how he wants. His stylish striking, a compilation of spinning attacks and powerful body shots, reflects that reality, though it only works as well as it does today because of lessons he learned while training in America.
"The most important thing for me was the mental confidence that I received there," Shlemenko said. "I got a chance to spar and train with Top 10 fighters and could test myself against them. I could see I was doing pretty well and that gave me self confidence that helped me a lot. Also, before my career in the U.S., I really lacked confidence of the MMA game, for example standing up from the ground or working against the cage."
Affixed high on a wall inside a converted garage in Huntington Beach, Calif., reminders of this work exist in the form of cartoony oversized checks, each made out for $100,000. Alongside Shlemenko's prize, which Bellator issues like trophies, hang ones payable to Vitaly Minakov, Andrey Koreskhov, Alexander Volkov and "Frodo" Khasbulaev.
A blend of ethnic Russians and Dagestanis, Russian Orthodox Christians and Muslims, these men joined forces the past four years to improve their skills and prepare for fights while living in a fantasyland along the Pacific Ocean.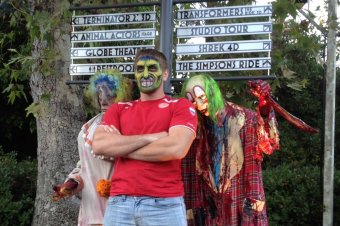 Alexei Zhernakov
"Even though they're ethnically different, when it comes to the cage they're all fighters," said Zhernekov, whose Rusfighters Sports Club represents the bulk of Bellator's Russian cadre. "They all come from Russia. And they all represent Russia when they fight abroad. Sometimes it's hard to draw the line between them. They look different, but not much else."
Dorm life includes carpeted floors, a sauna, two bunk beds, a comfortable couch, and a refrigerator full of food for Muslims and non-Muslims alike. Everything someone serious about training for a fight could want, for rent in the rear of former MMA manager Ken Pavia's place, with the added benefit of being situated a short walk from the beach.
For first timers, culture shock has been part of the experience. During some strolls around the neighborhood, for instance, polite smiles and head nods from strangers prompted confusion. "In Russia, people don't do that," Zhernekov said. "It's a cultural thing. Sometimes when people smile or nod to them, they turn to me and say, 'Hey, why is everyone saying 'hi' to me? Do they know me? Why is that?' I tell them it's common in the U.S. to be friendly. It doesn't mean you really have to be friends and tell them about your day."
After four years worth of fights in the U.S., Shlemenko, 29, is well acclimated to life here, though the car buff, who back home drives a custom built 360-horsepower, Subaru Legacy designed for drifting, remains in awe of the four-wheel toys Americans have access to at a third of the price.
Shlemenko views himself as "a pretty important part" of this newest group of Russians seeking success at the highest level of MMA. The Bellator champion has been positioned as the stereotypical stern, stoic Russian -- the "Ivan Drago" reputation -- in part because his English remains limited. Any marketing beyond a fun set of highlights and a brash challenger has been difficult for Bellator.
He didn't say much when Doug Marshall popped off. And, as a fighter, he regards the mouthy 25-year-old Ward as a "typical American guy who wants it all, and wants it now." Shlemenko said he's never had anything against America or Americans, and even if other fighters take cheap shots, he'll avoid playing the nationalism card.
"Of course I don't like it," he said. "I want this belt to stay in Russia and I will do everything to make that happen."
All quotes are obtained firsthand unless noted otherwise.
Josh Gross has reported on mixed martial arts since April 2000. He served as executive editor of Sherdog.com before covering MMA for SI.com and, most recently, ESPN. He can be found on Twitter at @yay_yee.