Liverpool will acquire the luxury of attracting Europe's top players should they qualify for next season's Champions League, and Borussia Dortmund's Mats Hummels could be the perfect signing to mark the occasion.
The added financial and footballing incentives of playing amongst UEFA's elite competition could return Liverpool to their status as a team every player wants to play for.
Losing out to Champions League clubs on the pursuit of the likes of Henrikh Mkhitaryan and Willian Borges da Silva should be a thing of the past. Champions League qualification takes Liverpool to the next level of competing in the transfer market.
About Hummels
Still only 25-years-old, Hummels is an established Bundesliga and German international central defender.
A product of Bayern Munich's youth academy—and student of Jurgen Klopp's football philosophies and ideologies—Hummels is an intelligent leader for club and country.
Having formed a resilient partnership with Neven Subotic, the pair were part of Dortmund's defence when they had the Bundesliga's best defensive record during their 2010-11 title-winning season.
Dortmund and Hummels lifted the Bundesliga shield again a year later, before reaching the European Cup Final at Wembley in 2012.
His height and strength allows Hummels to frustrate the league's attackers, reading plays intelligently and cutting out danger athletically.
Hummels has struggled with injury problems in 2013-14, reducing his Bundesliga appearances for Dortmund to just 15 matches, but he boasts an 85 percent pass accuracy record and has won 85 percent of his take ons, according to Squawka.
Fit for Liverpool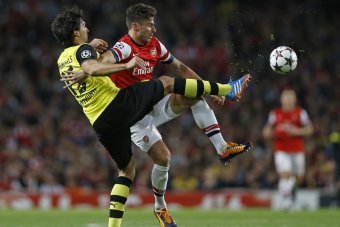 Kirsty Wigglesworth/Associated Press
Despite a rejuvenated season for Martin Skrtel, he and Daniel Agger may not be part of the long-term vision for Liverpool.
Both 29-years-old, the defenders may be asked to move on when Rodgers restructures his squad for a two-pronged assault on the Premier and Champions Leagues.
A long-term central defensive partner for last summer's £18 million signing from Paris Saint-Germain—Mamadou Sakho—could well be high up on Rodgers' shopping list.
Hummels' experience at Dortmund would be invaluable, with comparisons being made between the side from North Rhine-Westphalia and Liverpool, as per Chris Bascombe of The Telegraph.
Hummels is used to playing in an team based on attacking threat and would work well in the Rodgers formula.
Right-footed Hummels would sit comfortably next to left-footed Sakho, with the pair providing the Reds a range of abilities and styles.
Should Liverpool sign Mats Hummels?
Hummels' characteristic way of starting attacks by running out of the back line brings back memories of Liverpool greats such as Alan Hansen and, more recently, Agger.
There've been no rumours of a move from Liverpool for Hummels, but he has recently been linked with Manchester United, though their failure to qualify for the Champions League has put that move in doubt, according to Anthony Chapman of the Daily Express.
Experienced but young, Hummels has all the credentials to be a strong and long-term Liverpool signing, should they wish to make a move for him this summer.