Can New England Patriots Defense Trust Duron Harmon in 2014?
March 31, 2014
Streeter Lecka/Getty Images
The New England Patriots have undergone an uncharacteristically high-profile free-agency period.  While it remains too early to evaluate the roster as a whole, the acquisitions of cornerbacks Darrelle Revis and Brandon Browner have established one near certainty: The Patriots secondary will be a strength in 2014.
With tremendous depth at cornerback and second-team All-Pro Devin McCourty as one of the rangiest free safeties in the league, New England's secondary appears capable of playing the same single-high safety, aggressive press-man coverages the Seattle Seahawks have popularized around the league.
However, the one clear missing element from the Patriots defense is an equivalent of Kam Chancellor, a big strong safety who provides the physicality to excel in run support and the movement skills to cover tight ends.  Following the release of two-year starter Steve Gregory, it appears second-year player Duron Harmon is slated to take over as a starter alongside McCourty.
Harmon is ostensibly the clear weak spot in the secondary.  The third-round pick was no slouch his rookie season, but per Pro Football Focus (subscription required), he played just 38.9 percent of the defensive snaps.  In contrast, Gregory played 84.8 percent of the snaps in games he was active.
That's a big jump Harmon needs to make.  The Pats have no clearly superior options on the roster or in free agency, and more pressing needs will likely direct their draft elsewhere.  The Boston Herald's Karen Guregian recently reported that New England might take a look at moving Logan Ryan to free safety.  However, such a move would require multiple players to adapt to new roles, a seemingly inefficient method of solving the problem.
Thus, it looks like sink or swim for Harmon.  But is that necessarily a bad thing for the Patriots?  When examining the film and underlying stats, it becomes clear that despite mainstream perception, Pats followers should not be equally quick to dismiss Harmon as a significant contributor in 2014.
Job Description
Before we evaluate Harmon, we must first establish the criteria by which we are grading him.
As alluded to earlier, the Patriots were largely a single-high safety defense last season.  New England also played a decent amount of press coverage in 2013, a trend that should only increase next season. Thus, we can expect the Pats' sub-package to look something like this:

NFL Game Rewind
Gregory's positioning reflects his importance in the run game, as the shakiness of the interior defensive line magnified the importance of second-level support.  Of the 316 snaps Gregory played against the run in 2013, he lined up within eight yards of the line on 28.5 percent of those snaps.  In contrast, McCourty only lined up in that position on 9.1 percent of run snaps, the lowest mark among safeties in the league.
While run support is a vital aspect of the job, an ideal strong safety also possesses enough instincts and movement ability to cover bigger tight ends.  Gregory often found himself in man coverage against tight ends (like he is in the snapshot above).  Alternatively, if the Pats placed a linebacker or cornerback on the opposing tight end, Gregory often played a "robber" zone in the intermediate middle of the field:

NFL Game Rewind
Gregory was a divisive player among Pats fans, as he rarely stood out as a significant positive.  Coupled with the occasional tackling misadventure, Gregory seemed to generally elicit an indifferent response.
However, while certainly not a game-changer, Gregory was generally a heady and reliable contributor.  The numbers support this notion: Last year, his 7.8 run stop percentage was 10th-best among safeties, and opposing quarterbacks completed a pass against him every 20.3 coverage snaps, a middle-of-the-pack mark.
Thus, when determining whether or not Harmon should play heavy snaps in 2014, the decision effectively boils down to this question: Is he consistently in position, and does he demonstrate good instincts in a role that requires lots of read-and-react support for others?
With that in mind, let's get to the tape.
Run Support 

Below is a chart displaying the number of run snaps Harmon played in each game last year, as well as his run grades and other relevant stats:
Duron Harmon 2013 Run Stats
Week-Opponent
Run Def. Snaps
Run Grade
2- vs. NYJ
4
0.0
3- vs. TB
4
0.0
4- @ ATL
0
0.0
5- @ CIN
4
0.0
6- vs. NO
4
-0.5
7- @ NYJ
13
0.1
8- vs. MIA
1
0.0
9- vs. PIT
4
0.0
11- @ CAR
16
0.2
12- vs. DEN
48
0.5
13- @ HOU
17
-1.8
14- vs. CLE
1
0.0
16- @ BAL
13
0.1
17- vs. BUF
34
0.3
CC- @ DEN
1
-1.0
Pro Football Focus
Coming into his rookie season, modest college stats made Harmon largely an unknown against the pass.  However, one thing that popped on film was his willingness in run support: 
Weeks 11-13 best approximated the type of role Harmon might play next season.  Gregory missed the Carolina and Denver games with a broken thumb and played just 24 snaps against Houston in his first game back.  Thus, Harmon received an extended audition as a McCourty complement against some fairly dissimilar offenses.
In this instance, the scouting report is dead-on in terms of Harmon's willingness.  When attacking from the second level, Harmon generally trusted his reads and attacked downhill without hesitation.  The play below against the Ravens is especially solid, as he works through traffic (or "sifts through trash," in scout's lexicon) to make the tackle:
NFL Game Rewind
NFL Game Rewind
Harmon also has more speed than many give him credit for.  Harmon ran a 4.51 40-yard dash time at his pro day, per NFLDraftScout.com, a mark that would have ranked second-fastest among 2013's combine invitees at safety.  We see him keep up with Cam Newton on this east-west run, as he likely would have made the tackle had Brandon Spikes not tripped him up: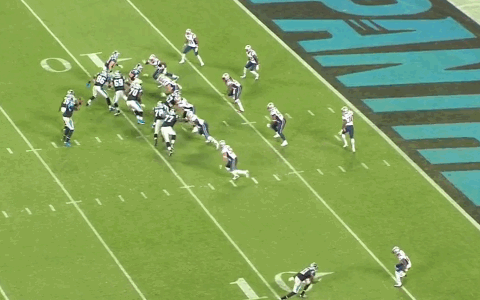 NFL Game Rewind
However, for someone with above-average size at 6'0" and 205 pounds, Harmon is not nearly as physical at the point of attack as one would like.  When engaged with a blocker, Harmon has trouble shedding the block and is in fact often pushed backwards even on plays when he demonstrates good downhill instincts.  Texans tight end Garrett Graham was particularly dominant against Harmon, blocking him out of multiple plays:

NFL Game Rewind
NFL Game Rewind
In addition, Harmon is not nearly as sound a tackler as the scouting report suggested.  He often tackles by lowering his head at someone's knees instead of wrapping up the upper body with his arms.  He'll also occasionally take ill-advised angles that lead to missed tackles:
NFL Game Rewind

NFL Game Rewind
Indeed, among safeties who played at least 25 percent of their team's snaps, Harmon ranked 49th out of 95 players in tackling efficiency.  For someone who figures to receive a fair amount of opportunities, that middle-of-the-pack rank can actually do quite a bit of harm, as Harmon might end up with a higher number of missed tackles than other less efficient tacklers.
Harmon's minus-1.1 regular-season run defense grade ranked 49th among safeties, so a purported strength actually turned out to be a net negative.  However, lest you believe Harmon's rookie season was entirely a net negative, the other facet of his game was pleasantly impressive.
Pass Coverage 

Like we did above with his run defense, let's take a look at Harmon's game-by-game grades and stats in the passing game from last season.  As a side note, the high number of snaps Harmon played in Weeks 16 and 17 came at free safety in place of an injured McCourty and are not really reflective of the role he is anticipated to fill in 2014:
Duron Harmon 2013 Pass Stats
Week-Opponent
Pass Def. Snaps
Pass Grade
TA-REC
Yds
2- vs. NYJ
4
0.6
0-0
0
3- vs. TB
2
0.0
1-1
3
4- @ ATL
1
0.0
0-0
0
5- @ CIN
5
0.1
0-0
0
6- vs. NO
10
-0.3
0-0
0
7- @ NYJ
17
1.0
1-0
0
8- vs. MIA
15
0.0
1-0
0
9- vs. PIT
35
0.1
0-0
0
11- @ CAR
32
1.3
3-2
15
12- vs. DEN
42
-0.1
5-4
41
13- @ HOU
16
-3.4
3-3
47
14- vs. CLE
15
0.2
0-0
0
16- @ BAL
37
1.3
1-1
4
17- vs. BUF
35
0.4
1-1
22
CC- @ DEN
1
-1.0
0-0
0
Pro Football Focus
After the Patriots drafted Harmon, ESPNBoston.com's Field Yates put together a scouting report on the Rutgers product.  In hindsight, Yates' observations about his pass coverage are fairly spot-on:
He is just a sufficient man-to-man coverage player; because of his hip movements, receivers can beat him at the top of routes. He shows very good eye discipline and route recognition as a deep-half-of-the-field defender and takes good angles toward the football. He is a responsible, reliable over-the-top defender who gets to the right place, but he's not elite enough of an athlete to consistently get there early to force turnovers. He showed good ball skills in limited exposure of on-ball opportunities.
The comment about hip movements is particularly accurate, as Harmon might possess the stiffest hips among Patriots' defensive backs, a hindrance that greatly limits his change-of-direction ability.  Maybe it had to do with the grass surface, but Harmon had an especially rough time in the Panthers game.  He was fortunately not targeted on either of these plays, which were touchdowns waiting to happen:

NFL Game Rewind

NFL Game Rewind
Nevertheless, Harmon will largely be asked to cover in-line "Y" tight ends, who typically do not possess much more agility.  Harmon drew numerous man-coverage assignments against tight ends when Gregory as out and fared quite well in those opportunities. 
This play against Greg Olsen encapsulates the stellar instincts draftniks referred to when scouting Harmon.  Anyone who has watched the Patriots regularly over the past few seasons understands the difficulty New England's defensive backs have had in tracking the ball in the air and turning their heads in time to make a play.  Notice how early Harmon had located the pass and turned his head here:
NFL Game Rewind

NFL Game Rewind
Harmon also had a generally solid game against the Broncos, despite the numbers above (largely inflated by this Jacob Tamme touchdown).  Here, he had solid coverage on tight end Virgil Green to take away the corner route in the end zone.  As a side note, this play also highlights a trend in Harmon's consistently effective usage of the sideline as his ally in both run and pass defense:
NFL Game Rewind
Unfortunately, instincts can only carry coverage so far.  It does not matter if a player knows what is coming if he is powerless to stop it.  In that same Broncos game, Harmon received a rare man-coverage assignment outside the numbers.  A quick inside break caught Harmon off guard, and his stiff hips prevented him from turning downshifting and losing the receiver.  A futile attempt to slow the receiver down with his hands failed, resulting in a completion:

NFL Game Rewind
Additionally, Harmon takes a bit of time to reach full speed, which can result in him being out of position despite diagnosing the play early enough.  Check out these two plays: Harmon recognizes the pass coming almost immediately in both instances, but the results are drastically different:
NFL Game Rewind
NFL Game Rewind
There is little doubting Harmon's headiness and intelligence, even more so in coverage.  His man coverage on tight ends, a critical aspect of his job, was also solid, especially against Olsen.  Overall, in spite of his limitations in movement fluidity, there were generally encouraging signs in Harmon's pass coverage.
Bottom Line

Jim Rogash/Getty Images
A few caveats are in order.  First, the three-game stretch that made up the bulk of this evaluation is a small sample size.  While Harmon performed poorly against Houston, he was adequate against the Broncos and Panthers and rarely stood out as a negative in other games where he played fewer snaps.
Let's also remember that this was Harmon's rookie season, and after Adrian Wilson's signing in the offseason, few expected him to play as many defensive snaps as he did.  Truthfully, the most important takeaway is that Harmon rarely appeared hesitant or lost, which bodes well for his future development in the system.
Still, Harmon will never be mistaken for having Ed Reed's range, and he appears unlikely to develop into a Dashon Goldson-type thumper.  In many ways, Harmon is not unlikely Gregory—a smart, instinctive player with enough physical limitations to prevent him from being a top-flight safety.
That's not to say that Harmon is destined to be a Gregory clone (though that would not be the worst result).  Harmon is bigger, and it will be interesting to see if he can be more aggressive in run support.  He has enough size to shed blocks from tight ends and wide receivers; combined with his above-average traffic navigation, Harmon should be a real asset in run defense next season.
It's unclear if Harmon will make a greater playmaking impact.  Harmon's two interceptions last year were essentially freebies that stemmed from bizarre offensive miscommunications.  He did have six picks over his last two collegiate seasons, though just one in his senior year.  One thought to file away: With better corners than they have had in years, might the Patriots try more safety blitzes, as they used to with Rodney Harrison?
Regardless, Harmon's 2013 tape shows that he deserves to go into training camp as the starter.  The Patriots do need more safety depth, and it would be wise to have a veteran who could provide reliable insurance in the event that Harmon gets injured or falls flat.  Nonetheless, while Harmon may not blossom into the fourth Pro Bowl-caliber secondary member, he should be a net-positive in the New England defense next season.