Belgian attacking sensation Michy Batshuayi has informed his current club Standard Liege he wants to leave the Belgian league at the end of the season, and Arsenal would be the youngster's preferred destination, as reported by the Express' David Wright.
The 20-year old striker has long been rumoured to be interested in leaving his current club and confirmed his intentions on Tuesday.
Arsene Wenger has a reputation for finding ways to work young talented players into his squad, and Batshuayi cited this as one of the reasons the Gunners became his favourite team growing up.
Batshuayi - "My favorite club, I say Arsenal. This is a club with a good philosophy, where young people are given opportunities," 1/2

— AFC Academy (@AFCAcademy) March 18, 2014
Batshuayi - "They play beautiful football. I'm a fan of Arsenal since I was a kid." 2/2

— AFC Academy (@AFCAcademy) March 18, 2014
B/R's Charlie Melman wrote a very comprehensive scouting report on the young striker back in December, giving us a fairly good overview of the player in question.
A product of Anderlecht's famed youth setup, which has produced players like Vincent Kompany, Romelu Lukaku and Dennis Praet, Batshuayi left the club as a result of disciplinary action enforced for multiple alleged incidents and a bad attitude during training.
Batshuayi was also banned from the Belgian U21 team for six months following an alleged incident in a hotel room (two players were alleged to have brought girls to their rooms, violating team conduct), and there was a further incident in 2012 when the player stomped on another player's stomach and was suspended for four games.
But the striker has tried very hard to leave his checkered past behind him, and while some pundits may view his latest comments as another sign the player might be too big for his boots, Batshuayi has the kind of talent that justifies a bit of arrogance.
According to John Chapman, one of the most respected experts on Belgian football, the young attacker compares favourably to Christian Benteke:
"@ViktoriousFoot: @BelgoFoot how do you rate Batshuayi?" Looks a very good prospect. Looks better than Benteke when he left Belgium.

— John Chapman (@BelgoFoot) March 19, 2014
Blessed with incredible athleticism and more than capable technically, Batshuayi might lack the bulk to play as a lone striker, but he has all the tools to become either an elite option in a two-man front (in a similar role to Daniel Sturridge) or as a winger in a 4-3-3.
Batshuayi leads the Belgian league in goals with 18 and shows an excellent nose for goals, further demonstrating his versatility to play all over an offensive front. AFC Academy is impressed:
If you're U21 and you're DESTROYING the top league of the country, you're a bloody talented player. Doesn't matter that it's not the BPL.

— AFC Academy (@AFCAcademy) March 18, 2014
In many ways, the striker is reminiscent of a young Robin van Persie: oozing with natural potential that somewhat justifies a terrible attitude.
Arsene Wenger has shown time and time again he can work with attitude. He took van Persie, a spoiled brat on a dead end at Feyenoord, and turned him into one of the Premier League's most feared strikers. He saw past Thierry Henry's comments in the Italian media and turned him into one of the club's greatest players.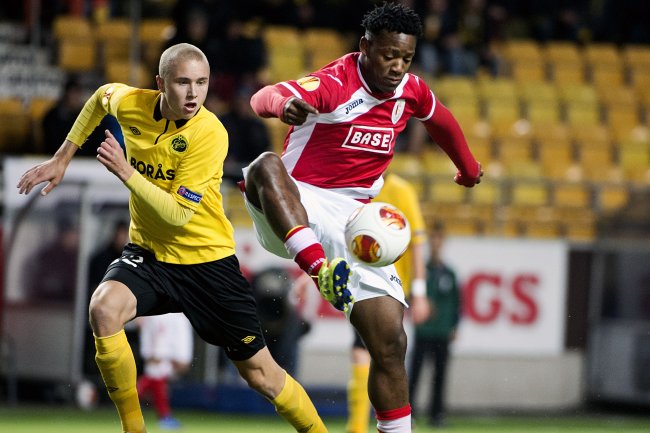 EuroFootball/Getty Images
Batshuayi believes he needs to move on from Standard in order to get better, and he believes he's good enough to start for Arsenal. While that may be up to Wenger to decide, I personally don't think he is. The youngster is too raw and inexperienced to lead the front line of a major EPL power, and his confidence could suffer in the event of multiple bad performances.
But the youngster has limitless potential, and Wenger has always found a way to work with players just like him. AFC Academy can only imagine what the coach would be able to do with the youngster:
@theEpicGooner watch him every week (Liege my Belgian team), and it's a pleasure. Ridiculous potential, can only dream him being under AW.

— AFC Academy (@AFCAcademy) March 18, 2014
Batshuayi probably won't fix Arsenal's current woes at the striker position, but if he's brought along slowly and receives proper guidance, he could have a very bright future ahead of him. With the player almost forcing his club into a transfer this summer, Wenger should pounce and sign the youngster as soon as he becomes available.