It was an old-fashioned nail-biter; a tense, gritty affair which left Arsenal hearts quivering.
But north London remains red, and dominantly so: a 1-0 win for Arsene Wenger's Gunners at White Hart Lane in the famous derby against the old enemy Tottenham Hotspur. The triumph has dual consequences for Le Professeur and his side.
On the one hand, the victory is proof of consolidating a season of Arsenal dominance in the derby—this victory, a third in three derbies in the 2013/14 campaign, representing the first season since the inception of the Premier League wherein Spurs failed to take a clean sheet from the Gunners.
On the other, it represents the perfect preparation for arguably the most fateful game of Arsenal's season thus far—Saturday's trip across the capital to Stamford Bridge, where the hospitality of league leaders Chelsea awaits.
Year upon year, Tottenham personnel and media personalities alike stake their claim before the season's start that this will be the year—the year to break the St. Totteringham's Day curse, the year that Spurs will trump their foes in the Premier League table once all 38 games are played.
Despite Arsenal's consistency in the table, Tottenham fans can never seem to be assuaged—but they can rest assured that 2014 will not be the year. After fruitless efforts in front of goal, managing only two shots on target from 17 attempts in total (via BBC Sport), Spurs looked mostly toothless in the final third despite enjoying nearly 60 percent possession and outmatching Arsenal for large periods of the game.
For an Arsenal side blighted by injuries—a blight they have suffered for the entire 2013/14 campaign, with only Carl Jenkinson and Emiliano Viviano escaping unscathed (via PhysioRoom.com, h/t Reddit user ThatDanishSandwich for the find)—it was by no means a vintage performance at the Lane. But that matters not.
It was a showing dominated by Laurent Koscielny and Per Mertesacker (the former deservedly winning Man of the Match for his dogged display), the central defensive pairing that has drawn plaudits from across the league this season. Even rival defenders have shown their appreciation:
Think koscielny has been centre back of the season this year! 🔥🔥🔥🔥🔥🔥🔥

— Micah Richards (@MicahRichards) March 16, 2014
It was a performance, like several in this waning season, that has begun to characterise the duo of Koscielny and Mertesacker of one day sidling in next to Tony Adams and Steve Bould, or Sol Campbell and Kolo Toure, in the annals of Arsenal lore. And rightly so; their tireless work has saved the Gunners on countless occasions this year, and their defensive organisation has become a huge contributory factor towards the Gunners' title push.
But the season, however far it has progressed, is not over—and Arsenal's preparation for Saturday's visit to Chelsea must begin in earnest.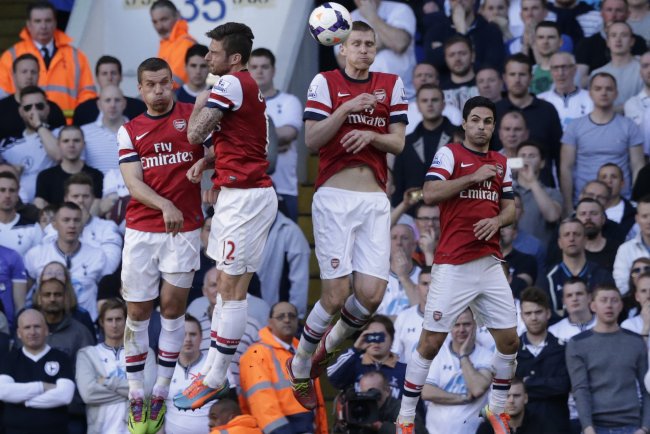 Matt Dunham/Associated Press
The derby day's defensive performance—stoic and unrelenting as it was—must make another appearance at the Bridge. Arsenal's creativity, although largely unhindered on Sunday—Tomas Rosicky's gorgeous finish a tribute to that—will likely be bolstered by the return of Aaron Ramsey, as well as a first Gunners outing for Spartak Moscow loanee Kim Kallstrom.
Victory at the Bridge will bring Arsenal to within a single point of Chelsea, and with a game in hand to boot. It will be a monumental task, make no bones about it (the only team to beat Chelsea at the Bridge this season was FC Basel, via WhoScored.com), and a similarly determined display to the one the Swiss side put on will be a prerequisite to the desired result for Arsenal.
Chelsea's creativity from midfield, personified by the scarily talented Eden Hazard and the flair of his partners Andre Schurrle and Oscar will pose a genuine threat to Arsenal's defensive corps. And although Chelsea's forwards have not been as industrious in front of goal as they would like, it would be foolish to count out the likes of Fernando Torres and Samuel Eto'o entirely.
But it is an opportunity that cannot be passed up, what with Liverpool level on points with the Gunners and with a favourable schedule. For Arsenal's title credentials to continue to be taken seriously, they have to take points from this game.
Three points, and the title is still well within reach. Only one point, and the job becomes that much more daunting.
A loss must be avoided at all costs.
The toughest and most significant test of Arsenal's season comes this weekend.