Updates from Monday, Mar. 17
Albert Breer of NFL.com has the latest on Darrelle Revis' move to New England:
Per his agents, Darrelle Revis has signed his contract with the New England Patriots.

— Albert Breer (@AlbertBreer) March 17, 2014
Mike Garafolo of Fox Sports has more on Revis' deal:
Darrelle Revis' deal w/ Patriots has a provision preventing team from tagging him in '15 if they decline option, sources tell @FOXSports1

— Mike Garafolo (@MikeGarafolo) March 17, 2014
Updates from Sunday, Mar. 16
Ian Rapoport of NFL.com has the latest on Darrelle Revis' deal with the Patriots:
New #Patriots CB Darrelle Revis will take his physical tomorrow and sign his 2-year, $32M deal, source says. Then it will be official

— Ian Rapoport (@RapSheet) March 16, 2014
Original Text
Darrelle Revis didn't quite get the same jump on free agency as other players, but for the second straight offseason, a team will be paying a handsome sum for the All-Pro cornerback to switch teams. Revis and the New England Patriots agreed to a one-year, $12 million contract on Wednesday, culminating a rapid negotiations process.
On Thursday, Revis' business manager, John Geiger, confirmed the deal:
Now it's Official. @Revis24 has agreed to terms with the New England Patriots !

— John Geiger (@JohnGeiger_) March 13, 2014
ESPN's Adam Schefter first broke the news on Wednesday:
CB Darrelle Revis and the New England Patriots have reached agreement on a one-year, $12 million deal, league sources told ESPN.

— Adam Schefter (@AdamSchefter) March 13, 2014
Tom Pelissero of USA Today followed up with additional contract details:
Darrelle Revis' deal with #Patriots includes an option for 2015 at $20M, including a $12 roster bonus.

— Tom Pelissero (@TomPelissero) March 13, 2014
Revis got a $10M signing bonus and has a $1.5M gtd base salary for 2014. Another $500K available in per-game roster bonuses.

— Tom Pelissero (@TomPelissero) March 13, 2014
If #Patriots exercise option before end of 2014 league year, he'd get a $12M roster bonus April 1, 2015 and have a base of $7.5M in '15.

— Tom Pelissero (@TomPelissero) March 13, 2014
That is a club option for 2015 on Revis, per details filed with the NFLPA. Must be exercised by end of '14 league year.

— Tom Pelissero (@TomPelissero) March 13, 2014
NFL Network's Ian Rapoport has more on the deal:
In the end, Revis' Pats deal turns out to be a two-year deal worth $32M with a team option for $20M in 2015… which means no franchise tag

— Ian Rapoport (@RapSheet) March 13, 2014
After a pre-draft trade sent Revis from the New York Jets to the Tampa Bay Buccaneers for a first-round and conditional draft pick in 2013, his representation negotiated a six-year, $96 million contract—only it came without guaranteed money.
Revis, coming off an ACL tear, negotiated in good faith that his performance level would justify the deal. The Buccaneers, meanwhile, took a risk on a premium talent with the guarantee they could cut bait if the deal didn't work out.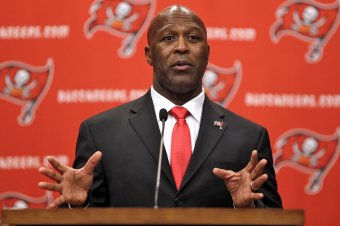 Chris O'Meara/Associated Press
No one expected a divorce to happen so quickly. In one of the more confounding decisions of the early free-agency period, the Buccaneers released Revis on Wednesday. Tampa Bay tried trading Revis before cutting bait entirely, but was asking for pittance compared to the haul it gave up one season ago. Since the Buccaneers released him by 4 p.m. Wednesday, they avoided paying a roster bonus and will convey only a fourth-round pick to New York rather than a third.
While still a confusing move considering Revis' performance level, the decision ostensibly centered on the Bucs' power structure being unsold on how he'd fit within Lovie Smith's defensive system. Smith replaced former head coach Greg Schiano early this offseason and plans on implementing his patented Cover 2 system. Revis, who excels when put out on an island in press man-to-man coverage, expressed his dismay last season at Schiano's insistence in playing him in zone early on.
"We have specific ideas regarding the best way to build this defense and, while you never like to lose a good player, we believe this is in the best interests of our team moving forward," Buccaneers general manager Jason Licht said of Revis' release.
One could easily lob criticisms at that angle. Too often coaches are overly beholden on their style instead of working with the talent on the roster, which was arguably the case here. The Buccaneers landed a replacement in Alterraun Verner who is considered a zone maven—and at a much cheaper price—but one must wonder whether choosing a schematic fit over a superstar-level player was the most prudent roster move.
That was apparent from the moment Revis hit the free-agent market. Much like when the Dallas Cowboys released DeMarcus Ware, teams wasted little time chasing after the five-time Pro Bowler. The Philadelphia Eagles and Patriots quickly emerged as two of the favorites, per Schefter. New England lost its top cornerback, Aqib Talib, to the Denver Broncos on the first day of free agency, though the looming scope of a bidding war loomed.
Now that he's in New England, Revis should be moving into a situation far better suited for his skill set. The Patriots, in addition to money, likely sold Revis on their willingness to allow him to do what he's always done—work on an island and take down the opposing team's best receiver.
For all of the up-and-down play and distractions that followed Revis' short stay in Tampa, there are plenty of reasons to think he'll be a worthwhile investment. Pro Football Focus (subscription required) graded Revis as the best all-around cornerback in football last season, with his all-around game being the primary reason. Revis ranked among the 10 best corners in the league both in coverage and against the run.
Which cornerback would you rather build your defense around?
Delving deeper into the metrics, PFF had Revis behind only Seattle's Richard Sherman in its coverage-snaps-per-reception metric. Given Revis' ability to move around the field and shadow a team's best receiver—oftentimes teams merely have a player stick to one side of the field, though this varies by scheme—the Patriots have to feel they're landing the best free agent this spring, bar none.

Now nearly two full years removed from his ACL surgery, Revis should have at least a few more years of peak form left. He'll turn 29 in July and still looked great in an untenable situation last year. With any luck, a move to New England may reawaken the hallowed Revis Island.
Follow Tyler Conway on Twitter: