Aston Villa loaned Ryan Bertrand this January until the end of the season, and according to The Mirror, the club will look to make it permanent in the summer.
The Chelsea left-back has set his sights on a top-10 finish with the Midlands outfit this campaign and already speaks as a determined member of the group. He cites Paul Lambert's methods as a major pull and admitted upon joining that he was fed up with sitting on the bench at Stamford Bridge.
As Villa and Chelsea lock horns this weekend, he will be forced to sit out the contest under the terms of his loan. If the two clubs can agree on a fee for a permanent deal, however, it's a win-win for both.
There's a lot to be admired about Bertrand, but he's just not of Chelsea quality. If Ashley Cole is being kept out of the team by an out-of-position Cesar Azpilicueta, there isn't much hope for the Southwark-born defender.
Villa, on the other hand, are crying out for a player of his quality at left-back and have been for close to a decade.
It's been a traditional hole in the team for many years, and not since Wilfred Bouma played for the club has the position looked anywhere close to "sorted."
Stephen Warnock, Nicky Shorey, Joe Bennett, Jlloyd Samuel and more have all tried to fill the void, but none have worked out due to injuries, wages or a complete lack of quality.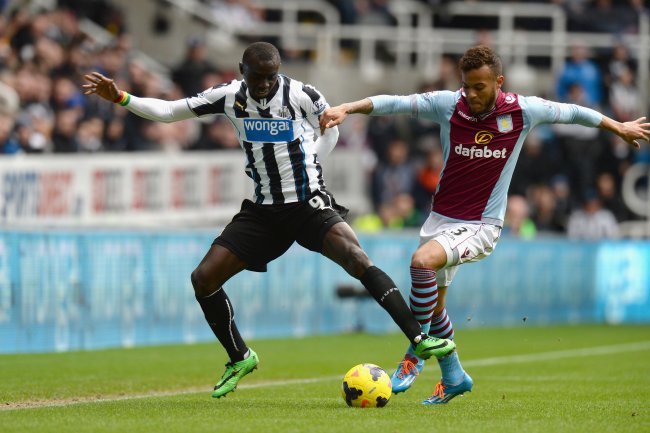 Tony Marshall/Getty Images
According to Transfermarkt.co.uk, Bertrand is a circa £5 million chance to land a classy, English option for the role who can play it for the next decade if required. Chelsea have reached the stage where they'd like to see him go permanently and Villa have the opportunity to nail a position down long-term.
Win-win.
It helps that he's been excellent since joining, with his calming presence and reliability in possession a major factor in the team going forward more often down the left-hand side now.
He and fellow midfielder Fabian Delph have struck up immediate chemistry, and the more they play together, the more they can work opportunities for each other in good areas.
Bertrand's slotted pass into Delph created Villa's fourth against Norwich City last weekend and he's made numerous telling contributions in the defensive phase too.
He's less reckless than Antonio Luna and less timid than Bennett. In a way, he's the perfect epitome of "third time lucky" when it comes to Lambert and his purchase of left-backs.
His great games (Norwich, Cardiff, Liverpool and West Bromwich Albion) far outweigh his average showings and Villa fans have seen enough of Bertrand—and enough of Luna and Bennett!—to be distraught should the club let this one get away.
There's motivation from all three parties. Now only football can get in the way.