Panthers fans may not want to hear it. Steve Smith definitely doesn't want to hear it.
But Carolina Panthers general manager Dave Gettleman is making the right call in moving on from the 34-year-old receiver.
How he's going about it? That's another story.
After a year in which Smith started to show small signs of slowing down, a season that saw his diminished skills if not heart, it's clear the old saying among personnel people is on Gettleman's mind.
Better to move on a year too early than a year too late.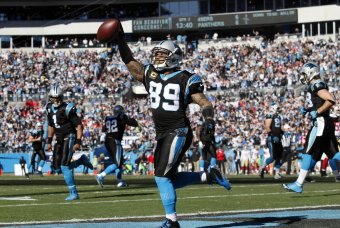 Jeremy Brevard-USA TODAY Sports
It would be easy for Gettleman to bring back Smith and his $7 million salary-cap figure, according to Spotrac, and hope the aging receiver has one more serviceable year left. Luckily for Panthers fans, Gettleman knows his job as the guy in charge of the football operations in Carolina is to always be looking for ways to improve the long-term prospects of his team.
It's hard, especially during these early days of free agency, with signings happening fast and furiously, for Panthers fans to stay calm at the prospect of losing one of the best players to ever don a Panthers uniform, especially if ignoring his name on the depth chart is cause for depression.
The only comfort I can offer Panthers fans is that the league year isn't even 48 hours old. Player acquisition is a long, drawn out process that includes not only these early, heady days of free agency, but the latter weeks and months and, of course, the NFL draft.
Look back to last offseason and the signing of Ted Ginn. That turned out to be a very good signing and Ginn became one of the nicer surprise signings of 2013. How much buzz did that signing generate at the time?
The point being, all the instant-analysis during the football-starved months of the offseason doesn't mean much once these guys get to camp and start working together. Moving on from Smith in and of itself is hard to take. But if in the coming days and months Gettleman goes on to sign, say, Hakeem Nicks and draft a young, exciting playmaker, well, the whole feeling around the wide receiver depth chart changes.
None of this replaces the emotional core that Smith has been for the Panthers, and the connection he has with Panthers fans.
These are the tough calls that good general managers make.
Now, that said, how Gettleman has gone about this, at least publicly, has been downright hard to watch.
First there was the Combine, where he stated that Smith was "part of the evaluation process," which reportedly came as a surprise to Smith.

Gettleman also referred to Smith's career in the past tense.
The two men finally spoke to each other for the first time last Wednesday. Five days later, Smith's jersey suddenly didn't appear on the team's official website.

Reports then surfaced that the Panthers were trying to shop Smith in a trade from NFL.com's Ian Rapoport (h/t SI.com's Doug Farrar), which of course is often a prelude to a release.
This is silly.
Gettleman could have, and should have, been upfront with Smith immediately after the 2013 season ended. He could have, and should have, let Smith know that he planned on moving on and given the veteran, the fan favorite, a proper sendoff, not to mention get a chance to get a jump on free agency.
Yes, there's all sorts of financial minutia involved in Smith's pending release, but nothing that demanded Gettleman hold the man hostage.
However this ends, it will be hard to watch the Panthers without Smith. He was the heart and soul of the team for a long time.
And he deserved a better end to his run in Carolina than the one it appears he's going to get.