par•a•dox (ˈpær əˌdɒks) n. 3. a person, thing, or situation, exhibiting an apparently contradictory nature. (Websters College Dictionary, via www.thefreedictionary.com)
Jurgen Klinsmann, the head coach of the United States team headed to this summer's FIFA World Cup Final in Brazil, consistently claims that he wants his players getting meaningful minutes in the world's most competitive leagues.
Just last month Klinsmann said, "the message to all the players is get a starting spot with your club team, to play week-in, week-out."
A few weeks before that, just after the South Korea friendly, Klinsmann said "You have to give them a clear message that only if you pick up a rhythm and play week-in, week-out, will you complete one of the big keys in order to make the World Cup roster."

He also previously argued, per ESPN FC, that it is better for the national team that as many players as possible test themselves in the biggest European leagues.
Like any coach, Klinsmann has his favorites. "The core group of the team is Tim Howard and then Michael Bradley, Jermaine Jones in midfield, Clint Dempsey in front of them and then Jozy Altidore up front. These five players build our spine."
Like any good coach, his favorites are also very talented players.
Unfortunately, only one of the team's vertebrae, Tim Howard, is playing consistent minutes in one of the "best leagues."
Altidore inexplicably did not even make the roster for Sunderland's Capital One Cup Final.
Dempsey and Bradley are getting ready for the start of the MLS season with their new teams.
Jermaine Jones just got his first minutes for his new Turkish side.
The table below provides data on who is playing for Klinsmann and who is playing "in the big European Leagues."
Player
"Big" Club
UEFA Club Ranking
Club Appearances '13-'14 Start/Sub
USMNT Appearances '13-'14 WCQ/INT/SUB
Howard
Everton
83
29/0
6/5/0
Bradley
AS Roma
55
5/6
4/4/0
Jones
Schalke/Besiktas
12/66
15/5
5/5/0
Dempsey
Tottenham/Fulham
19/47
15/4*
5/2/0
Altidore
Sunderland
N/A
23/9
5/5/1

Geoff

Cameron

Stoke City
82
31/0
3/4/2

All game data from espnfc.com.

UEFA Club Coefficient Rankings based on club play in Europa League and UEFA Champoins League, from uefa.com

*Includes games with Seattle Sounders.
The last name in the table, Geoff Cameron, is not named in Klinsmann's "spine". Cameron started only three World Cup Qualifiers in the 2013-2014 season.
Most of Cameron's starts came when one member of the spine was tapped out—either through injury or yellow card accumulation. Cameron is Klinsmann's multi-tool, having played right-back, center-back and defensive midfielder in his USMNT career.
Cameron plays right-back for Stoke City in the English Premier League, where he is in the top ten percent of three statistical categories recorded by WhoScored:
Ranked third among full-backs in "interceptions" with 2.6 per game (10th of 275 EPL players).
Ranked third among full-backs in "dribbled by other team player" with 1.3 per game (24th of 282 EPL players).
Ranked fifth among full-backs in "tackles" with three per game (19th of 281 EPL players).
Even so, Cameron was not Klinsmann's first-choice right-back for most World Cup qualifiers, as the national team manager has tried everyone but you and me at right-back. Brad Evans got the most World Cup qualifier starts at right-back but Evans is a converted midfielder.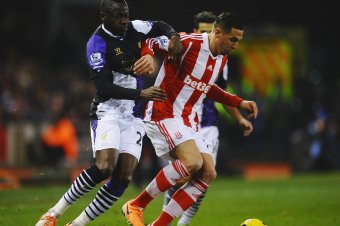 Laurence Griffiths/Getty Images
Cameron finds himself stuck in a confounding situation where he played more games for a highly ranked team than any of the USMNT players in Klinsmann's spine and his performances in those games rank him among the Premier League's best. But his national team coach, who preaches playing well and often in the most competitive environments, does not have Cameron at the top of his depth chart for any position.
Part of Klinsmann's reasoning seems to be that Cameron is so good at multiple positions that his coach feels a strong urge to keep Cameron ready for those all-too-frequent emergencies when another key player is missing.
Cameron is certainly doing everything his national team coach asked his players to do. Perhaps too well. Cameron is a victim of his own success and apparently finds himself tangled in a paradox where he is so good that he cannot be a regular starter.
What should Geoff Cameron's role be for the USMNT?
When the U.S. kicks off against Ukraine in Cyprus, Cameron may once again be replacing a missing vertebrae as Michael Bradley elected to stay home and nurture a tweak. Cameron could line up at defensive midfielder next to Jermaine Jones.
Watch Cameron carefully, his performances at defensive midfielder for the national team have been very good and if he outshines Jones on Wednesday night, it will be difficult for Klinsmann to keep his multi-tool folded away in his pocket when they hit the jungles and beaches this summer in Brazil.