The 2014 NFL Scouting Combine was the platform from which a few top prospects solidified their status as the best of the best.
We're not just talking about workout warriors here.
The combine isn't the most important part of the scouting process, and players who show up well in shorts without any solid tape to back up their athletic prowess are easily dismissed as top prospects.
However, these upcoming players were already considered to be potential superstars. After blowing up the combine, they're going to be even more highly coveted by teams when Round 1 kicks off this May in New York City.
Note: Jadeveon Clowney isn't included in this article, because everybody already knew he would put up excellent numbers at the combine. He neither helped nor hurt his draft stock by running fast. The real question teams still have to answer is whether he's committed to becoming the best he can be.
Greg Robinson, OT, Auburn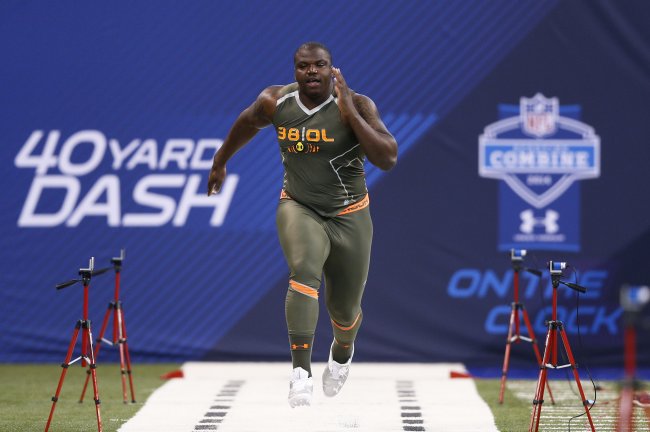 Joe Robbins/Getty Images
Heading into the combine, NFL draft analysts were eagerly anticipating the numbers Greg Robinson might put up. Everyone marveled at his physicality as he mauled defensive linemen and linebackers in the running game and showed up well in pass protection this past season.
Robinson did nothing but further tantalize our imaginations about what he can accomplish in the NFL over the weekend. He put together one of the most impressive combine showings of any player at any position this year in Indianapolis.
Here's a look at the numbers.
Greg Robinson at the 2014 NFL Combine

| | | | | | | |
| --- | --- | --- | --- | --- | --- | --- |
| Height | Weight | Arm Length | Bench Press | 40 | 10 Split* | Vert. |
| 6'5" | 332 lbs. | 35" | 32 reps | 4.92 | 1.68 | 27.5" |
NFL.com
Doug Farrar of SI.com summed them up with this gem of a tweet:
Greg Robinson just done blowed everything the heck up.

— SI_DougFarrar (@SI_DougFarrar) February 22, 2014
Which player will become the better pro?
There was plenty of debate about whether Robinson or Jake Matthews is this year's top offensive tackle before the combine. Now, the debate will become even hotter in draft war rooms as scouts and general managers argue about a polished product (Matthews) versus a player with unlimited upside (Robinson).
Houston will certainly take either a quarterback or Jadeveon Clowney, but nobody should be surprised if Robinson ends up being drafted with the No. 2 overall pick by the St. Louis Rams.
At the least, he's a top-10 pick, but after Robinson's combine performance, it's likely he will be selected sooner rather than later.
Aaron Donald, DT, Pittsburgh
Before the combine, draft analysts were split about where Aaron Donald might land.
After the diminutive defensive tackle showed off an exceptional combination of strength, speed and burst on the field at Lucas Oil Stadium, however, there's little doubt he'll be taken somewhere in the top half of the first round.
Here's a look at his combine numbers.
Aaron Donald at the 2014 NFL Combine

| | | | | | | | |
| --- | --- | --- | --- | --- | --- | --- | --- |
| Height | Weight | Arms | 40 | Bench Press | Vertical | Broad | 3-Cone |
| 6'1" | 285 lbs. | 32.625" | 4.65 seconds | 35 reps | 32" | 116" | 7.11 sec. |
NFL.com
With an official 40 time of 4.68 seconds, the 285-pound Donald ran faster than many receivers and running backs. Ian Rapoport of NFL.com thinks it was just as impressive as Clowney's time of 4.53 seconds:
As impressive as Clowney's 40 was, Pitt DT Aaron Donald's 4.65 at 285 may be just as impressive. Lit it up at Senior Bowl too.

— Ian Rapoport (@RapSheet) February 24, 2014
Also impressive were the 35 reps Donald put up on the bench press, and he was a top performer in the three-cone drill, which showed off his amazing quickness, agility and burst.
"I'm real happy," Donald said afterward, via Gerry Dulac of the Pittsburgh Post-Gazette. "This is what I've been working for for seven months. I wanted to go out and do some special things."

Special things accomplished.
Ryan Shazier, OLB, Ohio State
We all know Ryan Shazier is lightning fast, but he was unable to prove it in shorts during the combine thanks to a minor hamstring injury.
Nobody really cares at this point. He plays with incredible speed on tape and is clearly one of the top athletes at any position in this year's draft class.
Even with a sore hamstring wearing him down, Shazier's freakish abilities were on display in Indy. Here's a look at his numbers.
Ryan Shazier at the 2014 NFL Combine

| | | | | | | |
| --- | --- | --- | --- | --- | --- | --- |
| Height | Weight | Arm Length | Bench Press | Vertical | Broad | 3-Cone |
| 6'1" | 237 lbs. | 32.375" | 25 | 42" | 130" | 6.91 sec. |
NFL.com
The numbers that jump off the page are the totals in both jumping drills and the three-cone drill. They are a clear indicator of the incredible explosiveness packed into Shazier's compact 6'1", 237-pound frame—a fact B/R's Ryan Riddle and Brendan Leister of DraftBrowns.com discussed:
Shows up consistently on tape. RT @Ryan_Riddle: Ryan Shazier's explosiveness is extremely rare.

— Brendan Leister (@BrendanLeister) February 24, 2014
Additionally, his 25 reps on the bench impressed scouts who were concerned about any potential issues with strength.
Shazier can play in any system. However, given his extreme quickness, he'd be better off playing as an outside linebacker for a team with a 3-4 scheme.
He won't make it out of Round 1, and there's a chance after his combine performance Shazier could sneak into the top half.
All combine results courtesy of NFL.com's results tracker.
Follow me on Twitter @JesseReed78.