When you get used to having things go your way, it often leads to more anger when things go wrong. That seemed to be what happened to Tata Martino in Barcelona's La Liga match against Real Sociedad.
After the manager watched his club go into halftime with the score tied at 1-1, Martino took out his anger on the referee and was consequently ejected from the match, according to the club's official Twitter account:
Tata Martino was ejected from the game during the break. #FCBlive

— FC Barcelona (@FCBarcelona) February 22, 2014
BeIN sports provides some more details on the incident:
Tata said the 'magic words' to Referee Borbalan at HT. YOU can choose the magic words. #beINLaLiga #JSL

— beIN SPORTS (@beINSPORTSUSA) February 22, 2014
AS elaborated on what Martino said to get himself removed:
Ref's report says Tata dismissed for "approaching [La Real assistant coach] Txema Lumbreras and calling him hairy bollocks, in the tunnel".

— AS English (@English_AS) February 23, 2014
The first half featured a lot of sloppy play, including an own goal by Alex Song as well as yellow cards by both Sergio Busquets and Marc Barta. Lionel Messi earned the equaliser, but the road team was expecting a bigger lead over their opponent.
However, things got much worse after intermission as Real Sociedad scored twice in a span of five minutes to take a 3-1 lead over Barcelona. The home squad was able to hold on for an impressive win that will cause massive changes on top of the league table.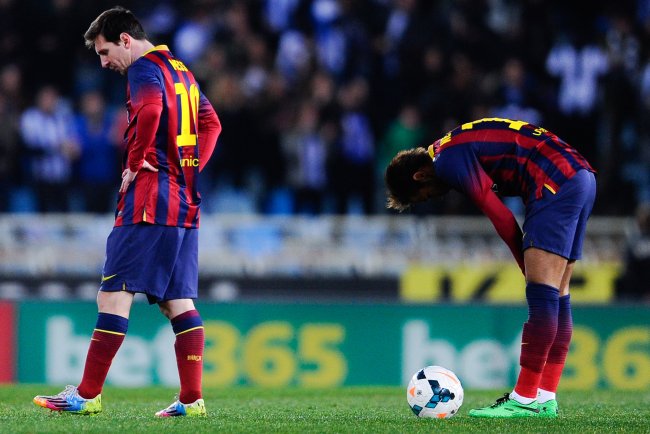 David Ramos/Getty Images
Barca entered the week tied with Real Madrid and Atletico Madrid for first place in the league, but they had the overwhelming advantage in goal differential. However, the loss to Real Sociedad will drop them to at least second place with Real Madrid earning a win over Elche earlier in the day.
Atletico Madrid have a road match against Osasuna on Sunday and can pull ahead of Barcelona with a win or draw.
While Saturday's poor performance cannot be entirely blamed on Martino, things certainly went south when he was forced to leave the sidelines. This is even more disappointing with a starting lineup missing many starters after he recently explained that Barcelona "have to aspire to winning every game we have left,"according to FCBarcelona.com.
However, ESPN's Dermot Corrigan notes that good things can still come from this:
Worth pointing out tho that both Guardiola's & Vilanova's Barca sides lost at Real Sociedad and went on to win the title at end of season.

— Dermot Corrigan (@dermotmcorrigan) February 22, 2014
Either way, Martino will have a lot of questions to answer after losing his cool at halftime.
Follow Rob Goldberg on Twitter for the latest breaking news and analysis.