Yulia Lipnitskaya won hearts in Sochi and captivated audiences worldwide in her beautiful performance during the team skating event. In her first run as an entirely solo act, the 15-year-old again thrilled the crowd despite showing her inexperience at the highest level.
Lipnitskaya recorded a score of 65.23 in Wednesday's short program, earning her a 5th-place standing in the warm-up before the longer free skate. She currently sits behind leader Yuna Kim of South Korea, Adelina Sotnikova of Russia, Carolina Kostner of Italy and Gracie Gold of the United States.
Ladies Short Program Results

| | | | |
| --- | --- | --- | --- |
| Place | Skater | Country | Score |
| 1 | Yuna Kim | Japan | 74.92 |
| 2 | Adelina Sotnikova | Russia | 74.64 |
| 3 | Carolina Kostner | Italy | 74.12 |
| 4 | Gracie Gold | United States | 68.63 |
| 5 | Yulia Lipnitskaya | Russia | 65.23 |
| 6 | Ashley Wagner | United States | 65.21 |
| 7 | Polina Edmunds | United States | 61.04 |
| 8 | Akiko Suzuki | Japan | 60.97 |
| 9 | Mae Berenice Meite | France | 58.63 |
| 10 | Nathalie Weinzierl | Germany | 57.63 |
Sochi2014.com
Lipnitskaya did fall during her short program, but following her performance, the Russian crowd showered her with praise (via Kelly Whiteside of USA Today):
It's raining flowers! Crowd loves Julia. So does the pressure

— Kelly Whiteside (@KellyWhiteside) February 19, 2014
The young star will have an uphill climb in Thursday's final, as Christine Brennan of USA Today noted:
Lipnitskaia is almost 10 points behind @Yunaaaa. And there will be a few more skaters between them when the evening is over.

— Christine Brennan (@cbrennansports) February 19, 2014
The Russian is seeking to become the youngest gold medalist since American Tara Lipinski won at the 1998 Winter Games at age 15. Figure skating typically engenders itself to peaking in relative youth, but the ascent of athletes like Lipinski and Lipnitskaya is still incredibly rare. Lipinski remains the youngest individual gold medalist in history.
Heading into the Winter Games with a considerable buzz, Lipnitskaya became one of the biggest storylines of the first week. She scored a first-place finish in both the short program and free skate during the team skating, helping lead Russia to an overwhelming gold in the inaugural event. The performance drew the praise of many, including Russian president Vladimir Putin.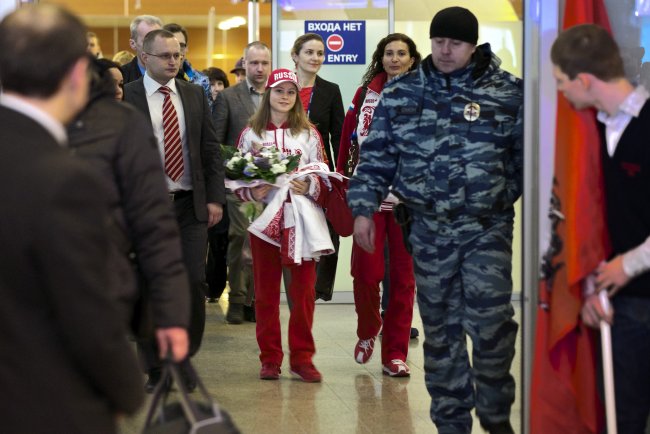 Alexander Zemlianichenko/Associated Press
Lipnitskaya has also drawn some surprising criticism. Or, more specifically, some have complained about the way Lipnitskaya is judged on the scorecard. United States skating coach Frank Carroll drew headlines for somewhat derisively calling her a "little girl," per Christine Brennan of USA Today.
"The judges are going to do what they want, but the little girl, you know, Julia (Lipnitskaia), she's very, very good, extremely talented, I admire her skating, I think she's wonderful," Carroll said. "Is she a 10, a score of 10 in the program component scores? Or 9.5? I don't think so."
For the most part, though, Lipnitskaya has received rave reviews. She draws perhaps the loudest cheers of any skater in Sochi, with her fellow Russians offering cheers of encouragement and even flowers during the team skate.
Even fellow skaters could not help but be impressed. As American Ashley Wagner told Liz Clarke of The Washington Post, the poise and steadiness amid the mounting pressure is what stands out about Lipnitskaia's time in Sochi:
What she does as an athlete is very incredible. To be 15 and to be at the Olympics, it either really works for you or it really works against you. I was 16 at my first world championships, and it really worked against me. So the fact that she has come in here and been so focused and has her eye on the prize — that's very admirable for a 15-year-old. She's wise beyond her years.
No matter her poise, attaining gold looked to be an uphill climb. South Korean Yuna Kim is defending her gold medal from Vancouver and is still at the top of her game at age 23. Kim holds numerous scoring records throughout her career, consistently finishes on the podium and may someday go down as one of the most decorated figure skaters in the sport's history.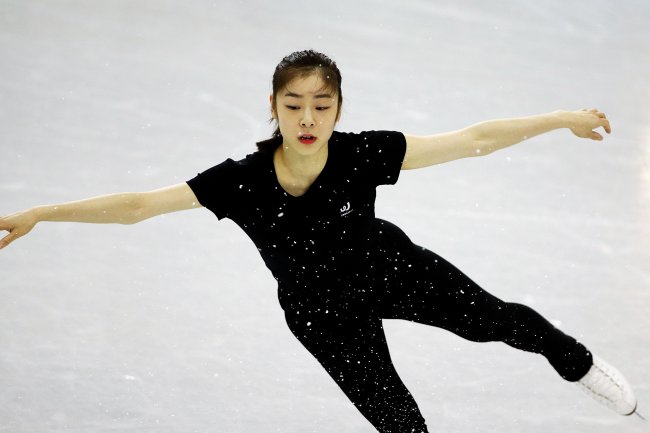 David Goldman/Associated Press
That's a lot of pressure for any 15-year-old to endure. Perhaps accounting for that, the Associated Press selected Lipnitskaya as its pick for the bronze medal, behind Kim and Mao Asada of Japan.
After her short program, it's clear things will be decided Thursday. The longer program allows for higher variance between scores, and even skaters a little down the rankings still have to feel they have a chance at a medal. Lipnitskaya, Kim and all the other favorites certainly won't be ceding an inch.
But following the short program, it will be interesting to see what happens. Not only does Lipnitskaya have to deal with the prospect of being a 15-year-old on the precipice of an Olympic medal, but she also has an entire country counting on her every leap.
Follow Tyler Conway on Twitter: