Big packs of cars, big wrecks and big speed.
Everything about the Daytona 500 is big.
Forty-three of the world's best drivers on the same racetrack, running a heart-stopping inches apart, three-wide and at 200 miles per hour and you've got a recipe for great entertainment.
For the fans.
Not for the drivers.
"Imagine driving in rush hour on the Interstate, with cars all around you and nowhere to go. Then, move the cars closer and add about 120 miles per hour to your speed. Then, add in everyone around you changing lanes with little or no notice. That's what it's like (during a restrictor plate race)."
That was 2010 Daytona 500 winner Jamie McMurray explaining restrictor plate racing to me during a media dinner several years ago.
Daytona International Speedway Track Facts

| | | |
| --- | --- | --- |
| Track Info | 2.5-mile trioval superspeedway | 40 feet wide with 12- to 30-foot apron |
| Turns | Banking: 31 degrees | 3,000 feet long, 1,000-foot radius |
| Frontstretch | 3,800 feet long | Minimal banking |
| Backstretch | 3,000 feet long | Minimal banking |
| Pit Road | 1,600 feet long | 60 feet wide |
DaytonaInternationalSpeedway.com
McMurray, arguably one of the better plate racers in NASCAR has won two in a row, a rare feat—the fall Talladega race in 2009 and the Daytona 500 the following February. The Missouri native has mixed emotions heading into Sunday's race.
"I've always enjoyed plate racing. (But) it's been in streaks. So, I've been able to win a couple in a row. And then you go where you can't even finish one. So I don't know," said McMurray during last week's NASCAR Media Day at the Speedway. "I look at it probably the same way everyone else does. Everyone has a chance to win, but you also have a chance of finishing last if you get wrecked early on. So, I look forward to them. They're challenging, for sure."
Based upon what we saw last Saturday night during the Sprint Unlimited, the 56th running of the Daytona 500 should be a real barnburner. Most restrictor plate races usually are.
There's a reason for those big packs and the big wrecks.
When NASCAR needed to slow the Sprint Cup cars on its longest and fastest racetracks, it mandated the use of an airflow restrictor on the engine, robbing it of horsepower.
A Sprint Cup car normally has between 800-900 horsepower. A restrictor plate engine puts out around 425 hp. That slows down the cars considerably. With today's modern aerodynamics in play, speeds are still at or near 200 miles per hour. Without the restriction, the cars would be capable of going 40 miles per hour faster, increasing their chances of becoming airborne when turned sideways or backwards in a crash.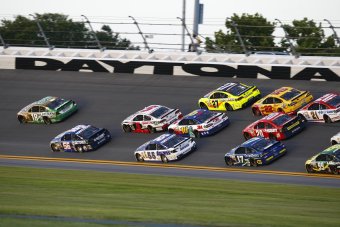 Douglas Jones-USA TODAY Sports
With an engine gasping for air and NASCAR's rule book requiring the use of specific suspension parts as well as identical rear spoilers on the body, the fans get heart-stopping racing in big packs of cars, often bumping into each other as the air dances around them, making each little twitch and bump an invitation for disaster.
The current generation of Cup car, while it is the safest stock car ever built, is still a handful on the high-banks of the Daytona International Speedway. They bob and weave in close quarters with each other, racing just inches apart. NASCAR's latest version of its Sprint Cup cars was designed to be a little easier to drive on the big tracks.
But, according to 2013 Cup champion Brad Keselowski, not too easy.
"They should be hard to drive," Keselowski said during the press conference that followed Saturday night's Sprint Unlimited . "They should have things that they do that stand out and allow talent to rise to the top. I'm one of those that is not in favor of child-proofing the cars and putting more spoiler on them or more down force or more whatever. This should be the cream of the crop and the baddest of the bad race car drivers. You shouldn't have everything handed to you.
"That's why it's Cup and it's elite."
Over the last few years, NASCAR has made every effort to come up with a formula for restrictor plate racing that satisfies both the fans and drivers. The fans love the hold your breath, nail-biting, in-your-face style of racing in big packs. The drivers on the other hand, while accustomed to racing in the big packs, wanted to be able to have the power to change lanes at will and make a move towards the front of the pack. It's not always worked out. A couple of years ago, drivers took to tandem racing to solve the problem, but ended up with the bizarre looking bumper-to-bumper configuration that allowed both cars to rocket to the front. NASCAR changed the rules to eliminate it and without it, fans were treated to single-file racing.
They hated both—single-file and tandem racing.
The new Gen 6 car has minimized single-file racing on superspeedways and made the style of tandem racing from a few years ago a thing of the past. However, bump drafting is still in play for short distances. (That's when two cars get together nose-to-tail for the purpose of making them both go faster.) That method works well and it will likely come into play during the closing laps of Sunday's race.
Imagine, five hundred miles of rush hour traffic. Three or more hours alongside impatient drivers making random and often insane lane changes, while others are waving their hands frantically trying to get your attention in an effort to get you to help them move towards the front. You're spending as much time looking in your rear view mirror as you do out your windshield. Add in a handful or more cars that are all over the place because of handling issues and you get a pretty good idea of how your favorite driver will be spending his afternoon.
"This place isn't physically that hard on you," said A.J. Allmendinger at Media Day. "Mentally you are spent by the end of the race; trying to work the draft, figure out where to go, being tense for 500 miles because you know the big wreck could happen at any time."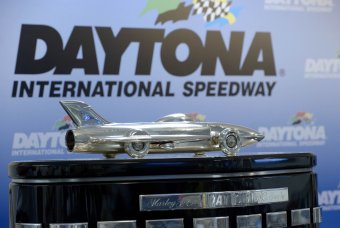 John David Mercer-USA TODAY Sports
Chances are there will be a few angry drivers after the checkered flag flies on Sunday, and there will be one driver who will be extremely happy. That's because he (or she) tiptoed through a minefield—otherwise known as the Daytona 500.
The reward?
A great trophy, a big check, bragging rights until Feb. 29, 2015 and from that day forward, you will always be introduced as a Daytona 500 winner.
Like I said, everything about the Daytona 500 is big.
*Driver quotes were either given to the author personally or taken from official transcripts made available the driver's respective manufacturer.
Follow me on Twitter: @BobMargolis