Is Aaron Dobson the Big-Play Receiver the Patriots Need?
February 18, 2014

Jared Wickerham/Getty Images
The New England Patriots are considered a candidate to bring in an ultra-talented big-play receiver this offseason, but they are tight against the salary cap and don't have a lot of money to invest in the position. Not only do they already have a big investment in Danny Amendola, but they may also have a second investment in the works with Julian Edelman.
Perhaps, instead of investing money, the Patriots should invest some good faith in the development of Aaron Dobson. 
The decision may, to a degree, come down to how much the Patriots will expect out of Dobson in his second year. He flashed the ability to develop into a dynamic "X" receiver but needs polish in some of the areas that define what the Patriots have been missing. 
Aaron Dobson split stats
Yards downfield
Catches
Targets
Catch %
Yards
Y/R
TD
Behind LOS
2
2
100
1
0.5
0
0-9
25
31
80.7
206
8.2
0
10-19
9
23
39.1
220
24.4
3
20+
3
17
17.6
128
42.7
1
Route
Catches
Targets
Catch %
Yards
Y/R
TD
Comeback
2
3
66.6
30
15
0
Curl
6
8
75
80
13.3
0
Dig (in)
7
8
87.5
117
16.7
0
Drag
1
1
100
6
6
0
Fade
2
9
22.2
43
21.5
1
Flare
1
2
50
7
7
0
Go
1
9
11.1
81
81
1
Out
5
11
45.5
54
10.8
0
Post
2
4
50
36
18
0
Seam
0
1
0
0
0
0
Screen
4
4
100
7
2.3
0
Slant
5
8
62.5
36
7.2
0
Stop-and-go
1
2
50
14
14
1
Stick
1
3
33.3
5
5
0
Wheel
1
1
100
39
39
1
Source: Personal research
The good news for the Patriots is that the chemistry between Dobson and quarterback Tom Brady is trending in the right direction. They got off to a rough start in their first four games together, connecting on 13 of 29 passes, but they heated up at that point and hooked up on 26 of 45 passes in their final seven games together.
There's work to be done in creating explosive plays, but Dobson has the ability; he just needs to put it on display more consistently.
Brady threw 17 passes to Dobson that traveled 20 yards or more and completed just three of them. Those missed connections were for a variety of reasons: poor throws, good defense, dropped passes and miscommunication chief among them. 
Even on intermediate passes (10-19 yards downfield), the two connected on just nine of 23 passes. When Brady threw to Dobson within 10 yards, though, the combination was magic, and the two connected on 25 of the 31 short passes.
Make no mistake: Short routes are an important aspect of being a boundary receiver. .
Source: NFL Game Rewind
Dobson's lone catch in the regular-season finale against the Buffalo Bills came on a five-yard slant, where Dobson had to quickly win leverage off the line of scrimmage against cornerback Stephon Gilmore. The ball was delivered in a near-perfect spot, right out in front of Dobson where he could extend his arms away from his body to make the catch.
Going deep, however, seemed to be a problem.
One thing that jumps off the page about Dobson's rookie year is that he struggled to win contested catches. Sure, there were times when he simply dropped an open pass (two of his nine drops came on open deep passes), but that can be corrected through concentration, and perhaps his hands will soften when he becomes more polished as a receiver and more comfortable in the offense.
Source: NFL Game Rewind
Dobson needs to make catches like this one more consistently in order to provide the Patriots that missing element on the outside.
Trailing by a touchdown with just 3:26 remaining in the game, Brady spotted Bengals cornerback Terence Newman in single coverage on Dobson and went deep to him on a fade route toward the front right pylon.
In Dobson's defense, Newman was there with him stride for stride down the sideline, and there was really not much of a chance of this being completed. He did almost everything he could in jumping for the ball, and he even got two hands on it before Newman was able to pry it out.

Source: NFL Game Rewind
Notice, though, where Dobson is in relation to the ball at the point of attack. If Dobson had jumped a little earlier, he would have given himself a much better chance of coming down with the ball by putting himself higher than the defensive back. 

Source: NFL Game Rewind
As Dobson gets more experience in those situations, he may have an easier time winning contested catches. 
He did, however, show the ability to make difficult grabs on occasion as a rookie. On this play, he ran 15 yards downfield and then cut toward the sideline on an out route. The cornerbacks were playing off coverage, respecting the deep routes.
Dobson quickly ate up the cushion, and Saints cornerback Jabari Greer made little effort to defend the outside, making both Dobson and Brady's decisions easy.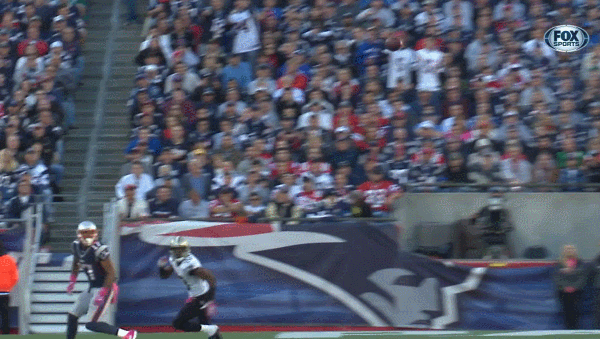 Source: NFL Game Rewind
Brady began throwing the pass before Dobson had come out of his break. Once Dobson was running flat toward the line of scrimmage, he turned his head around and quickly found the pass headed his direction. His work, however, was not done. 
He high-pointed the ball with his hands over his head and made a contested catch over Greer, who had closed on the pass (and the receiver), completing the catch all the way through.
There are other ways to make contested catches on the sideline, too. One that we saw the Patriots try repeatedly with Dobson was the back-shoulder fade. They had their trouble connecting on these earlier in the season but finally hit one in the fourth quarter of their win over the Pittsburgh Steelers.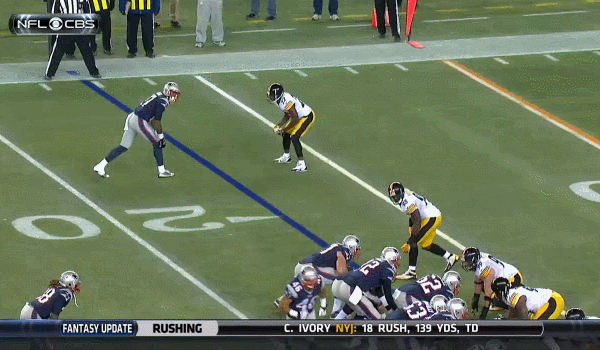 Source: NFL Game Rewind
With Steelers cornerback William Gay in single coverage on Dobson and safety Troy Polamalu in deep coverage in the end zone, Brady knew he had a short window of opportunity to fit the pass in. He threw it on a line, with Dobson turning around to find it just a split second before it landed in his hands. With Gay tight in coverage, Dobson was able to pull the pass into his body while tapping his foot past the pylon.
In addition to learning the offense and building rapport with the quarterback, one other aspect to take into account is Dobson's size. At 6'3" and 200 pounds, Dobson still has room to add some muscle. Getting stronger—usually one of the many facets of a second-year jump—could really help in winning those one-on-one matchups.
It's important to note, also, that some of those missed connections were not Dobson's fault. Some of them were good plays by the defense, some of them were poor passes from Brady, and some of them were due to miscommunication or a bad read by either Brady or Dobson.
A little improvement from both parties will go a long way in building Dobson into the big-play receiver the Patriots have been missing for so long. 
Erik Frenz is also a Patriots/AFC East writer for Boston.com. Unless otherwise noted, all quotes were obtained firsthand or via team news releases.