When it comes to the crunch, Arsenal just can't seem to get it done.
This game with Manchester United wasn't just a chance to pick up an invaluable three points. It wasn't just a test to see if Arsenal could return to the top of the Premier League. This match was an opportunity for Arsenal to finally show they have the fortitude required to overcome a United side that has haunted them for years.
Heading into the game, Arsenal had won just one of their last 10 encounters with United. There is undoubtedly a psychological barrier, and one that bleeds into Arsenal's games against other elite opposition.
Will Arsenal win the league?
However, this was surely the time to slay that particular dragon. United are floundering on the borders of mid-table. They had just endured a humiliating draw at home to Fulham. They were more vulnerable than they have been in years.
Yet Arsenal couldn't put them away. A turgid display was best summarised by the fact that, until the last 10 minutes, Arsenal's two best chances both came from set-pieces.
When Arsenal attacked, they lacked the pace and penetration required to break down United. The loss of Theo Walcott seems more problematic with each passing game. Several times in the match, Mesut Ozil—a rare bright spark in the Arsenal XI—broke away but had no runners ahead of him to find.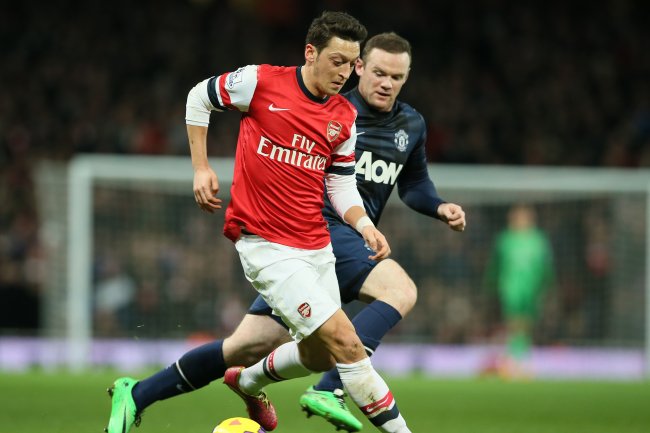 Alastair Grant/Associated Press
Arsenal played within themselves. Faced with the poorest United side in decades, they looked a little scared. The ghost of Sir Alex Ferguson seems to hang over Arsene Wenger as well as David Moyes.
They didn't lose, at least. It was a distinct possibility, too—an outstanding save from Wojciech Szczesny was required to keep Robin van Persie at bay.
In isolation, a draw at home to United is no disaster. After Arsenal had been thrashed 6-3 at Manchester City, they responded with a similarly lifeless 0-0 at home to Chelsea. That result precipitated a good run that kept the Gunners in title contention. It's possible that this draw could stabilise the team and do the same.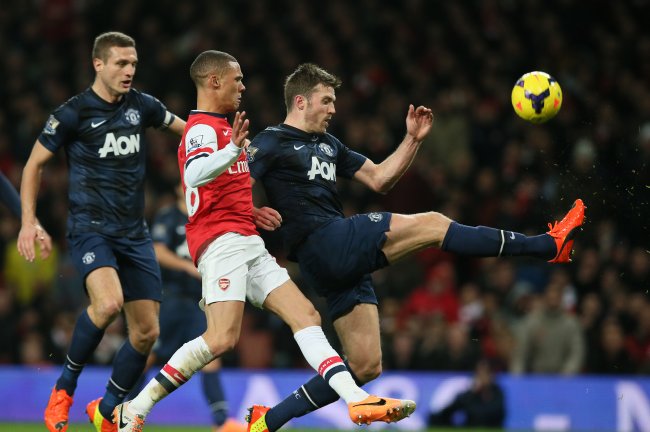 Alastair Grant/Associated Press
It might be possible, but it seems less likely than back in December. At that time, Arsenal faced a series of very winnable games. Their upcoming fixture list, however, looks perilous. After relatively easy games against Sunderland, Stoke and Swansea, Arsene Wenger's team face Tottenham, Chelsea, Manchester City and Everton in succession. Three of those four fixtures are away from home. United may retain a certain fear factor, but this was arguably one of the more winnable games Arsenal will face over the next two months.
After the game, Arsene Wenger attempted to placate the fans by explaining that, in light of the Liverpool result, Arsenal could not be expected to produce their best. Speaking to Daniel Taylor of The Guardian, he insisted his players are "only human beings."
Wenger: "We were nervous. We care about what we do and when we concede five goals, as we did on Saturday, we are only human beings"

— Daniel Taylor (@DTguardian) February 12, 2014
He may be right. However, the title-winning sides of Arsenal's past showed superhuman mental strength to win the league. The prevailing fear tonight is that this particular Arsenal team isn't quite as special as we'd hoped.
James McNicholas is Bleacher Report's lead Arsenal correspondent and will be following the club from a London base throughout the 2013-14 season. Follow him on Twitter here.