The February fixture list seemed set to shape Arsenal's season.
On that basis, things aren't looking great. Arsenal began a difficult run of games in the worst possible manner, being thumped 5-1 by a rampant Liverpool.
Can Arsenal still win the league?
This was a truly dismal performance.
From back to front, Arsenal were poor. It had been suggested that in order to cope with the dual threat of Luis Suarez and Daniel Sturridge, Arsenal might opt to "park the bus". If they did park it, it looked as if they opted to do so some way from Liverpool. Arsenal simply didn't turn up.
Watching the horror unfold, it was hard to believe that the Gunners supposedly had the meanest defence in the Premier League.
From inside the first minute, Arsenal were all at sea.
The back four seemed unable to cope with the sheer fervency and pace of the Liverpool attack. The midfield were second to everything, and struggled to successfully complete either a pass or a tackle. Up front, Olivier Giroud laboured, the flaws in his game put in to stark relief by the brilliance of Suarez and Sturridge.
There is a temptation to see this as the beginning of the end of Arsenal's title challenge.
Arsenal supporters have grown accustomed to seeing the quest for silverware come undone at this time of year. As the match wore on and the goals racked up, Arsenal's plausibility as title-winners seemed to diminish.
It's only natural that the confidence of everyone associated with the club has taken a big hit.
However, both players and fans should remember that despite the five-goal mauling, Arsenal have only lost three points. Everything is still up for grabs.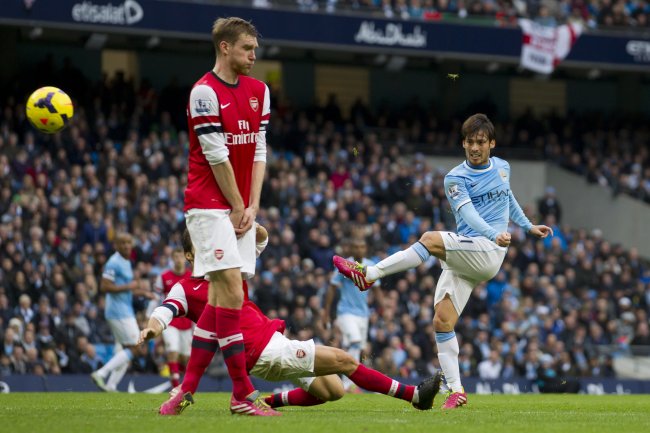 Jon Super/Associated Press
Arsenal's last defeat was also a heavy one.
On that occasion, they lost 6-3 to Manchester City at the Etihad Stadium. Some suggested that Arsenal's title charge would falter then and there. However, Arsene Wenger's team recovered to embark upon a 10-match unbeaten run.
All teams suffer set-backs. Champions are defined by how they respond.
Arsenal may be in the midst of a daunting fixture list, but that arguably provides them with the perfect opportunity to bounce back. Arsenal's next game sees them face struggling Manchester United at the Emirates Stadium.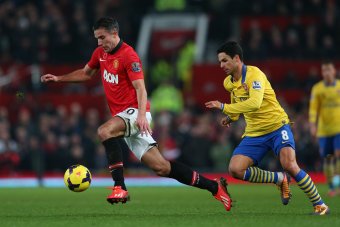 Alex Livesey/Getty Images
That's always a huge fixture.
The recent defection of Robin van Persie has only exacerbated the tension between the two teams. Arsenal were disappointed to lose the reverse fixture at Old Trafford and would have been eager to pick up three points regardless.
In the light of the Liverpool result, that game becomes a must-win for Arsenal.
A win at the Emirates would settle nerves both on the pitch and in the stands. What's more, an emphatic victory would go some way towards exorcising the painful memories created by their Anfield humiliation.
Of course, if Arsenal play as they did against Liverpool, beating United looks improbable. Arsenal fans will have to hope that this calamitous display was an anomaly rather than a consequence of any underlying psychological barrier against the bigger teams.
We have to face our responsabilities and bounce back V united! So disappointed but keep the head up!

— Olivier Giroud (@_OlivierGiroud_) February 8, 2014
It's up to the players to show that Arsenal still have the required mettle to win the title.
They must know their performance was not up to scratch, and will surely be grateful for a chance to put things right straight away.
A few days after Arsenal play United, Liverpool come to the Emirates Stadium for a massive FA Cup tie. The Gunners may not have to wait long to exact revenge.
James McNicholas is Bleacher Report's lead Arsenal correspondent and will be following the club from a London base throughout the 2013-14 season. Follow him on Twitter here.