Have NASCAR's Attempts to Appeal to Younger Fans Done More Harm Than Good?
Use your ← → (arrow) keys to browse more stories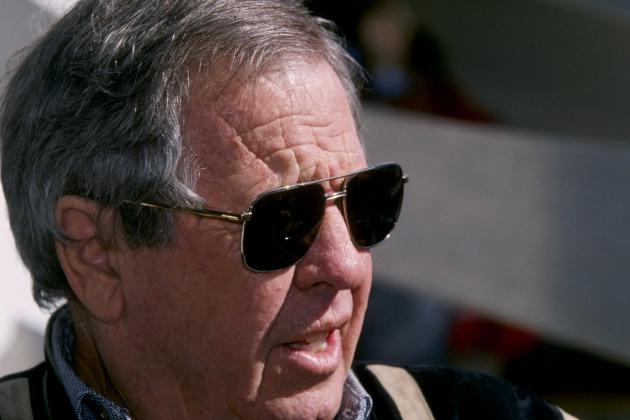 David Taylor/Getty Images
It's not your father's NASCAR anymore
As NASCAR Chairman of the Board Brian France gives his annual State of the Sport address, the third generation leader of America's premier racing series finds himself at the helm of a sport in the midst of change and searching for the answers to regaining the immense popularity it enjoyed just a decade ago.
Has the new marketing and communications strategy put in place by NASCAR over the past five years, which places an emphasis on social media interaction and is designed to attract younger and more diverse fans to the sport, achieved its goal of engaging them as fans and, as a result, boosting NASCAR's popularity? And if so, is this happening at the expense of many of the sport's older fans?
NASCAR has enjoyed a nearly two-decades-long growth in popularity. The sport hit its peak in the middle of the last decade, when grandstands were near capacity at every race, television viewership skyrocketed and the costs of sponsorship and team ownership reached record highs.
Emboldened by expansion, NASCAR made major changes during this time. These changes included moving long-standing race dates from their original Southern locales to new tracks built in the Midwest, on the West Coast and elsewhere. Traditionalists were furious.
Then there was the introduction of the Car of Tomorrow, the sport's answer to the tragic death of its biggest star Dale Earnhardt, and designed with safety in mind. It made the drivers safer, but it was universally disliked by fans, especially older fans who argued that the cars all looked alike. (They did!)
With each change, NASCAR alienated more and more of its traditional fanbase—older, white men and women living in the Southeastern part of the United States that had been following the sport for decades. And to compound this situation, many of the drivers whom they had followed since their childhood were leaving the sport and a new breed of driver had taken over—young, attractive and not from the south.
And then there was the introduction of The Chase, designed to create excitement as the season drew to a close. Since its launch, it has been the object of continuous criticism from all fans, but especially by the older, hardcore fans who never accepted the format.
When the recession hit in 2009, the entire country, as well as NASCAR, suffered greatly. It, too, spurred changes in how the fans supported NASCAR.
Hardest hit was the backbone of NASCAR's fanbase, the working class across the country, many of whom were dedicated fans, regularly attending one or more Sprint Cup race every year, pulling up to the gate in a $50-100,000 RV and settling in to the infield for the weekend. As the recession made scores of those fans jobless, it forced them to park or sell their RV and settle for watching their favorite sport on television.
Grandstands that had previously been filled to capacity every year began to reveal large sections of empty seats. Infields that had been occupied with partying RV's in every space had many of those parking spots unoccupied.
With more fans staying at home, NASCAR believed the best way to keep them engaged in the sport was to broaden its use of the emerging trend of interaction via social media on sites such as Facebook and Twitter.
Overnight, words like Twitter, Instagram and Facebook became part of both driver and announcer's dialog alike, it seemed like the entire world had been turned upside down for NASCAR's older and more traditional fanbase. Drivers turned to Twitter to express their opinions while older fans, with little time to spend in front of a computer or on a smart phone, continued to separate themselves from the sport.
Social media isn't a part of life for many of the sport's older (55+) fans. These fans are accustomed to reading about their favorite sport in the local newspaper. However, at the same time, and in large part caused by the recession, the decades-old network of local newspaper beat writers, who for the most part wrote only about NASCAR, except for the occasional IndyCar or NHRA drag race that may run in their market, were disappearing, courtesy of the changing landscape in the newspaper business.
That meant the way in which millions of NASCAR fans would get their racing news and opinions was gone, replaced by impersonal wire-service reports in their local paper's sport section, USA Today and a dozen or so NASCAR websites, many of which contained erroneous and speculative information—again alienating a large segment of the fanbase.
NASCAR continues to be a hard sell to the younger generation. With multiple options available to them with which to spend their time and their money, sitting in the hot sun for nearly four hours, despite all the beer they can drink, isn't at or near the top of their list of fun things to do.
NASCAR has tried everything to capture a younger and more diverse audience, from changing the theme music on the television broadcasts from the traditional country sound that it had embraced for many years, to newer hard or even alternative rock music—only to have classic rock bands from the 60s and 70s, with little or no appeal to a younger audience, play live shows in front of the grandstands before races.
NASCAR also lured a young, attractive and popular female driver from the IndyCar Series, Danica Patrick, to join its driver ranks. She joined two male superstars who already were in NASCAR and were known for their success in other forms of motorsports—Ricky Carmichael (motocross) and Travis Pastrana (supercross, X Games and rally racing). Today, only Patrick remains in the sport after both the Carmichael and Pastrana experiments failed miserably.
Fast cars and speed have always been an attraction for NASCAR, but today's youth haven't been seduced by the car culture in the way that their parents and their grandparents were. And while the car is important to today's teenager, it's seen by most as something to get them from point A to point B.
That desire to transform a car into something other than transportation isn't as important to today's youth as it was to the post-World War II generation that spawned the hot rod, NASCAR, NHRA drag racing and the rebirth of the Indy 500.
Then there's the problem of constant change. NASCAR continues to make changes to the racing, in a futile attempt at creating more excitement. The racing is arguably the best its ever been, with aggressive competition and close finishes. It's not the product that's the problem, its the way in which it's being packaged.
NASCAR has always been steeped in tradition, yet tradition should not have to fall victim to progress as NASCAR walks a narrow line moving forward. It must figure out how to keep the older and more traditional fans engaged while attracting a younger and more diverse audience to the same product.
Hours and hours of research have been spent in an attempt to find the answer to that question. NASCAR has even taken to using input directly from fans, via the Fan Council. But, the fans are fickle.
NASCAR has always had the knack of falling up and not down when making changes. Sometimes those changes take a while to fine-tune themselves, like the Car of Tomorrow that became the new Gen 6 car.
Now there is the new Chase format. Once again, they're changing the racing. Love or hate it, it's another attempt at making everyone happy. And the start of yet another tradition.
Or not.