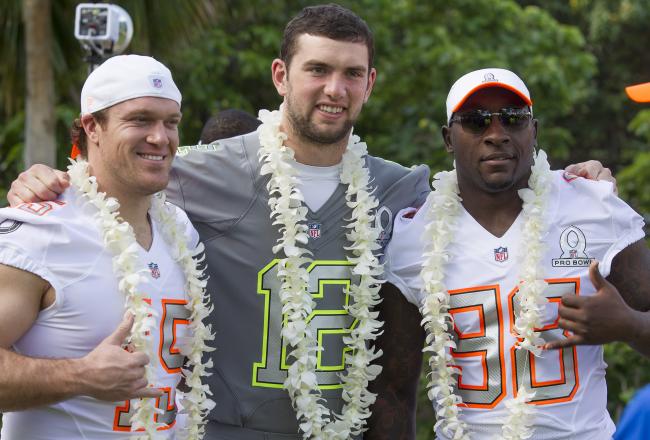 Eugene Tanner/Associated Press
When the first ever Pro Bowl draft was held on Tuesday, Jan. 21, little was known about the new uniforms the players would be wearing. The only inkling of a sample that most fans had seen up to that point was this rendered image from Nike:
Game-changing speed demands cutting edge innovation. The Nike Elite 51 Pro Bowl uniform. pic.twitter.com/jBGMgBVI4F

— Nike Football (@usnikefootball) October 8, 2013
Now that Jerry Rice and Deion Sanders have selected their respective teams, Nike was finally able to produce the necessary uniforms with appropriate nameplates and numbers. It didn't take long for teams and players to start snapping pictures of their new unis.
Who might benefit the most from the Pro Bowl without having to play in it? That would be mega-agent Drew Rosenhaus. He snapped off a picture with one of his many clients, Carolina Panthers defensive end Greg Hardy:
At the Pro Bowl with the Kraken @ItsGHardy pic.twitter.com/zTgM1GAWqV

— Drew Rosenhaus (@RosenhausSports) January 24, 2014
Some players are having fun while sporting their new uniforms. St. Louis Rams defensive end Robert Quinn and punter John Hekker are all smiles with Jerry Rice:
.@RQuinn94, @JerryRice and @JHekker pose for photos at the #ProBowl photo shoot. #TeamRice pic.twitter.com/MxXxmMFwUR

— St. Louis Rams (@STLouisRams) January 24, 2014
For others, such as Houston Texans defensive end J.J. Watt, it is business as usual:
VIDEO: @TexansVoice went 1-on-1 with @JJWatt during Pro Bowl practice in Hawaii. WATCH: http://t.co/b60BEyco2F pic.twitter.com/Qfrb6H2qyV

— Houston Texans (@HoustonTexans) January 24, 2014
Alright, at least Watt and teammate Duane Brown found some time to cut loose:
RT @TexansVoice: .@JJWatt and @DuaneBrown76 pose for the @HoustonTexans #ProBowl portrait pic.twitter.com/T8Auq50uOT

— Houston Texans (@HoustonTexans) January 24, 2014
Jerry Rice really must have something he liked when watching the Kansas City Chiefs this season:
#Chiefs from Team Rice! #ProBowl @JHouston50 @dextermccluster @superdj56 @BFlowers24 pic.twitter.com/LxiAyjCZTX

— Rachel (@KCChiefs_Rachel) January 24, 2014
The amount of neon when these two teams are near each other is staggering. You might need to adjust the brightness on your TV during the game:
.@RQuinn94 sports the bucket hat for the #TeamRice team photo. #ProBowl pic.twitter.com/2xH9c1y8ku

— St. Louis Rams (@STLouisRams) January 24, 2014
The Rams were good enough to get the Team Rice official picture:
Check out the #TeamRice team photo. Can you spot @RQuinn94 and @JHekker? #ProBowl pic.twitter.com/cbUbN8h6ZI

— St. Louis Rams (@STLouisRams) January 24, 2014
When all is said and done, everyone will have varying takes on the new Pro Bowl uniforms. In fact, opinions are flying around Twitter already:
As I expected, the new Pro Bowl uniforms look horrible on players. pic.twitter.com/IOKjPHxE3i

— David P. Woods (@davidpwoods) January 24, 2014
The new draft approach, fancy uniforms and rule changes are all a part of the NFL's plan to bring some excitement back into this game. We will find out if these uniforms and other additions to this year's event have helped when the Pro Bowl takes place on Sunday, Jan. 26.