Ranking the Best Throwback NASCAR Paint Schemes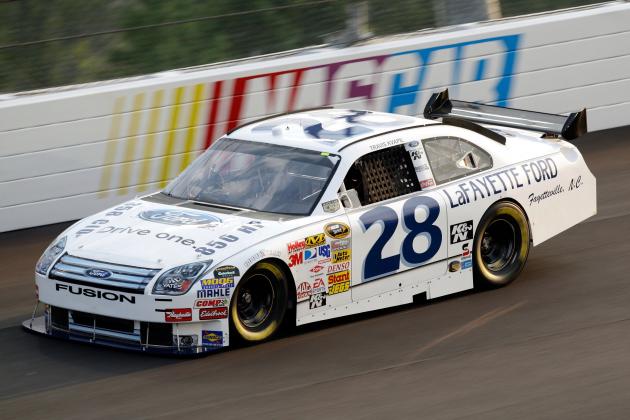 John Harrelson/Getty Images
The No. 28 Ford that Travis Kvapil ran at Darlington in 2008 was an homage to Fred Lorenzen.
NASCAR has a lock on the throwback business.
As a tribute to the fans who vocally express their appreciation for the old days, many teams will run retro paint schemes in an effort to reach out to the fans, as well as bring back a bit of nostalgia for the teams involved. The ensuing result is a combination of "old school" and "new cool," which has benefited everyone.
The following is a list of the best throwback paint schemes run in NASCAR.
Begin Slideshow

»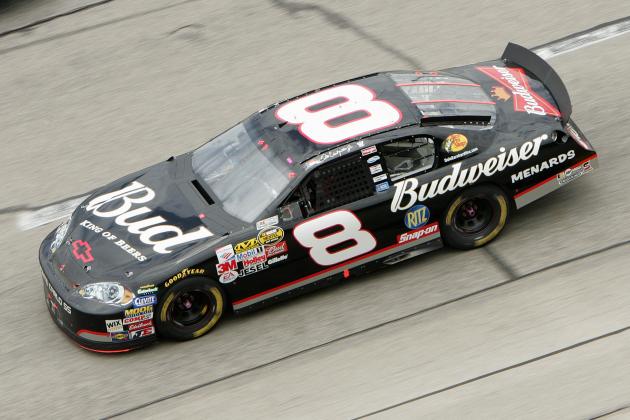 Andy Lyons/Getty Images
Junior's tribute scheme to his father didn't fare so well at Talladega, but the car still happened to be one of the best-looking he had ever run.
During the 2006 Aaron's 499 at Talladega, Dale Earnhardt Jr.'s No. 8 Chevy sported an all-black paint scheme with silver trim as a tribute to his father. Although Junior wasn't the only Dale Earnhardt Incorporated driver sporting the scheme, his Budweiser Chevy was the best-looking car on the track.
His results weren't as great, as a spin and a blown engine relegated him to 31st despite leading eight laps.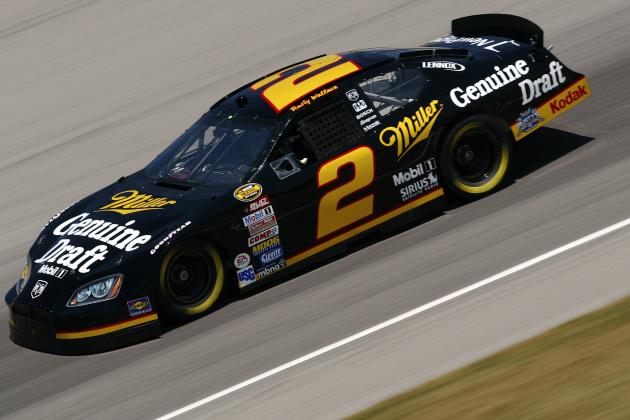 Gavin Lawrence/Getty Images
Wallace had a strong run in Chicago behind the wheel of this MGD paint scheme.
In the midst of his final season as a NASCAR driver, 1989 Winston Cup champion Rusty Wallace gave a little something back to the fans at Chicagoland Speedway when he ran a black and gold Miller Genuine Draft scheme in homage to his early-'90s run with Roger Penske.
Qualifying 33rd, Wallace made the most of his day by finishing 12th.
He ended his last season as a driver by making the Chase for the Nextel Cup and finishing eighth in the points.
Chris Graythen/Getty Images
Junior took the No. 3 to victory at Daytona in July 2010.
If there is any driver who has true respect for NASCAR's early years, it is Dale Earnhardt Jr.
Time and time again, Junior has expressed admiration of all things old school in the sport, so it comes as no surprise that he has sported more throwback paint schemes than anyone else.
Paying tribute to his father's '80s Wrangler Jeans colors, Junior took the No. 3 for one more ride at Daytona during the July Nationwide race in 2010.
He rocketed to the front and took the win over Joey Logano.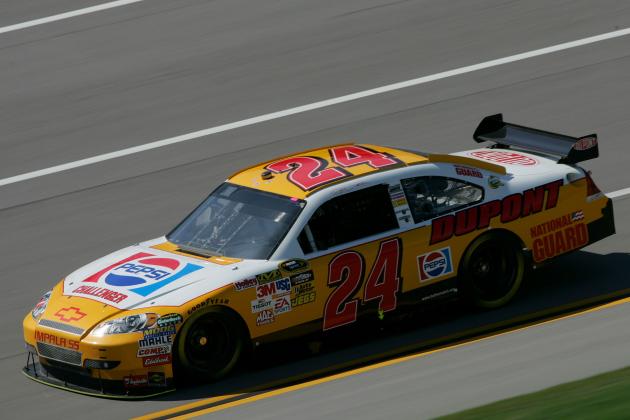 Todd Warshaw/Getty Images
Jeff Gordon found no luck in the Pepsi Challenger machine.
Despite having a good-looking Pepsi Challenger throwback scheme at Talladega in 2009, Jeff Gordon wasn't able to find any glory in the No. 24 Chevy, as he was swept up in an early wreck. He was only able muster a 37th-place finish despite starting 14th.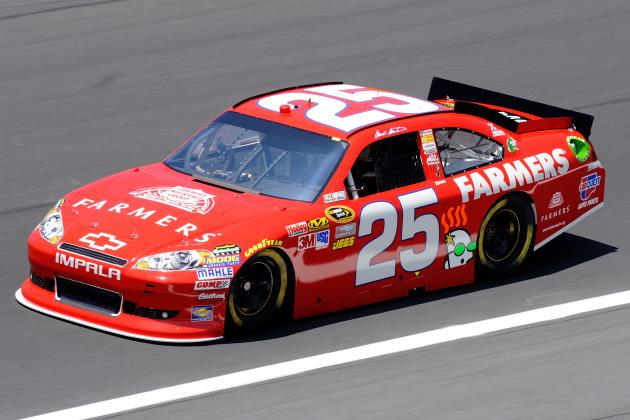 John Harrelson/Getty Images
Mark Martin sported an old Tim Richmond paint scheme at Charlotte in 2011.
Despite having an otherwise forgettable 2011 season, Mark Martin's subtle tribute to Tim Richmond was memorable all the same. Granted, he was driving the Farmer's Insurance Chevy instead of the Folger's Chevy, but the red finish and old-school font of the No. 25 was appealing for those who are truly nostalgic.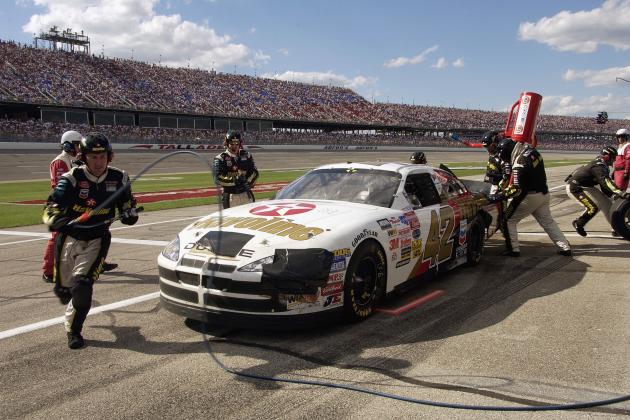 Rusty Jarrett/Getty Images
Jamie McMurray's paint scheme at Talladega in his rookie season was to commemorate the 10th anniversary of Davey Allison's passing.
Jamie McMurray was already having a stellar rookie season in 2003.
It came as no surprise when the driver of the No. 42 put this Davey Allison-inspired machine on the outside of the front row. The paint scheme was put in place to commemorate the 10th anniversary of Allison's passing in July of 1993 at Talladega.
McMurray led 20 laps but finished 16th that day.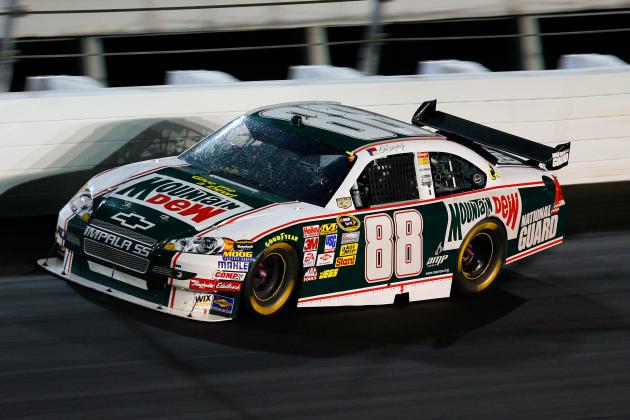 John Harrelson/Getty Images
Dale Earnhardt Jr. ran this Mountain Dew paint scheme as a part of the "Old School vs. New Cool" promotion.
Dale Earnhardt Jr. began his first season with Hendrick Motorsports alternating between Amp Energy and National Guard paint schemes.
Amp Energy is a subsidiary of Mountain Dew, so at Darlington in May, he sported a throwback Mountain Dew scheme as part of Mountain Dew's "Old School vs. New Cool" promotion.
Earnhardt had a strong run that night, starting second and leading 35 laps before finishing fourth.
John Harrelson/Getty Images
Keselowski was unable to capture any glory in the throwback Miller Lite paint scheme at Bristol in 2012.
Despite running throwback Miller Lite colors at Bristol in August of 2012, Brad Keselowski wasn't able to pull off a three-peat at Bristol. Instead, the current driver of the Blue Deuce found himself in the wall midway through the race.
He finished 30th despite starting second.
Keselowski had the last laugh, though, as he narrowly won the 2012 Sprint Cup championship over Clint Bowyer and Jimmie Johnson.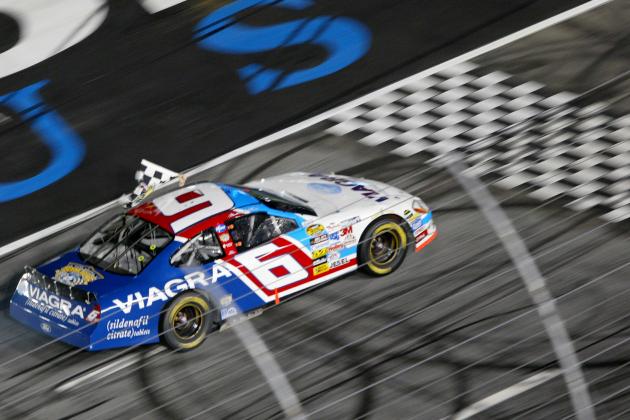 Craig Jones/Getty Images
Mark Martin won the All-Star race in 2005 behind the wheel of this No. 6 Ford.
In what was supposed to be his final year behind the wheel of a Cup car, Martin ran a series of throwback paint schemes from different periods in his tenure with Jack Roush. With livery reminiscent of former sponsors Stroh's Light and Folgers, it was in his Valvoline color scheme from the '90s that he cruised to Victory Lane at Charlotte during the All-Star Race.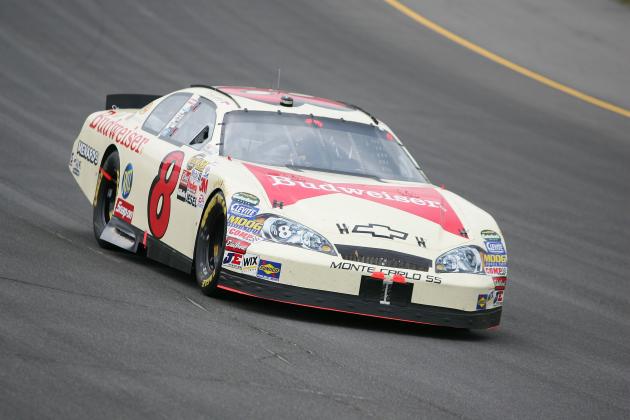 Harry How/Getty Images
Dale Earnhardt Jr. finished third in this tribute to his grandfather, Ralph.
Dale Earnhardt Jr. collaborated with primary sponsor Budweiser in 2006 to run this No. 8 tribute to his grandfather, Ralph. The result was one of the best-looking throwback schemes in recent memory to grace the field at Michigan in June of 2006.
Despite the race being called for rain after 129 laps, Junior managed to lead three laps and finished third after starting sixth.
Follow Joseph on Twitter: @ThatSheltonGuy