The Miami Dolphins' 2013 season looked promising after their 3-0 start. The season ended in a way few people thought possible: with epic collapses against the Bills and the Jets. As it turned out, Miami needed to win just one of their final two games to reach the postseason for the first time since 2008.
They were outscored 39-7 in the two most crucial weeks of the season.
Miami's epic collapse against the Bills and Jets showed this team's flaws more than any other game this season. The final weeks of the season showed everyone exactly what positions Miami needs to target heading into the 2014 NFL draft.
The Dolphins need to improve their offensive line and their linebackers, and they must start improving those units with the upcoming draft.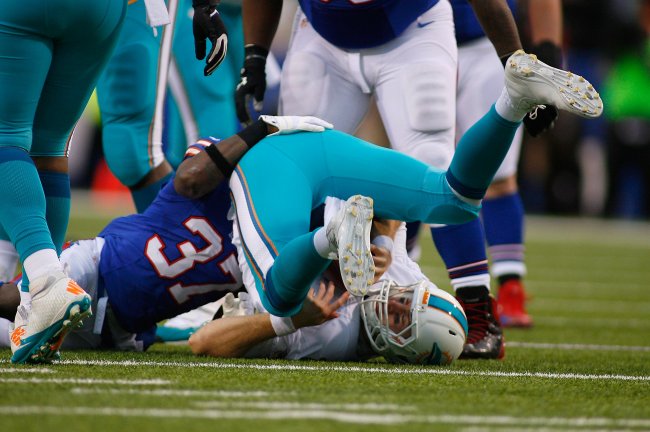 Rick Stewart/Getty Images
Miami's struggles on the offensive line are well documented. The Dolphins surrendered a league-worst and franchise-record 58 sacks this season. In addition to that, Miami finished as the 26th rushing offense in the league and averaged just 90 yards on the ground per game.
Some Dolphins fans have cited mistakes by Ryan Tannehill as well as poor decision-making by running backs Lamar Miller and Daniel Thomas for the team's offensive struggles. Those three certainly made more mistakes than any fan would like to see, but they didn't exactly receive the benefit of blocking that the offensive line is expected to provide.
Tannehill finished the season with a 60.4 completion percentage, 3,913 yards, 24 touchdowns and 17 interceptions. Even the harshest of critics would have to admit that Tannehill's numbers could have greatly improved had he not been under constant pressure literally the entire season.
In spite of the offensive line, Miller was able to rack up 706 yards and average 4.0 yards per carry. Imagine what his average per carry could have been if he just had a mediocre offensive line. Make no mistake: Miami's offensive line has been less than mediocre.
If Miami expects to be a serious playoff contender next season, they must make offensive linemen their top targets heading into the draft. Without a decent offensive line, Tannehill will never develop into the franchise quarterback he is believed by so many to be capable of becoming.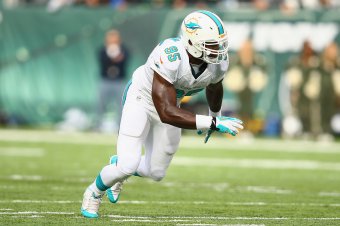 Al Bello/Getty Images
Miami's issues aren't limited to the offense. The run defense has been awful as well. The primary focus for improving the run defense has to be the linebacking position. Miami's linebackers proved throughout the 2013 campaign that they are undisciplined and tackle poorly.
Bleacher Report's Thomas Galicia has an incredible writeup on Miami improving its run defense. It included a strong analysis of Miami's current group of linebackers. Galicia described Miami's linebackers as the "crux of their run-stopping problems."
Specifically, Galicia wrote.
The Dolphins have been rather boom-or-bust when it comes to defending against the run, as there are times when a player is knocked down behind the line of scrimmage against Miami (usually by a defensive lineman), followed by a large run.
According to Pro Football Focus, the Dolphins outside linebackers ranked 31st overall in the league. Specifically Phillip Wheeler, who received negative grades in every category accept pass-rushing (Andrew Abramson of The Palm Beach Post).
Ray Farmer is a former NFL LB. One thing new Dolphins GM has to do is decide fates of Dannell Ellerbe, Phillip Wheeler after tough seasons.

— Armando Salguero (@ArmandoSalguero) January 10, 2014
An inability to consistently stop the run on defense combined with an offensive line that cannot keep the quarterback upright or open holes for the running backs. Is the result of the Dolphins' season really that big of a shock?
As the Dolphins look to the draft, they must take a hard look at prospective linebackers and offensive linemen. If they don't, then you can expect the 2014 to season to be more of the same from this once-great franchise.
All stats courtesy of NFL.com.