The die has been cast; the Chicago Bulls are giving up on the 2013-14 season. Right?
The Jan. 7 trade of longtime stalwart Luol Deng to the Cleveland Cavaliers for "the contract of Andrew Bynum" and three future draft picks, per Brian Windhorst of ESPN.com, signals a pronounced shift in strategy for a team that came into the season with championship aspirations.
But the Bulls did not crawl into a hole and concede defeat. Chicago won five of their last seven games with Deng, and they won their first game without Deng, knocking off the Phoenix Suns 92-87 on Tuesday, not even 24 hours after losing their veteran small forward.
The loss of Deng might be a crippling blow for Deng's former teammates, but it is not the deathblow. In fact, the Bulls might still be the favorites to claim a spot in the postseason.
A Low Point for a Proud Franchise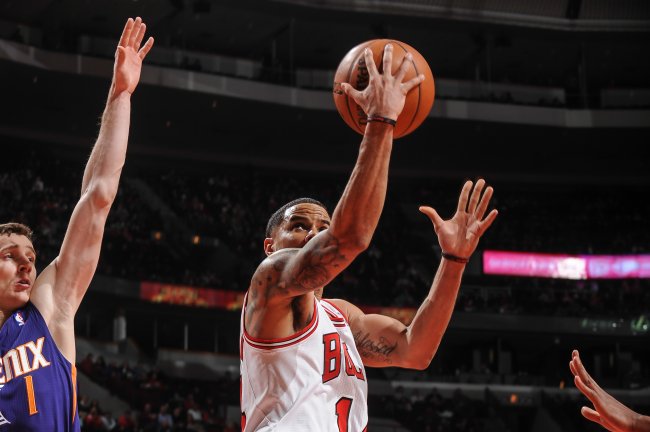 Randy Belice/Getty Images
The loss of former-MVP Derrick Rose put an end to those 2013-14 championship dreams, so the Chicago front office did the prudent thing and started planning for the years ahead. And for any team looking ahead in 2014, "looking ahead" means doing its best to win the lottery in the stacked 2014 draft.
The Bulls acquired Sacramento's 2014 first-round pick in the deal, but it is top-12 protected, so unless the Sacramento Kings finish with the 13th- or 14th-best record in the league, Chicago will need to rely on its own pick. And that means the dreaded T-word: tanking.
Will the Bulls—comfortably situated in the Eastern Conference's sixth seed at the moment—go into the tank now that they've traded their best two-way player to a division rival? That all depends on the players left to pick up pieces of yet another comrade lost.
Certainly, Deng's former teammates seemed a bit discouraged upon hearing the news. When asked his reaction to the Deng trade, Bulls forward Carlos Boozer had this to say, per K.C. Johnson of the Chicago Tribune.
Boozer: "To have him traded is tough on us. Luol is like a brother to us."

— K.C. Johnson (@KCJHoop) January 7, 2014
A blunt Boozer: "We still have to play games, win, make the playoffs, strive for excellence. But it makes it a lot more difficult for us."

— K.C. Johnson (@KCJHoop) January 7, 2014
Center Joakim Noah was much more blunt.
Noah declined comment.

— K.C. Johnson (@KCJHoop) January 7, 2014
The frontcourt core of Deng, Boozer, Noah and Taj Gibson has played together for four years. It still might take the Bulls a while to get over the loss of Deng. Still, they are a tough crew, and they are not a guarantee to fall out of the Eastern Conference playoff race.
The Thibodeau Factor
Yes, the Bulls are short-handed. They were ranked 29th in the league in offensive efficiency even with Deng—Chicago's leading scorer at 19.0 points per game.
But the Bulls still have one major factor working in their favor, and that might be enough to capture one of the last few playoff seeds in the East.
That critical factor is head coach Tom Thibodeau. Coach Thibs is known throughout the league as a defensive mastermind, and that reputation is well-deserved.
The Bulls came into Tuesday ranked second in the NBA in both opponent points per game (99.2) and defensive efficiency (100.3 points allowed per 100 possessions). That's impressive, especially in a season that has seen Thibodeau coach often without the services of Deng (nine missed games), Rose (22 missed games), Kirk Hinrich (six missed games) and Jimmy Butler (12 missed games) due to injuries.
Such defensive mastery has been par for the course during Thibodeau's tenure in Chicago.
Chicago Bulls' Defensive Efficiency Under Thibodeau

| | | |
| --- | --- | --- |
| Season | D-Rtg | Rank |
| 2010-11 | 100.3 | First |
| 2011-12 | 98.3 | Second |
| 2012-13 | 103.2 | Sixth |
| 2013-14 | 100.3 | Second |
basketball-reference.com
Of course, Thibodeau's defense was aided by Deng in all of those seasons. Deng is a fantastic defender, capable of guarding multiple positions.
But the most critical presence in Thibodeau's system is, and always has been, center Joakim Noah. With Noah in the middle, Thibodeau will not let the Bulls defense fall too far from the ranks of the elite.
As important as Thibodeau's defensive schemes are, his legendary competitiveness might be even more crucial to Chicago's playoff chances. The man simply does not give away games...any games.
No coach rides his starters harder than Thibodeau. Deng himself led the league in minutes per game during the past two seasons. When Deng went down in the playoffs, Thibodeau played Jimmy Butler all 48 minutes on several occasions.
According to ESPN's J.A. Adande, Thibodeau was hurt by the loss of Deng.
The Luol Deng trade has to hurt Tom Thibodeau. He loved Deng, always had good things to say about him.

— J.A. Adande (@jadande) January 7, 2014
But he wasted no time in grieving. Thibodeau was back to his old tricks on Tuesday, playing Taj Gibson and Butler more than 40 minutes apiece, and holding the potent Suns offense to just 87 points.
The Eastern Conference Playoff Formula
The East is bad, and everyone knows it. But, like it or not, there will still be eight teams from the East playing in the postseason.
A team doesn't have to be perfect, or even close to perfect, to win a playoff berth in the East. To win in the East, you need three things:
(at least average) coaching
(at least average) point guard play
at least one area of relative team strength
With Coach Thibodeau running the Chicago D, the Bulls have taken care of Nos. 1 and 3. That means the Bulls' playoff fate will probably rely on their point-guard play.
Former castoff D.J. Augustin has been a revelation for the Bulls of late, averaging 10.0 points and 6.1 assists per game since coming to Chicago. Relying on Augustin's sketchy history and incumbent point guard Kirk Hinrich's balky back isn't the best strategy in the world. But the bar in the East is set so low, the Bulls might not be able to help but clear it.
Naturally, Bulls fans want to dream of winning the draft lottery as some kind of cosmic reward for this cursed season. But they may be out of luck. The players don't want to tank. The coach certainly doesn't want to tank. And their opponents seemingly can't help but tank.
Deng or no Deng, the Bulls just might punch their ticket to the playoffs.
*All statistics courtesy of Basketball-Reference.com.