According to Over the Cap, the Minnesota Vikings have $99.6 million committed to 44 players' salaries in 2014. With the NFL salary cap expected to be around $126.3 million, per USA Today's Tom Pelissero, that means the Vikings have approximately $26.7 million to spend on seven players to upgrade the roster.
From an article posted on the Russell Street Report, a team's cap number is calculated from the base salaries of the top 51 players on a roster. It also includes the amount of any bonuses or prorated money paid to all players, averaged over the length of the contract, as well as any dead money committed to players no longer with the team.
In December, CBS Sports listed the 10 NFL teams with the most cap space available. The Vikings were on the list. It's confusing, since the Green Bay Packers are listed ninth with $26.5 million cap space, meaning that the Vikings should have been listed just ahead of the Packers.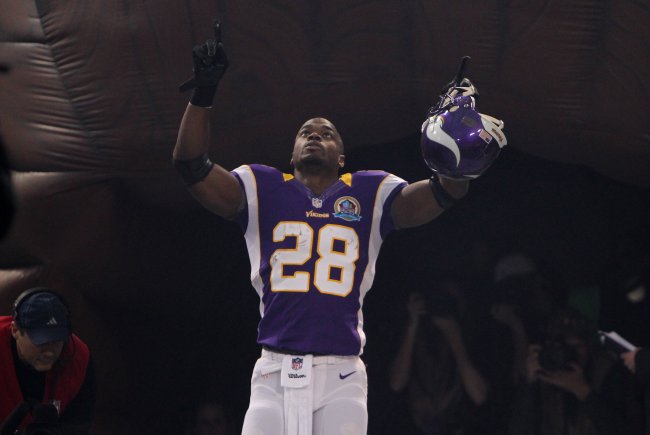 Brace Hemmelgarn-USA TODAY Sports
I gave myself a headache trying to fully understand all of the points from the 2011 collective bargaining agreement that determines the Vikings' salary-cap number, and decided to take the easier route and accept the number from Over the Cap.
The Vikings could increase their cap space with the potential release of some veterans. One potential candidate is linebacker Erin Henderson. On New Year's Day, Henderson was arrested for the second time in two months for suspicion of DUI.
#Vikings linebacker Erin Henderson arrested on suspicion of DUI again yesterday. Team is likely to release him once rosters are unfrozen.

— Tom Pelissero (@TomPelissero) January 2, 2014
Any improvements to the team will come from the 2014 NFL draft and the signing of free agents. One positive outcome from the latest CBA between the NFL and the players' union is that the money paid to most rookies falls below the top 51 players on a roster due to the structure put in place to pay them.
So how should the Minnesota Vikings spend their available cap money to improve the roster?
The Vikings have needs at several positions that would be best filled by adding a veteran through free agency—defensive line, linebacker, cornerback, offensive line and wide receiver. Notice that I did not include quarterback—simply because there are no great free-agent options available in 2014.
Looking at two different rankings for the top free-agent quarterbacks in 2014—B/R's Alessandro Miglio and an article from Football's Future—both list Jay Cutler as the top quarterback available. Both articles also list former Viking quarterback Josh Freeman among the top four quarterbacks available.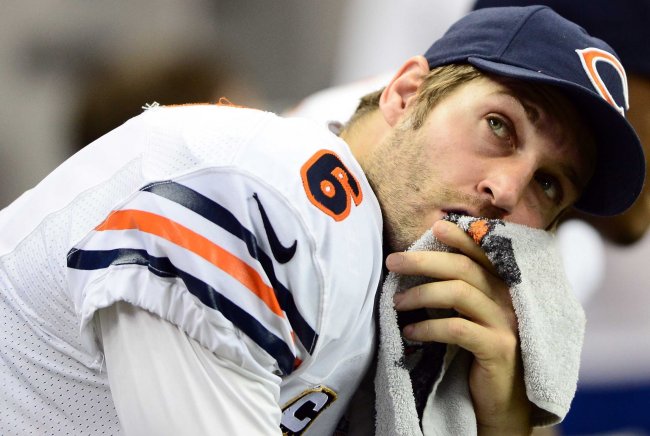 Andrew Weber-USA TODAY Sports
With Cutler and the Chicago Bears agreeing to a seven-year, $126 million contract extension on January 2, the quality of quarterbacks—although not that great with Cutler—just got worse.
If Freeman is rated that high, and he could not beat out Christian Ponder as the Vikings starter, then Minnesota shouldn't even bother going fishing in this pool.
The Vikings will most likely use their first-round draft pick to select a quarterback.
Defense Should Be the Focus
With a defense that ranked near the bottom in the NFL in many categories, this is the side of the ball the Vikings should focus their improvement efforts.
Minnesota Vikings Defensive Rankings in 2013

| | | |
| --- | --- | --- |
| Category | Result | Ranking |
| Total yards allowed | 397.8 yds/game | 31st |
| Time of possession | 33:18 minutes | 31st |
| Scoring | 30.0 points/game | 32nd |
| Passing yards allowed | 287.3 yds/game | 32nd |
| Passing TDs allowed | 37 touchdowns | 32nd |
| Interceptions | 12 interceptions | 24th |
Pro-Football-Reference/Stat Milk/NFL.com
Cornerback Should Be the First Priority in Free Agency
With as poorly as the Vikings pass defense performed this past season, Minnesota's first priority should be to find Chris Cook's replacement at cornerback. Cook, the Vikings' second-round pick in 2010, will be a free agent in 2014. In four seasons with the Vikings, he never intercepted a pass.
Chris Cook Among Least-Attractive Free Agent Cornerbacks (Per PFF) http://t.co/f2Mfkm00QN

— The Viking Age (@TheVikingAge) January 7, 2014
One potential player the Vikings should target is cornerback Vontae Davis. B/R Featured Columnist Giancarlo King points out Davis had a very good season for the Colts in 2013, his second with Indianapolis. According to Pro-Football-Reference, he started all 16 games, finished with one interception and defended 12 passes—the second most for the Colts.
Last season, he cost the Colts $1.1 million. It might take a lot to convince him to come to Minnesota, and the Vikings might have to outbid a number of other teams.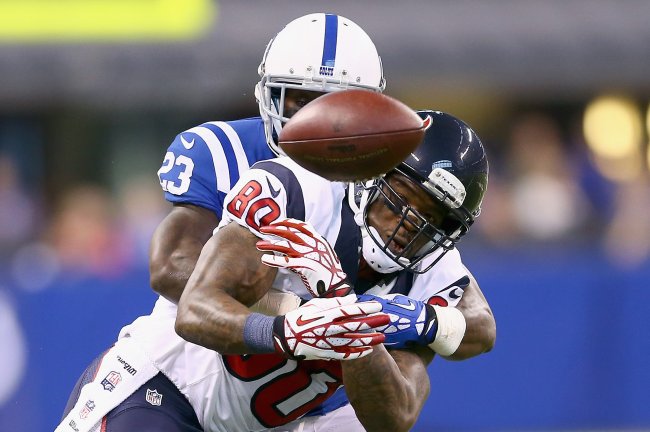 Andy Lyons/Getty Images
According to Pro Football Focus, Davis is the second-rated free-agent cornerback available. Brent Grimes tops the list, but at 25 years old, Davis is five years younger than Grimes, providing a longer solution for the Vikings.
The Vikings Need to Find a Defensive End
With defensive ends Jared Allen and his backup Everson Griffen set to hit the free-agent market, the Vikings need to find another capable starter. According to Rant Sports, the Vikings' first priority should be to re-sign Griffen.
Minnesota Vikings' First Order Of Business Should Be Re-Signing Everson Griffen http://t.co/MhlEwrROBx #RantNFL #NFL

— Rant Sports 24/7 (@RantSports247) January 6, 2014
A fourth-round pick of the Vikings in 2010, Griffen has only started one game in four seasons. The last two seasons, he finished third on the team in sacks behind Allen and Brian Robison. After recording eight sacks in 2012, his total dropped to 5.5 in 2013.
Everson Griffen hasn't had any more contract talks with #Vikings lately, but if team switches to a 3-4, he could be a key piece to keep.

— Ben Goessling (@GoesslingESPN) January 7, 2014
Still, according to Pro Football Focus, Griffen is a better free agent than Allen. Griffen rated 11th among edge defenders, and Allen was 32nd.
If the Vikings had any plans to retain Griffen, general manager Rick Spielman would have worked out a deal before the end of the season as he did with Robison. Last season, Griffen only cost the Vikings $765,000 against their salary cap. The Vikings should have the inside track if there is a bidding war for Griffen—if any of the coaching staff is retained.
Another player I've suggested the Vikings look to sign is Jason Worilds from Pittsburgh. A second-round draft pick of the Steelers in 2010, Worilds has played the outside linebacker position in a 3-4 defense. Last season, he led the Steelers with eight sacks. At 6'2" and 240 pounds, he might be a little light to play defensive end in a 4-3 scheme, but the Vikings also need to find an outside linebacker.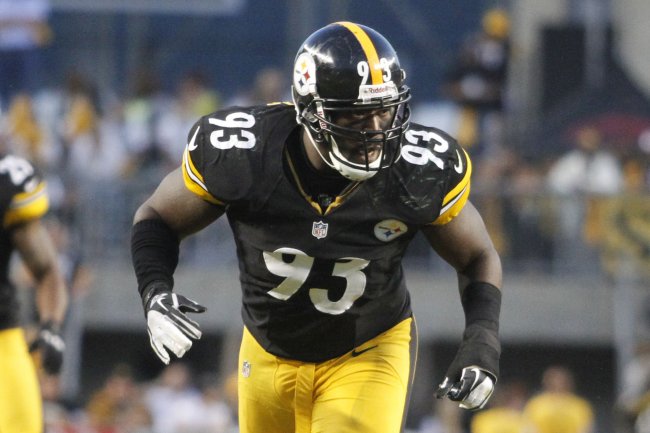 Justin K. Aller/Getty Images
Referencing the same Pro Football Focus article that rates the free-agent edge defenders in 2014, Worilds was ranked seventh on a list that is headed by Carolina Panthers defensive end Greg Hardy.
An Upgrade and Some Depth Are Needed at Linebacker
As mentioned above, Henderson's days with the Vikings could be numbered. After opening the season as the starting middle linebacker, he found himself sitting on the bench after being arrested for suspicion of driving under the influence in November. He wound up losing his job to second-year linebacker Audie Cole.
The Vikings have selected three linebackers the past two drafts, but all coming in the fourth round or later. With quarterback being the top priority in the draft, the Vikings could look next at linebacker. The Vikings might be better served to find another capable veteran to play alongside two-time Pro Bowler Chad Greenway.
Assuming that linebacker is the third priority in free agency, the Vikings might consider another linebacker who finished the season with an injury. Last season, they signed Desmond Bishop, who missed the entire 2012 season with a torn hamstring.
Brandon Spikes, middle linebacker for the New England Patriots, called their best run-stopper by The Boston Globe, was placed on injured reserve with a knee injury. According to PFF, before his injury, Spikes was the second-rated free-agent linebacker available.
Brandon Spikes played in 669 of the NE's def snaps this season. NE allowed a 44.1 QBR with him on the field, compared to 59.7 without him.

— ESPN Stats & Info (@ESPNStatsInfo) January 6, 2014
A Replacement for Guard Charlie Johnson Is Needed
The Vikings offensive line took a step backward in 2013. It allowed 12 more sacks in 2013 than 2012, dropping from 11th to 20th in the NFL. The offense also gained 34.5 fewer rushing yards per game. With the same five players starting on the offensive line, they dropped from second to eighth in the league.
The Vikings will need to determine who takes over for free-agent left guard Charlie Johnson. It's possible they could go with Jeff Baca, their sixth-round draft pick in 2013.
The Vikings could either look to the draft or free agency to fill this hole. One possible free agent is former Viking Geoff Schwartz.
Schwartz lost out to second-year guard Brandon Fusco in 2012 as the Vikings' starting right guard after suffering a sports hernia during training camp. He was signed by the Vikings as a free agent after missing the 2011 season with a hip injury.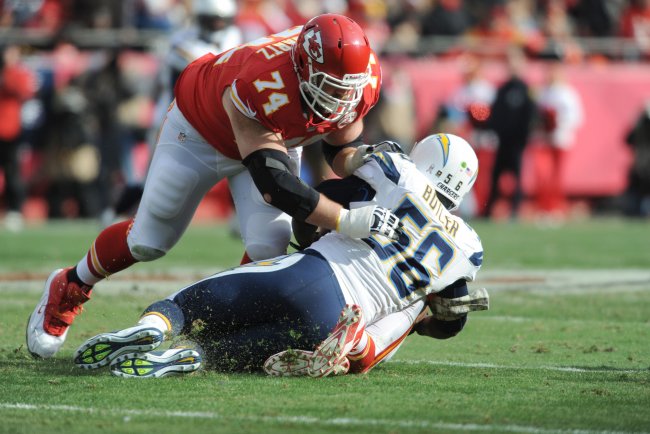 Denny Medley-USA TODAY Sports
Schwartz is the second-rated free-agent guard available, according to Pro Football Focus. As a known commodity, the Vikings might look to bring him back again. This past season, he was paid $700,000 by the Kansas City Chiefs. It will cost a little more than that to lure him back.
It may be difficult for the Vikings to add Schwartz, provided they use their available cap space to fill their defensive holes.
The Vikings Need to Find Another Wide Receiver

Another player whose off-the-field troubles could spell the end of his Vikings career is free-agent wide receiver Jerome Simpson.
Simpson: Arrest 'another strike against me': Jerome Simpson is hoping to sign with the Vikings again,... http://t.co/63ZEXvzHN1 #Vikings

— VikingUpdate.com (@VikingUpdate) January 3, 2014
Having signed two consecutive one-year contracts with the Vikings, the odds of a third contract are slim—even though his second year with the Vikings was better than his first. His production increased from 26 receptions for 274 yards in 2012 to 48 receptions for 726 yards this past season. Despite the improvement, he lost his starting job to rookie Cordarrelle Patterson.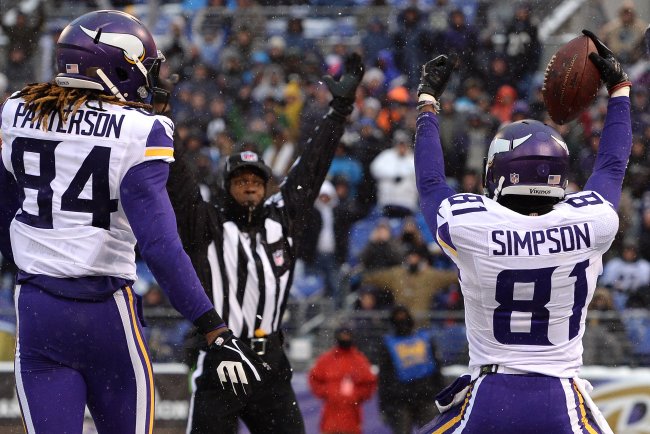 Patrick Smith/Getty Images
Another free-agent wide receiver for the Vikings is former quarterback Joe Webb. As the Vikings' fifth wide receiver, Webb finished the season with only five catches for 33 yards. That means there's a very good chance the Vikings will have at least a 40 percent turnover at wide receiver.