The Denver Nuggets may have recently rescinded their suspension on Andre Miller, but news is beginning to come forth that suggest he may be on his way out of Colorado. Many teams are in need of a veteran point guard, but the Golden State Warriors must become the favorite to receive Miller.
Per The Denver Post's Christopher Dempsey, Denver has put Miller on the trading block. He was suspended for two games due to "conduct detrimental to the team," according to Yahoo! Sports' Adrian Wojnarowski.
While the report from Yahoo! Sports states that the team "hasn't been inclined to move him," news from The Denver Post of a possible trade has come after the initial publication.
That #Nuggets situation with Coach Shaw and Andre Miller is one that might benefit #Warriors in a trade. Dubs still have 2 trade exceptions.

— Shingo Kohara (@onetwocross) January 4, 2014
Miller, 37, has been a dependable player for his entire career. He's had two impressive consecutive game streaks, both broken by suspensions in his time with the Portland Trail Blazers and the Nuggets. He played 239 consecutive games prior to his most recent suspension.
Miller has averaged 5.9 points and 3.3 assists for Denver this season, both career lows. To be fair, he's playing a career-low 19 minutes per game so lesser production is expected. Miller has been a valuable contributor from the Nuggets bench the past few seasons, and he could do the same with Golden State.
The Warriors currently have one of the least productive benches in the NBA. The reserves combine to average 22.8 points, 14.2 rebounds and 3.9 assists per game according to Hoops Stats. Harrison Barnes is the only regular contributor, as the rest of the bench players' minutes only come when needed. Miller would make the reserve squad much stronger.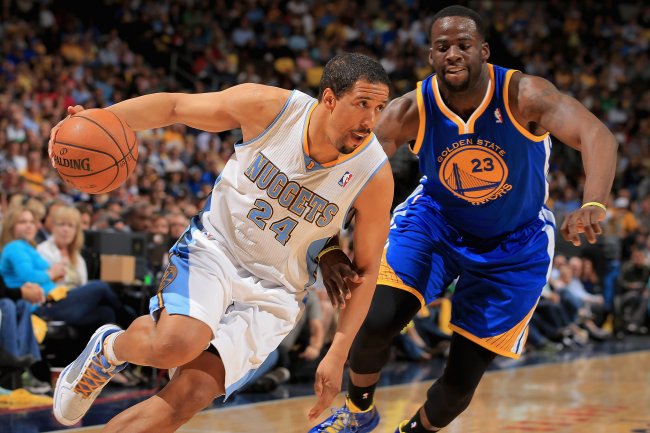 Doug Pensinger/Getty Images
Golden State had a reliable bench last season, headlined by backup guard Jarrett Jack. The Warriors renounced their rights to Jack in order to sign Andre Iguodala (a former teammate of Miller's with the Philadelphia 76ers and Nuggets). While the addition of Iguodala is more integral than what Jack contributed, acquiring Miller would have a similar effect.
In retrospect, Stephen Curry is the only true playmaker for Golden State, averaging 9.6 dimes per game. Iguodala does a good job as well with fives dimes per game, and Klay Thompson is next at just 2.7.
Having multiple distributors is a rare commodity, but it pays major dividends for an offense. Golden State is still a top-10 team in terms of team assists per game, but that has more to do with the tempo of the offense than production based on personnel.
With Miller as a backup point guard, the Warriors would have a more complete roster. He may have broken the hearts of Warriors fans in the first game of the first round of the playoffs last season, per the video above, but Miller would be a tremendous addition if Golden State makes a move for the point guard.
Courtesy of HoopsHype, he is owed exactly $5 million this season and $4.6 million next season. With much of the Warriors' payroll invested in the starting lineup, Golden State will need to get creative to acquire Miller.
It isn't impossible, but the addition of a third team to spread out the deal might be needed. The Warriors could theoretically offer Marreese Speights and Toney Douglas for Miller (to match salaries: $3.5 million and $1.6 million respectively), but the Nuggets frontcourt is already crowded as it is.
Warriors are playing good right now, dont want to see a trade or an addition of anyone to mess up this chemistry, but Andre Miller though..

— Heisenberg (@SF_XVII) January 3, 2014
As such, it makes the inclusion of another team important to make the transaction more attractive for Denver. In any case, it's one Golden State should absolutely explore. The Warriors are in the midst of a nine-game win streak, so there's no real sense of urgency for them to make a new addition.
Yet in the long run, particularly in the postseason, having Miller off the bench would be phenomenal for the Warriors. It might be a stretch to acquire the veteran, but the Warriors would be a much stronger and more complete team with the addition of Miller.