The 20 Greatest Moments of Eusebio's Distinguished Career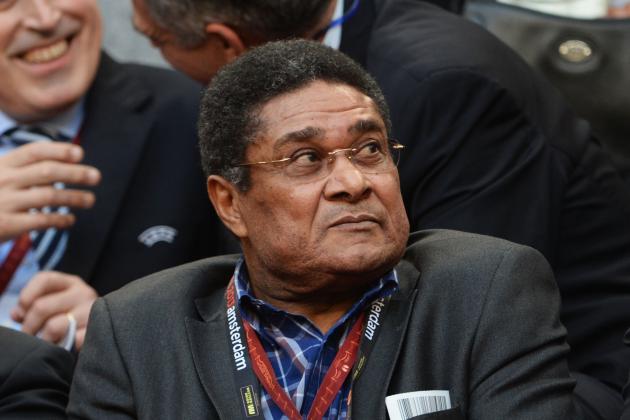 Michael Regan/Getty Images

Rest in peace Eusebio, a true footballing legend and icon of Portugal.
Football awoke to the passing of one of the most influential players to have played the game on Sunday, and here we recognise his 20 greatest achievements.
Over the course of a glittering career, The Black Pearl amassed an incredible 638 goals from 614 games, won a European Cup, was crowned European Footballer of the Year and brought joy to millions.
Don't hesitate to share your favourite Eusebio moments in the comments below.
Begin Slideshow

»
Eusebio was first spotted by a former Juventus goalkeeper, turned scout, when he was 15 years old, playing in Mozambique.
His mother, though, who had taken over exclusive rights of caring for him following his father's death, rebuffed all advances. While the move didn't come off, the Black Pearl's career had begun to take shape.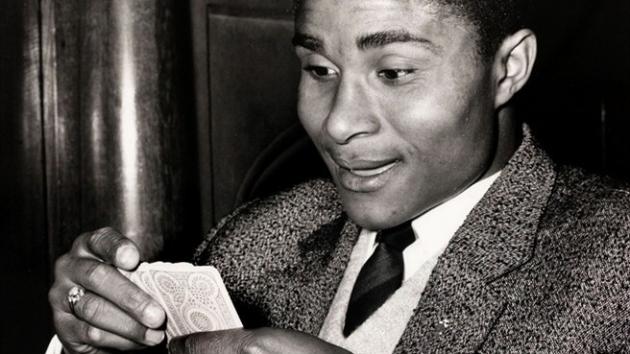 UEFA

If you're forced to adopt a code name when transferring clubs because your skills are so highly sought after, you know you're in for one hell of a career.
Eusebio traveled under the guise of Ruth Malosso when settling in Lisbon, as after Benfica poached him from Sporting's Mozambican feeder chain, they feared a potential kidnapping operation.
After being rejected(!) by a Benfica feeder team local to him in Mozambique, Eusebio joined Sporting Clube de Lourenco Marques.
At just 18 years of age, he grabbed his first two trophies with this club, bagging a Mozambican Football Championship title and a cup win too.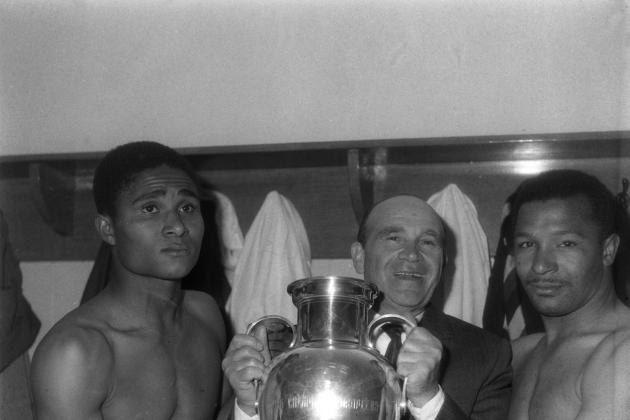 interleaning.tumblr.com

Eusebio's first piece of silverware in Portuguese football came in the form of the Taca de Portugal (or Portuguese Cup).
He led Benfica to the final and defeated Vitoria Setubal 3-0, scoring a brace in the final and plenty along the way.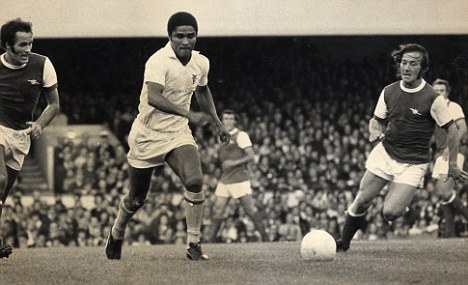 DailyMail

Looking back, it should come as no surprise to see Eusebio netting a debut hat-trick in his first friendly against Atletico Clube de Portugal.
He had to wait until 1961 to play for Benfica, but boy was it worth the trouble.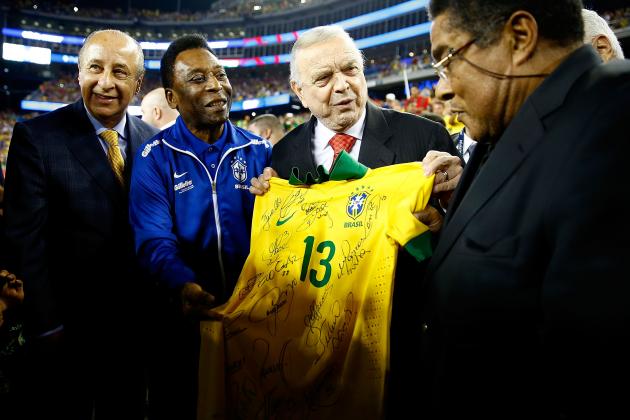 Jared Wickerham/Getty Images

In June 1961, Benfica took to the field against Pele's Santos as they contested the final of the Tournoi de Paris.
With the Eagles 4-0 down, manager Bela Guttman brought on Eusebio to influence proceedings. He bagged a second-half hat-trick and won a penalty that Jose Augusto failed to convert.
The next day, the then-19-year-old was plastered all over the front of L'Equipe.
Eusebio won his first Primeira Liga title in the 1960-61 season, staving off Sporting by four points and Porto by a gargantuan 13.
It was one of the few title wins in which he was not the true key figure of the team, but he was an influence all the same, and you never forget your first.
Benfica's 1974-75 Primeira Liga win was Eusebio's last.
After completing yet another successful season, he opted to leave in style by departing for a new adventure in the U.S., joining the Boston Minutemen, aged 28.
He would return sporadically and briefly to Portuguese football, but never to the effect he had on the Eagles. He won 11 Primeira Liga titles with Benfica in total.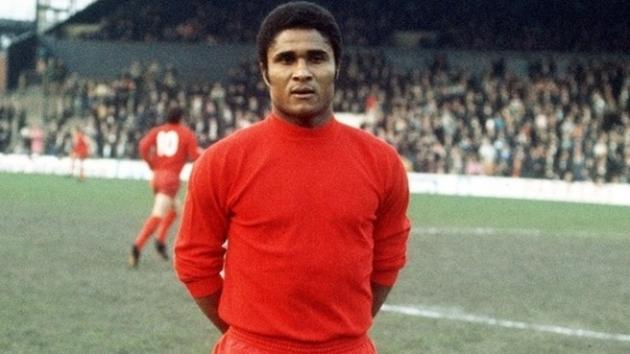 101greatgoals.com

In 1961, Eusebio made his international debut for Portugal.
The game was lost 4-2 to Luxembourg, but it was a moment he and fans alike would never forget; a future record-breaker and national legend taking his first steps on the biggest of stages.
He scored one of his nation's two goals.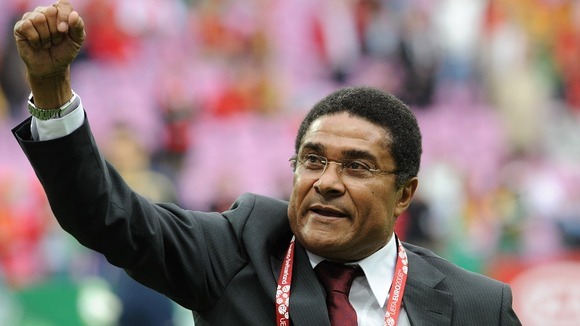 The Mirror

Eusebio came close to securing the famous European Footballer of the Year Award in both 1962 and 1966.
He fell to the outrageously talented Josef Masopust in '62, while four years later finished just one point off Bobby Charlton in the runnings (81-80). Close call.
In 1965, Benfica traveled to San Siro to take on Internazionale in yet another European Cup final.
Despite strong play in an environment very much advantageous to the Italian giants, Jair scored the only goal of the game for the Nerazzurri to beat Eusebio's team 1-0.
After a three-year absence from Europe's top stage, Benfica returned to face Manchester United in the 1968 European Cup final.
They drew 1-1 after 90 minutes and Eusebio saw a golden chance to win the game at the death denied by goalkeeper Alex Stepney. The Black Panther stopped and applauded the opposing player for his efforts as play restarted.
Humility and grace was one of the hallmarks of Eusebio's game, exemplified on a global level here.
In 1963—still when Eusebio was just 21—Benfica headed to London to take on Milan in the European Cup final.
The Black Pearl opened the scoring in the 19th minute with a dazzling run and accurate finish into the bottom corner, but the Rossoneri fired back to win 2-1. A first professional heartache.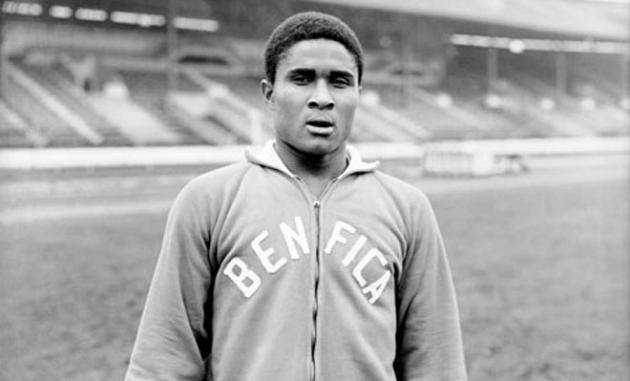 Indianexpress.com

Eusebio finished top scorer in all of Portugal a whopping seven times throughout his career.
He acheived the accolade for Benfica in 1964, 1965, 1966, 1967, 1968, 1970 and 1973. In all but two of those years, he was able to fire the Eagles to a Primeira Liga title.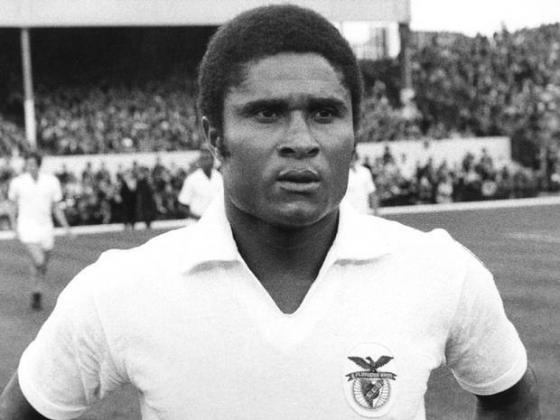 Independent

In both 1968 and 1973, Eusebio was crowned king of Europe by virtue of scoring more goals than anybody else.
His tallies of 43 and 40 beat the competition with ease, and his 1968 total stands seventh in the all-time rankings (Lionel Messi is top with 50.)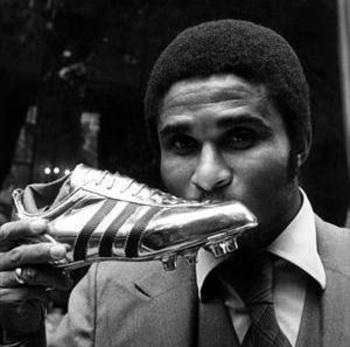 worldsoccertalk

After stunning us all with countless majestic displays and golazos, Eusebio deservedly picked up the 1965 European Footballer of the Year in full (equivalent of the Ballon d'Or).
He won by a voting margin of eight points, with Giacinto Facchetti and Luis Suarez Miramontes the closest contenders.
During the 1966 FIFA World Cup, Portugal were drawn against a challenging North Korea side in the quarterfinals.
Eusebio led the way in crushing the Asian outfit during a thrilling encounter, scoring four goals in a 5-3 victory to take them to the semifinals.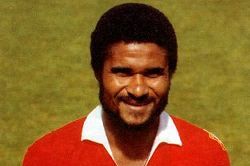 footballsoccerfocus.com

Eusebio claimed the prestigious Golden Boot award in 1966 after finishing top scorer in the FIFA World Cup.
Despite failing to net in the opening game, he went on to score a whopping nine times—three clear of his nearest rival.
Portugal finished third in the tournament.
In 1962, aged 20, Eusebio took part in his first-ever European Cup final.
He scored a second half brace, converting one from the penalty spot, and led his beloved Benfica to a 5-3 victory over Real Madrid.
It was a Merengues side containing legends Ferenc Puskas and Alfredo Di Stefano.
To touch, influence and inspire millions of people is a fitting legacy for a man of such grace and stature in our beloved game, and the Portuguese Football Federation's statement upon learning of Eusebio's passing remains the perfect closure for all.
"Portugal is mourning. Eusebio, the King of Portugal's 1966 team and the eternal symbol of the country, national team and Benfica passed away."
Jose Mourinho, via The Express, described him as a national icon everyone, regardless of their club colours, could love and adore:
"For Portugal he means more than that. No colour, no clubs, no political sides. For Portuguese people Eusebio is Eusebio. Over the next couple of days I think you will understand what Eusebio means for our country."