As the final seconds ticked off UCF's 52-42 victory over Baylor in the Fiesta Bowl, head coach George O'Leary, his team and Knights' fans celebrated. Who would have thought, following O'Leary's dismissal from the Notre Dame job for lying on his resume, that the disgraced coach would grab a BCS Bowl victory while the same success would elude the Fighting Irish?
The answer is no one, as the Pac-12 Network's JB Long points out:
So the BCS era will end with George O'Leary having 1 more BCS win than Notre Dame. Got it.

— JB Long (@JB_Long) January 2, 2014
Especially not after O'Leary decided to take the Central Florida job, a school with which the bulk of America was largely unfamiliar. UCF was a school in the MAC, dripping in obscurity without its own stadium, little support and the land of the BCS seemingly worlds away.
Meanwhile, Notre Dame replaced O'Leary with Ty Willingham, the man who had worked wonders at Stanford. Willingham did not work out, yet he left the cupboard full for the next hire, Charlie Weis. Weis would reach two BCS bowls, but neither would go the way of the Fighting Irish.
After Weis, Brian Kelly was hired, and it must be noted that Kelly reached the penultimate of success where the BCS era is concerned. His team played for the crystal football, but, like Weis' teams, Kelly's would fall short of the win.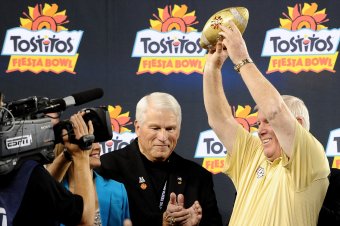 Jennifer Stewart/Getty Images
Over the course of the last 13 seasons since O'Leary was hired and dismissed in 2001, Notre Dame's had three coaches, been to three BCS bowls, including a BCS National Championship Game, gone to six other bowl games and posted wins in three postseason contests.
Following two seasons in the NFL, O'Leary returned to the college game in 2004, giving the Irish a three-year head start on success. However, during his time at UCF the Knights have been to and won one BCS bowl game, participated in five other bowl games and also won three bowl games.
O'Leary's team lost the first three bowl games he led them to, but since then, his teams have won their trips to bowl football. His teams have also participated in four conference championship games, posting two league titles in four trips. O'Leary has helped put the Knights on the map.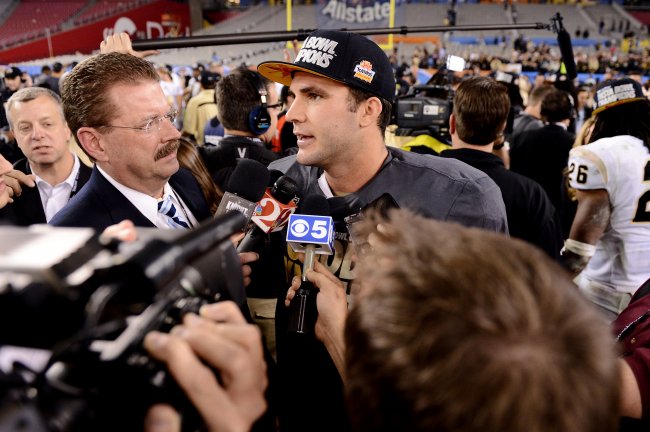 Jennifer Stewart/Getty Images
The success is there, including four 10-win seasons during his time at Central Florida. The wins are tremendous, and beating Baylor on the big stage was icing on the cake, but the impact for UCF has been bigger than simply winning football games.
Under O'Leary's watch the Knights have moved from the MAC to Conference USA. The team won a pair of conference titles and then, during recent rounds of conference expansion, elevated its stock enough to transition into the AAC. UCF has also upgraded facilities, including building an on-campus stadium, and seen its fan support swell in and around the Orlando area.
UCF & O'Leary took a chance on each other. It's worked. there have been bumps. Tonight, however it's all smooth.

— Nubyjas Wilborn (@nwilborn19) January 2, 2014
Things have not been perfect along the way, as Nubyjas Wilborn of Cleveland.com points out quickly. There have been NCAA issues, the Ereck Plancher situation continues and the marriage between O'Leary and UCF was made possible by a school willing to hire a coach who admitted to fudging his credentials.
Notre Dame avoided having the O'Leary era, but O'Leary ended up getting his career back on track. The coach has built success in Orlando in a way not many people expected. Jay Philips of 107.5 The Game in Columbia, S.C. spoke to that very point, as the head coach has reached new heights with this program:
What an impressive display by #UCF. George O'Leary has done a spectacular job elevating that program.

— Jay Philips (@JayPhilips1075) January 2, 2014
While many will look back at the Fighting Irish without any BCS bowl wins, UCF and O'Leary will be looking forward. The AAC is without a true auto-bid starting next year, and that means the Knights will have to be the "best of the rest" to gain access to the host bowls under the new system.
With a young Central Florida team, O'Leary seems poised to continue to build big success at a stop that seemed totally out of the question back in 2001 when he accepted the Notre Dame job.