The turn of a new year is a time for new beginnings and fresh starts. After his goalscoring display against Cardiff, perhaps Arsenal's Nicklas Bendtner will finally draw a line under a career dogged by controversy and embark upon a more positive path.
This wasn't a uniformly good day for Bendtner. It began with being left on the substitutes bench and ended with an injury that could reportedly keep him out for "weeks."
Wenger has just told me Bendtner has sprained his ankle and will be out for "weeks". Won't be drawn on potential transfers #bbcfootball #afc

— Jacqui Oatley (@JacquiOatley) January 1, 2014
However, his 89th-minute contribution to the Arsenal cause is the one that will be remembered. With Arsenal struggling to break a resilient Cardiff down, Bendtner reacted quickest after David Marshall had saved Bacary Sagna's header to thump home an absolutely crucial goal.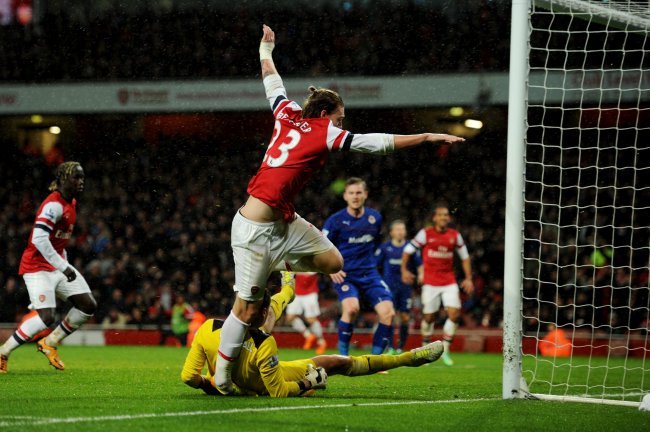 Shaun Botterill/Getty Images
Robbed of Olivier Giroud by a cut foot, Arsene Wenger had initially opted to field Lukas Podolski as his central striker.
However, Podolski struggled to make any real impact on the game. Arsenal have grown accustomed to playing with a physically robust forward in Giroud, and Podolski is not well-suited to emulating that style. Although a sharper shooter than most, Podolski is weak in the air, and his movement can appear sluggish.
As soon as the second half started, and with the game tied at 0-0, Wenger sent Bendtner out to warm up. By the 65th minute, he was introduced to the pitch. A misplaced Podolski pass proved the final straw for Wenger, who immediately replaced the German with the big Dane.
Arsenal's attack immediately looked more cohesive. Bendtner may not a better footballer than Podolski, but his size and strength make him a more suitable replacement for Giroud.
There are plenty of positives in Bendtner's game. His off-field conduct often causes his ability on the pitch to be overlooked, but he is blessed with a superb physique and a strong goalscoring incident. It is said that strikers thrive on confidence, and Bendtner never seems short on that.
Wenger: "It looked like the goal was coming, but sometimes it doesn't. But we had the resilience and Nicklas got us great relief." #AFCvCCFC

— Arsenal FC (@Arsenal) January 1, 2014
Arsenal's creative midfielders suddenly had the option to use Bendtner as a pivotal point, and Arsenal's control of the game grew until Cardiff could resist no more. His goal was the straw that broke the Welsh team's back. Theo Walcott later added a second to calm Arsenal nerves and ensure there was no way back for Vincent Tan's troubled club.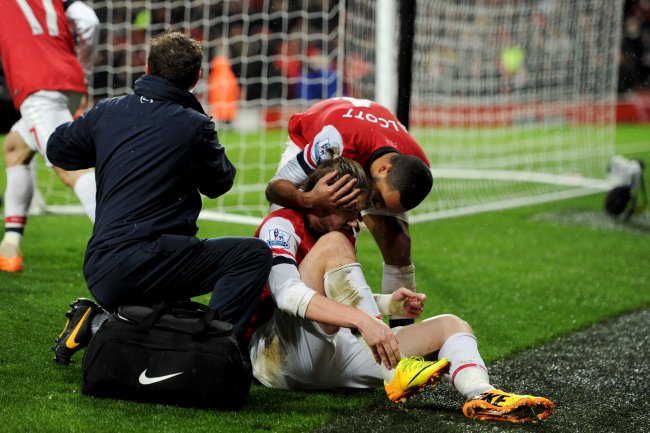 Shaun Botterill/Getty Images
Unfortunately for Bendtner and Arsenal, the Danish forward departed immediately after the goal. As he got up to celebrate his strike, he appeared to twist an ankle and could now miss the rest of the month.
Olivier Giroud shouldn't be too far away from a return, but given Bendtner's unavailability and Podolski's poor performance, Arsene Wenger might be tempted to dip into the January market for another traditional target man.
The importance of this win can't be understated. With Chelsea and Manchester City both winning relatively comfortably on the road, dropping points at home would have been a huge blow to Arsenal's title challenge.
As it is, thanks to Bendtner, the Gunners retain both their momentum and their place at the top of the Premier League table.
James McNicholas is Bleacher Report's lead Arsenal correspondent and will be following the club from a London base throughout the 2013/14 season. Follow him on Twitter here.