The New York Rangers' Dan Girardi is set to become a free agent at the end of the year, and there has been no chatter about signing him to a contract extension. He is a shutdown defender with considerable value, and it appears that he has attracted the interest of multiple teams, primarily the Boston Bruins.
Glenn Healey made a statement on Saturday night that the Bruins would contact the Rangers about Girardi, because they will be without Dennis Seidenberg for the remainder of the season.
Glenn Healy thinks #Bruins might call #NYR about Dan Girardi following Seidenberg injury. @FriedgeHNIC wonders if #Ducks could have interest

— Spector's Hockey (@SpectorsHockey) December 28, 2013
Given the fact that Girardi is a free agent at the end of this season, should the Rangers consider sending him to the Boston Bruins?
To cut to the chase; absolutely! Face it, the Bruins' style of hockey is tailor-made for Girardi. He can hit, block shots and would be a great replacement for the injured Seidenberg. He is a physical and hard-nosed defender who could step into the lineup without missing a beat.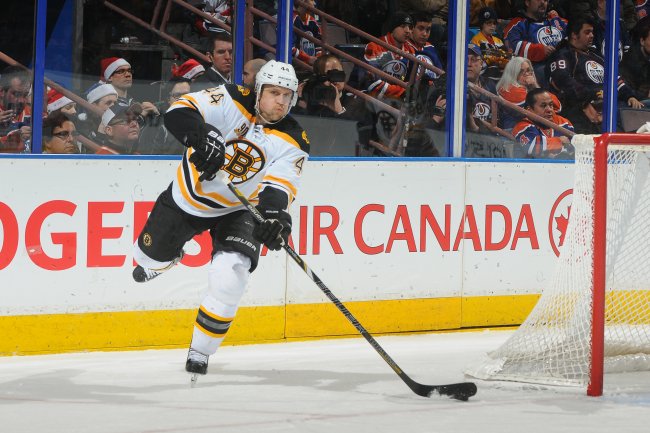 Andy Devlin/Getty Images
Although the Blueshirts' blue-line depth is rather shaky, to this point there have been no indications that the Rangers have intentions of re-signing him. Michael Del Zotto has been subject to trade speculation as well, and he is a player that could be dealt to help bolster the defensive depth.
For that reason, the Rangers should use this opportunity to sell high on an asset that is highly desirable. If the Rangers have no intention of retaining Girardi, they should gauge the market and see what they can get for him.
For a bona fide top-pairing defender such as Girardi, a fair asking price would be a first-round draft choice, a pair of prospect or a roster player. It seems like a lot, but players like Girardi usually fetch a fortune when they are on the market.
He could make a ton of money as a free agent, so teams would likely pay a little extra for an opportunity to lock him up before the July 1 free-agent day.
A Stanley Cup contender like the Bruins would likely have no problem surrendering a bounty like this, because they have a deep prospect pool, and the first-round pick would be very late in the draft. This wouldn't bother the Rangers, because they have a history of acquiring quality talent such as Derek Stepan and Ryan Callahan in the second round.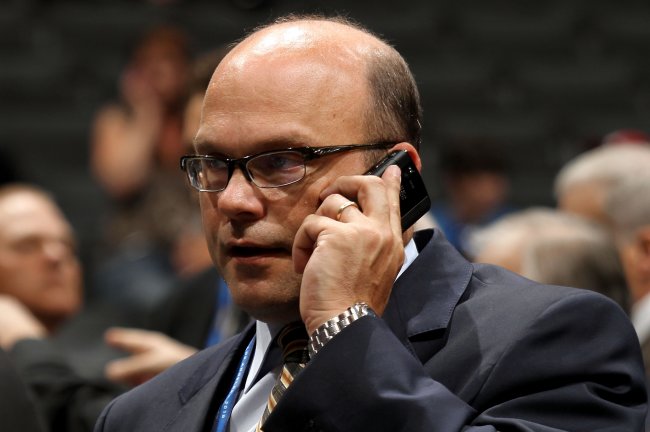 Bruce Bennett/Getty Images
Therefore, if Peter Chiarelli—the Bruins' general manager—contacts the Rangers' GM Glen Sather, a deal could get done rather quickly. It also doesn't hurt that New York's current assistant GM—Jeff Gorton— has ties to Boston.
Gorton was the man responsible for drafting Phil Kessel, Milan Lucic and Brad Marchand. He also traded for Tuukka Rask, and signed Marc Savard and Zdeno Chara. Given his history with the team, it is fair to say that he could help grease the wheels for a trade.
A team like the Bruins is favored to compete for the Stanley Cup, so it is likely that they won't want to move players from their active roster. Instead, it would make sense to craft a package around prospects and the aforementioned draft pick.
Ryan Spooner—one of the Bruins' top prospects—is likely off the table, so the Rangers should set their eyes on defenseman Joe Morrow and center Alexander Khokhlachev. Both are talented prospects with significant upside and would be a fair exchange for the Rangers' top blueliner.
How fair is this proposed trade?
It may seem like it is a lot, but last year the Bruins were willing to part with Khokhlachev and Matt Bartkowski in exchange for Jarome Iginla, so it stands to reason that they would be willing to pay a little more for a better player in Girardi.
Adding Khokhlachev would really strengthen the Rangers' prospect pool at the forward position, and Morrow is a defenseman who is almost ready to step into the NHL. Morrow was drafted by the Pittsburgh Penguins, but was acquired by the Bruins in the Tyler Seguin-Loui Eriksson deal after he was sent to Dallas.
Morrow has a lot of talent, but Dougie Hamilton, Torey Krug and the aforementioned Bartkowski are young blueliners currently ahead of him in the queue.
The Bruins are a top contender, but depth really matters come playoff time. Adding Girardi to the fold would be a great move, and it would help the Rangers add some organizational depth.
With that in mind, here is what an ideal trade would look like for both sides.
---
New York Rangers receive 2014 first-round draft pick, Alexander Khokhlachev and Joe Morrow
Boston Bruins receive 2014 third-round draft pick Jesper Fast and Dan Girardi
---
On the Bruins, Girardi is a top-pairing defender who can be paired with Zdeno Chara. There is no reason why he wouldn't re-sign with a contender such as the Bruins, so the move could be viewed as more than just a rental.
From the Rangers' perspective, they lose a top defenseman but gain two quality prospects and a first-round draft pick.
In theory, the move is very fair considering the Bruins' need for a top-four defender, and it wouldn't be surprising if a deal is made sooner rather than later.