The Carolina Hurricanes may be getting the most value from anyone on their 2013-14 roster out of a 5'5" forward making just $550,000 this season.
The 175-pound Nathan Gerbe has tallied two goals, three assists and a plus-two rating in the Hurricanes' last five games to up his season point total to 18 in 38 games.
Gerbe's surprising contributions this season epitomize the kind of bargain production the 'Canes have lacked in recent years and highlight just how overpaid the top earners on the team payroll are.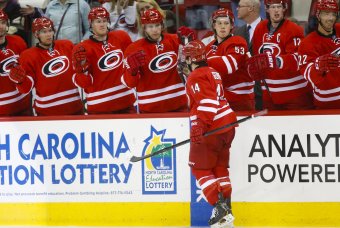 James Guillory-USA TODAY Sports
After the final year of his $1.85 million contract was bought out by the woeful Buffalo Sabres last July, Gerbe's signing with Carolina later that month—a deal which not only paid him NHL minimum wage but also included a two-way clause for a potential AHL sentence—was far from a headline-grabber.
However, the 26-year-old winger scored three goals in his final three preseason games to earn an NHL opening-night roster spot, then lit the lamp in three of his first four regular-season appearances as a Hurricane to cement his role as one of the squad's more dynamic offensive contributors.
Aided by his recent hot streak, Gerbe has jumped into a tie for fourth on Carolina's scoring leaderboard. His 17:37 average ice time per game ranks fourth among all team forwards, trailing just Eric and Jordan Staal and Alexander Semin; his 113 shots (almost three per game) lead the team.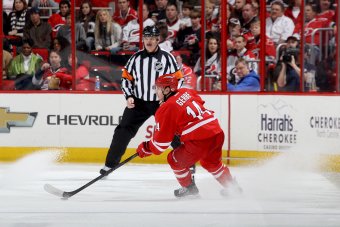 Gregg Forwerck/Getty Images
Gerbe's advanced stats are also well in the black. Only Semin and Jordan Staal currently boast better shot-attempt rates (aka Corsi) than Gerbe's 53.2 percent, with 559 on-ice attempts for and 492 against, according to Extra Skater data. He's also managed to put up such overwhelmingly positive numbers despite starting more than half of his shifts (50.8 percent) in the defensive zone—often a recipe for a poor shot-attempt differential.
A bit of division shows that Gerbe, whose 2013-14 salary is just 6.7 percent of Eric Staal's team-leading mark, has been paid, in theory, $14,159.89 per point this year. For the middle-class worker, that rate seems like an enormous sum; by NHL standards, though, it's a fantastic bargain.
Consider the per-point cost (based on Capgeek cap hits) of each 'Canes forward so far in 2013-14 below:
Hurricanes' Cost per Point by Player

| | |
| --- | --- |
| Player | Cost per Point |
| Tuomo Ruutu | $238,948 |
| Alexander Semin | $170,732 |
| Jordan Staal | $154,472 |
| Eric Staal | $127,439 |
| Jeff Skinner | $81,959 |
| Jiri Tlusty | $72,195 |
| Manny Malhotra | $47,561 |
| Drayson Bowman | $42,683 |
| Radek Dvorak | $39,024 |
| Patrick Dwyer | $38,415 |
| Elias Lindholm | $33,841 |
| Riley Nash | $23,841 |
| Nathan Gerbe | $14,160 |
Capgeek.com/NHL.com
Gerbe's production price is almost $10,000 cheaper than Riley Nash's second-lowest rate. He's helping to counterbalance the vast financial ineffectiveness of the money spent on the team's top guns.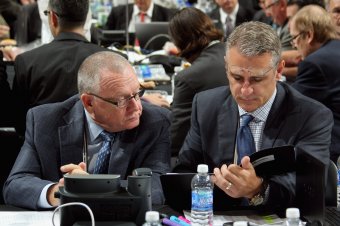 Dave Sandford/Getty Images
It's worth noting that the best players in the league are always going to be relatively weak performers on a cost basis but are nonetheless vital for success. However, there's no way to deny that the large investments of Hurricanes GM Jim Rutherford—which have inflated rapidly as the franchise's budget has risen significantly in the past half-decade—have been decidedly fruitless.
Carolina's $65.2 million payroll is the 10th-highest of the league's 30 teams. Conversely, their 2.32 goals per game currently ranks 25th. Only the New York Rangers are currently paying more per goal than the Hurricanes' rate of $343,768 for each tally.
How would you grade Nathan Gerbe's season to date?
Statistics such as that one underline just how important Gerbe has been to the 'Canes 2013-14 campaign.
Players like No. 14 are what can make a bottom-dweller into a contender and a good team into a dynasty in the salary-cap-dictated sports universe. Elite, low-payroll clubs like the Anaheim Ducks (possessing the 13th-cheapest payroll), Phoenix Coyotes (12th-cheapest), Montreal Canadiens (11th-cheapest), Minnesota Wild (ninth-cheapest) and Colorado Avalanche (second-cheapest) can certainly account for the benefits of such cautious frugality.
As the 'Canes seek to turn their season around, they desperately need their biggest offensive stars to start living up to their bank accounts.
They'll need Gerbe and the few other bargains in the lineup to continue their success, as well.
Mark Jones has been a Carolina Hurricanes featured columnist for Bleacher Report since 2009. Visit his profile to read more, or follow him on Twitter.