Comprehensive College Football Top 25, Vol. 2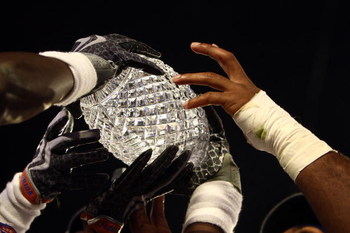 With the 2009 college football season a mere 100 days away, I thought it would be appropriate to release my second installment of my Preseason Top 25.
The top five are pretty much consensus in every poll I've seen. For those of you who did not read Volume One, here is how I calculate the Top 25:
The formula for this top 25 is based on four different rankings coming from ESPN.com, CBSsports.com, Athlonsports.com, and SI.com. I recorded the rank of each team that appeared in each of the four rankings, and then calculated the average for each team.
I hope you find this system insightful, and look for the rest of this series to appear throughout the offseason.
No. 1 Florida Gators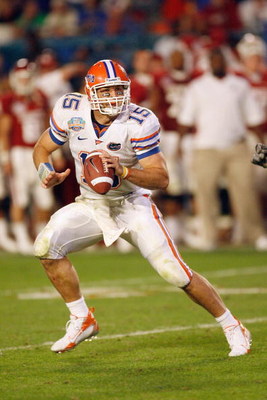 2008 Record: 13-1
Returning Starters: 17 (six offense, 11 defense)
I don't expect the Gators to move out of this spot unless something drastic happens to a player during the offseason.
Tim Tebow will once again be a favorite to win the Heisman and Brandon Spikes will lead a defense that returns all 11 starters from 2008.
A road game at LSU will probably be the toughest game the Gators play this season. The top priority for the Gators this offseason is finding the go-to receiver that will replace Percy Harvin.
No. 2 Texas Longhorns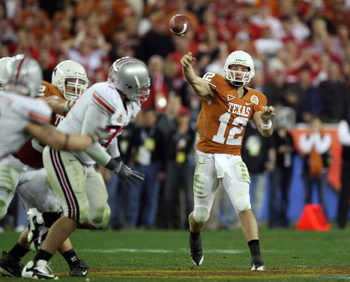 2008 Record: 12-1
Returning Starters: 14 (eight offense, six defense)
The last thing the Longhorns will have to worry about is its passing offense this year. Colt McCoy is back along with three of their most reliable receivers from last season.
Despite the loss of defensive end Brian Orakpo, the emergence of linebacker Sergio Kindle will anchor the Longhorns' defense this year.
Of course, the game to watch for this season is the contest against Oklahoma. Texas will be looking for revenge after a loss to Texas Tech gave Oklahoma a spot in the BCS Title game over the Longhorns.
No. 3 Oklahoma Sooners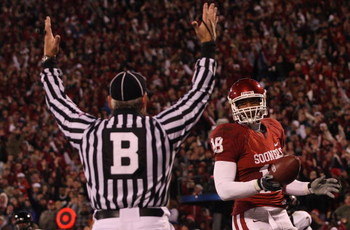 2008 Record: 12-2
Returning Starters: 14 (five offense, nine defense)
If the Sooners can protect quarterback Sam Bradford and block for running back DeMarco Murray, the Sooners should have just as potent an offense as last season. However, replacing four offensive linemen is not an easy task.
The Sooners have some unfinished business after losing to Florida in the BCS Championship game. If Oklahoma can get past Texas, its chances of a rematch with the Gators improve dramatically.
No. 4 USC Trojans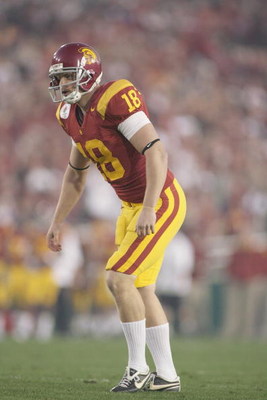 2008 Record 12-1
Returning Starters: 12 (nine offense, three defense)
If any team is going to take the Pac-10 title from the Trojans, there is no better year than 2009.
The Trojans must replace nine starters on defense and also its starting quarterback. The quarterback battle seems to be between true freshman Matt Barkley and Sophomore Aaron Corp.
Regardless of the result, the Trojans should be vulnerable for at least the first half of the season and road games at Ohio State, Cal, Notre Dame, Oregon, and Arizona State won't help USC's cause.
No. 5 Virginia Tech Hokies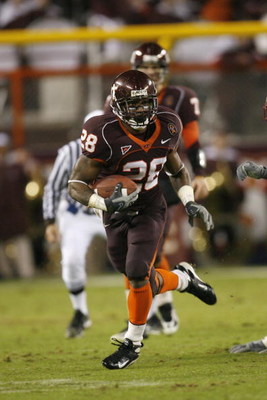 2008 Record: 10-4
Returning Starters: 16 (eight offense, eight defense)
If quarterback Tyrod Taylor can get a grasp for the Hokie offense, Virginia Tech may have one of the best offenses in the country.
Look for talented running back Darren Evans to begin appearing on Doak Walker watch lists as the season progresses. There is some question about the youth on the defensive side of the ball, along with the loss of star corner Macho Harris.
VT can get the inside track to the BCS title game if they get past Alabama in the season opener. However, people said the same thing about Clemson a year ago, and look how that turned out.
No. 6 Alabama Crimson Tide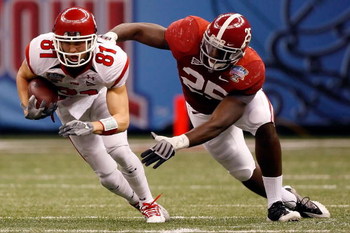 2008 Record: 12-2
Returning Starters: 13 (four offense, nine defense)
Alabama will definitely look to its defense to win games for it at least to start the 2009 season, and it will be led by nose tackle Terrence Cody.
The ground game should be good for the Tide, and projected starting quarterback Greg McElroy will automatically have a target in the sophomore wide receiver Julio Jones.
The offensive line needs to be reconstructed with the loss of starters Andre Smith and Antoine Caldwell. The Tide will again be favored to win the SEC West.
No. 7 Ohio State Buckeyes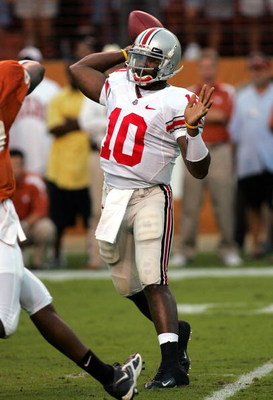 2008 Record: 10-3
Returning Starters: Nine (four offense, five defense)
The Buckeyes suffer the most losses out of any team in the top 10 and yet they still are expected to win the Big 10.
I'm not sure how long the Buckeyes will be able to hold this spot, but Terrelle Pryor and a very talented defensive line are very important pieces to Ohio State's success next year.
Its second game of the season comes against USC, and it should be a good measure of where both teams are and what they are capable of for the rest of the season.
No. 8 Ole Miss Rebels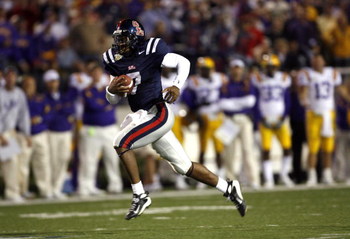 2008 Record: 9-4
Returning Starters: 16 (eight offense, eight defense)
The Rebels were definitely the feel good story of last season and this year they hope to prove that it wasn't a fluke.
Entering 2009 as the only team to defeat the Florida Gators, many people expect Ole Miss to contend for the SEC West. The Rebels return star quarterback Jevan Snead and versatile running back Dexter McCluster. The Ole Miss defense should also be relentless.
The Rebels' non-conference schedule should help them as well.
No. 9 Oklahoma State Cowboys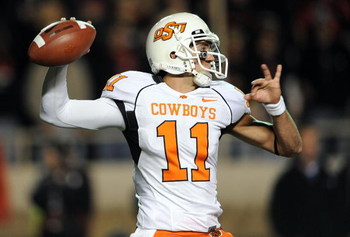 2008 Record: 9-4
Returning Starters: 14 (eight offense, six defense)
Of course, the word on the street is that the Cowboys may have the best offense in the country.
Oklahoma State has legitimate Heisman candidates in quarterback Zac Robinson, running back Kendall Hunter and phenomenal wide receiver Dez Bryant. However, the one thing that is going to decide whether the Cowboys can challenge for the Big 12 South title is its defense.
In a conference where teams automatically score 30 plus points a game, OSU needs to figure out how to stop somebody. The season opener against Georgia should answer a lot of questions.
No. 10 Oregon Ducks
2008 Record: 10-3
Returning Starters: 12 (seven offense, five defense)
The Ducks are almost guaranteed to have one of the most explosive ground games in the country, and they won't be too bad in the passing game either.
Oregon was second nationally in rushing yards per game thanks to powerful running back LeGarrette Blount and elusive quarterback Jeremiah Masoli.
The Ducks faced heavy losses in both the offensive and defensive lines, but the Ducks always manage to put together a good offensive line and the linebackers will make up for anything the defensive line lacks.
No. 11 Penn State Nittany Lions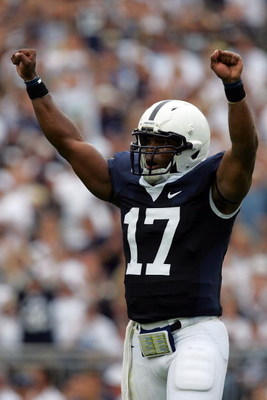 2008 Record: 11-2
Returning Starters: eight (four offense, four defense)
The return of quarterback Daryll Clark, running back Evan Royster and linebacker Sean Lee definitely ease the pain of only returning eight starters.
When a team returns only eight starters, they are normally near the bottom of the Top 25. But the schedule (both in conference and out of conference) is a down right cakewalk and should assist the Nittany Lions in their goal for a second straight Big Ten title.
No. 12 LSU Tigers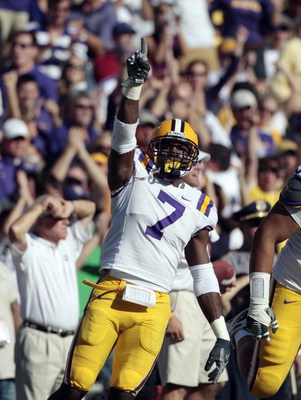 2008 Record: 8-5
Returning Starters: 13 (seven offense, six defense)
The Tigers have a lot of work to do on the defensive side of the ball, and new defensive coordinator John Chavis will try to make the LSU defense great again.
They also must decide if they are going to try again with Jarrett Lee or let Chick-fil-a Bowl star Jordan Jefferson take over. Either way, the LSU offense will have two sure targets in wide receiver Brandon LaFell and running back Charles Scott.
No. 13 Boise State Broncos
2008 Record: 12-1
Returning Starters: 12 (six offense, six defense)
If the Broncos manage to beat Oregon in its home opener, the Broncos might as well write itself in for another undefeated season and a BCS Bowl.
With the return of quarterback Kellen Moore and arguably one of the best secondaries in the country, they very well could have a legitimate argument to face Florida in the BCS National Championship game.
And if they don't, we may just be that much closer to a playoff system.
No. 14 Cal Golden Bears
2008 Record: 9-4
Returning Starters: 13 (six offense, seven defense)
This may be the year that the Bears make a breakthrough in the Pac-10.
With USC "down," Cal potentially has one of the better offenses in the Pac-10. Of course, quarterback Kevin Riley will need to greatly improve, but running back Jahvid Best is easily one of the best, if not, the best in the nation.
We all know that Cal has the potential to enter the top five (see 2007), but we also know that they have the potential to crash and burn (see 2007). It will be interesting to see which Cal shows up in 2009.
No. 15 Georgia Tech Yellow Jackets
2008 Record: 9-4
Returning Starters: 16 (nine offense, seven defense)
The fact that Georgia Tech's running game may be even better than last year is down right scary.
ACC Player of the Year Jonathan Dwyer is a man among boys and will easily earn a spot on the list for Doak Walker Award finalists. With a more polished option attack and only a few questions about the defensive line, the Jackets may very well find themselves in the Orange Bowl next season.
No. 16 Georgia Bulldogs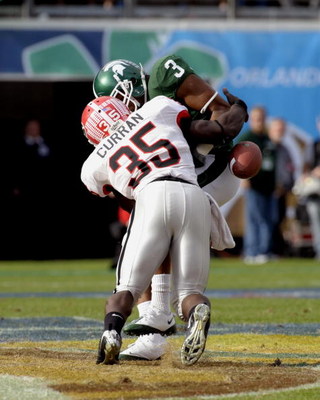 2008 Record: 10-3
Returning Starters: 13 (seven offense, six defense)
No one should sleep on the Bulldogs this season.
Although the 'Dogs lost a lot of its offensive fire power last season, Georgia's new quarterback, Joe Cox, is a proven leader and will have plenty of time behind an experienced offensive line. Cox will also have a great target in sophomore AJ Green.
The Bulldog defense should also be improved from last season with the return of Jeff Owens and Rennie Curran.
On September 5th, Georgia takes on Oklahoma State and will be out to prove that they are a top 10 team, and that they have the ability to be better than last year's underachievers.
No. 17 TCU Horned Frogs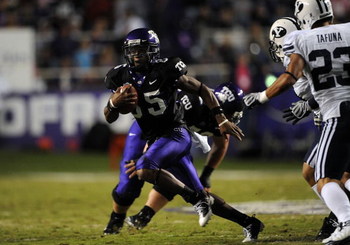 2008 Record: 11-2
Returning Starters: 10 (six offense, four defense)
Although TCU loses seven starters on defense, it returns Jerry Hughes, who led the nation in sacks last season with 17. The offense should also be much improved, with experienced quarterback Andy Dalton.
Despite its losses, TCU has earned a reputation for reloading on defense and should seriously contend for a Mountain West Championship and a BCS appearance.
No. 18 North Carolina Tar Heels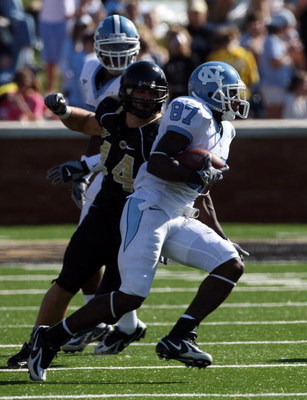 North Carolina: 2008
Record: 8-5
Returning Starters: 15 (six offense, nine defense)
If T.J. Yates can stay healthy, he will lead what should be a decent offense. But the buzz at UNC is over the defense that may be the best in the ACC.
Of course the big question is: are the Tar Heels good enough to challenge Virginia Tech for the Coastal Division?
No. 19 Utah Utes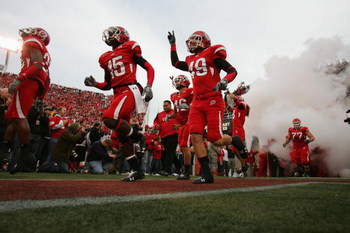 2008 Record: 13-0
Returning Starters: 11 (four offense, seven defense)
The defense will be good and the offense should be okay, but the losses may be too much to go undefeated with games at Oregon, TCU and BYU. The Utes will again be able to win the Mountain West, but BCS busters for a third time? Don't think so.
No. 20 Nebraska Cornhuskers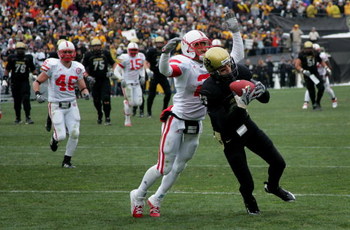 2008 Record: 9-4
Returning Starters: 12 (five offense, seven defense)
Lack of quarterback depth will certainly create a problem for the Huskers, but the grind-it-out ground game that Nebraska has become famous for may reappear with the emergence of 215 pound running back Roy Helu.
The Big 12 north will be a battle between Nebraska and Kansas, and if the Huskers can at least reach the title game this season, the Husker faithful should be satisfied for the time being.
No. 21 Florida State Seminoles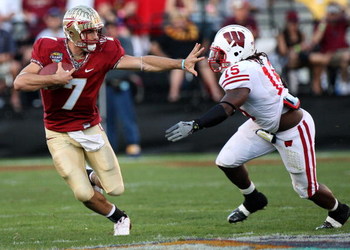 2008 Record: 9-4
Returning Starters: 13 (eight offense, five defense)
The biggest problems facing the Seminoles are the off-field problems and the lack of experience across the board.
There is definitely potential, but will the Noles be able to get the most out of it? Veteran quarterback Christian Ponder shows a lot of promise and will hopefully be more consistent next season.
The projected starter at running back, Jermaine Thomas, should be a very valuable piece to Jimbo Fisher's offense. They will have to rebuild the defense, but FSU has a good chance of challenging for an ACC title and are not far off from becoming BCS contenders once again.
No. 22 Iowa Hawkeyes
2008 Record: 9-4
Returning Starters: 15 (seven offense, eight defense)
Although the Big 10 has recently been the story of Ohio State and Penn State, Iowa proved last year that they are also a team to be reckoned with.
With the departure of running back Shonn Greene, a huge portion of the Hawkeye offense is gone. However, junior quarterback Ricky Stanzi should provide what leadership was lost.
The Iowa defense should be rock solid if they can find a defensive line with a pass rush.
Unfortunately, the schedule is not very kind to the Hawkeyes, with games at Penn State, Wisconsin, Michigan State and Ohio State.
No. 23 Kansas Jayhawks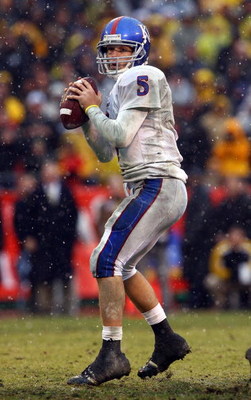 2008 Record: 8-5
Returning Starters: 14 (seven offense, seven defense)
Nebraska and Kansas will duke it out for the Big 12 North Title in 2009, and the return of senior quarterback Todd Reesing gives the Jayhawks something to look forward to.
The Kansas defense may struggle at times, and this could present a problem, seeing as the goal of a defense is only to slow down other Big 12 offenses.
Kansas is set at skill positions, but inexperience at other positions makes it no match for any of the top tier opponents that they will face this season.
No. 24 Oregon State Beavers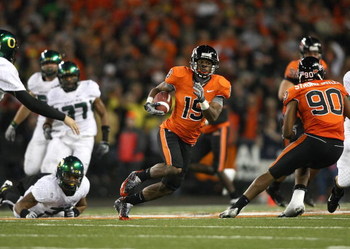 2008 Record: 9-4
Returning Starters: 13 (10 offense, three defense)
The Oregon State offense should be dangerously potent next year if Coach Riley can find some consistent wide outs.
Running back Jacquizz Rodgers will again be electrifying and his brother, James, will be a good wide receiver if he can get through his injuries.
However, the Beavers' defense is suffering from the loss of eight starters, including three All Pac-10 players. Oregon State has made a good run the past few seasons and may be a dark horse to win the Pac-10 title.
No. 25 Cincinnati Bearcats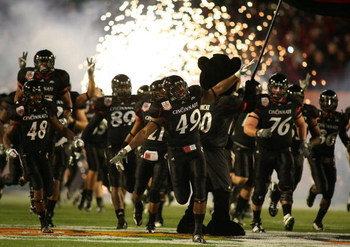 2008 Record: 11-3
Returning Starters: nine (eight offense, one defense)
Luckily, the Big East is wide open right now, and this team that only returns one starter on defense has a legitimate shot at defending its Big East championship.
All the Bearcats will have to do is outscore its opponents and it might not be very hard if quarterback Tony Pike keeps throwing to his outstanding wide receiver, Mardy Gilyard.
The out of conference schedule is not very friendly, but Cincinnati could be BCS bowl eligible with three (or more) losses because the Big East is so weak.
On the Radar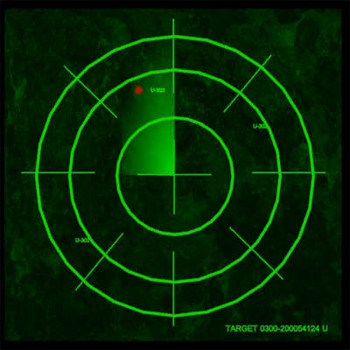 The teams that were in a few of the preseason polls but didn't quite make the cut.
Notre Dame Fighting Irish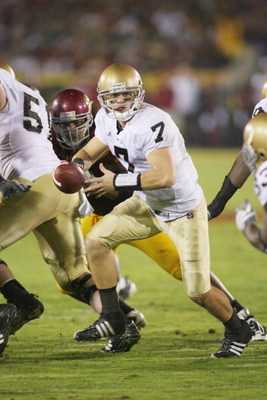 2008 Record: 7-6
Returning Starters: 16 (10 offense, six defense)
I know the pollsters are dying to put these guys in the Top 25. Will they finally earn it?
East Carolina Pirates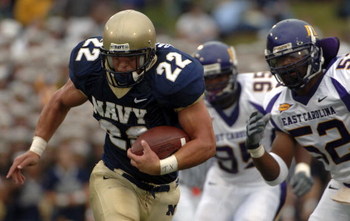 2008 Record: 9-5
Returning Starters: 16 (eight offense, eight defense)
Can the Pirates complete its Cinderella story from the first half of last season?
Michigan State Spartans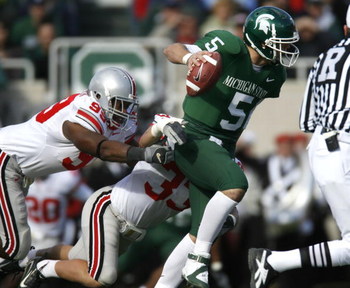 2008 Record: 9-4
Returning Starters: 10 (five offense, five defense)
How will the Spartans handle the loss of star running back Javon Ringer?
Conference Power Rankings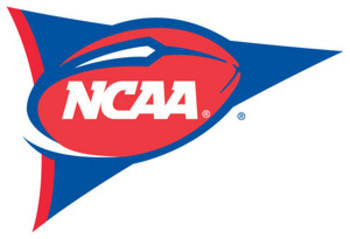 After looking at the Top 25, I counted the number of teams each conference had in the rankings, and then calculated their average rank in order to determine which of the BCS conferences was the best.
No. 1 SEC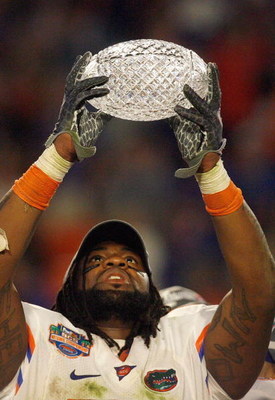 The SEC will be looking to win a fourth straight national title, and to prove they are STILL the best conference in college football.
Number of Teams: five
Average Rank: No. 8
No. 2 Big 12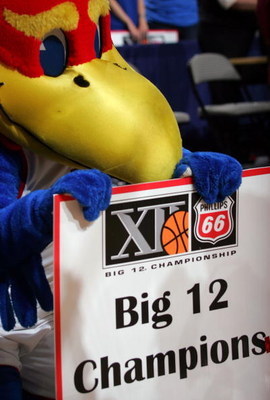 The Big 12 is hoping to become the new best conference in America.
Number of Teams: five
Average Rank: No. 11
No. 3 Pac-10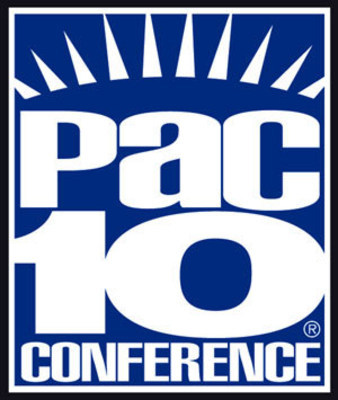 The Pac-10 will have a much more competitive year in 2009.
Number of Teams: four
Average Rank: No. 13
No. 4 Big Ten
Once again, the Big Ten teams are playing for some national respect.
Number of Teams: three
Average Rank: No. 13
No. 5 ACC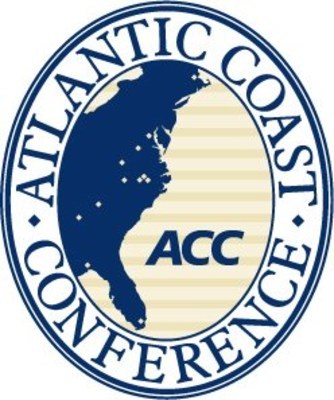 I don't expect the power to be so evenly distributed in 2009.
Number of Teams: four
Average Rank: No. 15
No. 6 Mountain West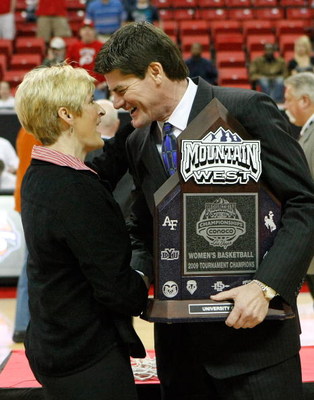 The Mountain West will again be the most competitive mid-major conference in the FBS.
Number of Teams: two
Average Rank: No. 18
No. 7 Big East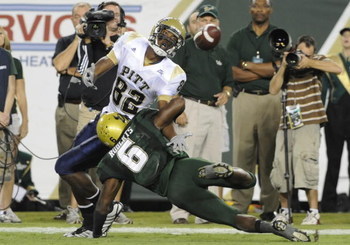 The Big East is definitely going to have a down year this year, and will most likely be the story of two programs.
Number of Teams: one
Average Rank: No. 25
Keep Reading