Arsenal's draw with Chelsea last night was creditable if a little underwhelming. However, had Olivier Giroud taken the Gunners' most presentable opportunity, Arsene Wenger and his team could easily have been celebrating a win and a place as undisputed leaders of the Premier League table.
With the game delicately poised at 0-0, a clipped pass from Aaron Ramsey found Giroud free inside the penalty area. With time and space to take the ball down, Giroud set himself before unleashing a volley off his preferred left foot towards goal.
Given that he was being swiftly closed down by Chelsea's Petr Cech, Giroud's best options appeared to be a shot across Cech in to the far corner, or a subtle lob over the onrushing keeper.
However, instead Giroud thrashed across the ball, miscuing and sending it wide of the near post. The ball rebounded off the advertising hoardings and in to the back of the net. Some of the Arsenal fans in The Clock End mistakenly believed the ball had gone in.
It hadn't. Giroud had spurned Arsenal's best opportunity, and the game remained 0-0.
As he saw his big chance skew wide, Giroud's face was wracked with anguish. It was an expression matched by 60,000 Arsenal fans inside the Emirates Stadium. Beating Chelsea and being top at Christmas would have been a huge boost for the Gunners. After all, the side who've been top of the Premier League on the 25th December have gone on to lift the trophy in each of the last four seasons.
Arsenal fans were disappointed to see the chance go begging, but they can't have been surprised. Giroud's form has been in decline for some time now.
Shaun Botterill/Getty Images
The Frenchman is now without a goal in each of his last six games. What's more, he's only scored in one of his last 11 Arsenal appearances.
Since his headed goal to clinch victory at Crystal Palace, Giroud has just two strikes to his name. They came in the home victory against Southampton, and both were gifted to him by the opposition. The first was a tap-in after robbing Artur Boruc of the ball yards from this own goal; the second was a penalty. Goals don't come any easier than that.
At the start of the season, Giroud was on fire. His early form appeared to vindicate Arsene Wenger's controversial decision not to sign a centre-forward.
However, the strain of being Arsenal's only real option up top is perhaps beginning to take a toll. Giroud is drained of both stamina and confidence. As well as the chance against Chelsea, he also missed a couple of glaring opportunities during Arsenal's defeat to Manchester City at the Etihad.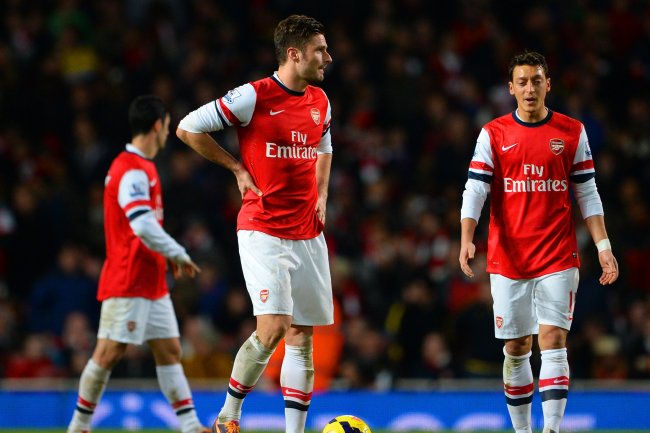 Michael Regan/Getty Images
It's bad timing for Arsenal. In Alvaro Negredo, Romelu Lukaku and Luis Suarez, many of the Gunners' have strikers who are hitting their stride. Giroud, meanwhile, appears to be stumbling.
The Christmas period will be vital for Arsenal's title hopes. They face a series of winnable games, and need someone to step forward to put these lesser teams to the sword.
The only consolation for Arsene Wenger will be that Giroud's dip coincides with the return to fitness of Theo Walcott and Lukas Podolski.
Rotation and rest may be required if Giroud is to return to his best.
James McNicholas is Bleacher Report's lead Arsenal correspondent and will be following the club from a London base throughout the 2013/14 season. Follow him on Twitter here.