Arsenal fight to regain their tenured lead over the Premier League and Chelsea aim to gain a share of the top spot when the two sides close out Matchday 17 on Monday, Dec. 23.
Jose Mourinho's Blues earned a hard three points at home over Crystal Palace last weekend, and after being knocked out of the Capital One Cup during the week by Sunderland, they're looking to build some momentum.
However, Arsenal have seen a once sizable lead over the rest of the table evaporate. With Liverpool's win over Cardiff in Week 17, the Gunners must gain three points over one of the EPL's best squads to keep pace.
Let's take a look at everything you need to know for the showdown.
When: Monday, Dec. 23
Where: Emirates Stadium; London, U.K.
Start Time: 3 p.m. ET, 8 p.m. GMT
TV: NBCSN (U.S.), Sky Sports 1 (U.K.)
Live Stream: Premier League Live Extra, Sky Sports Live Stream
Top Storyline: Can Both Clubs Regain Defensive Prowess?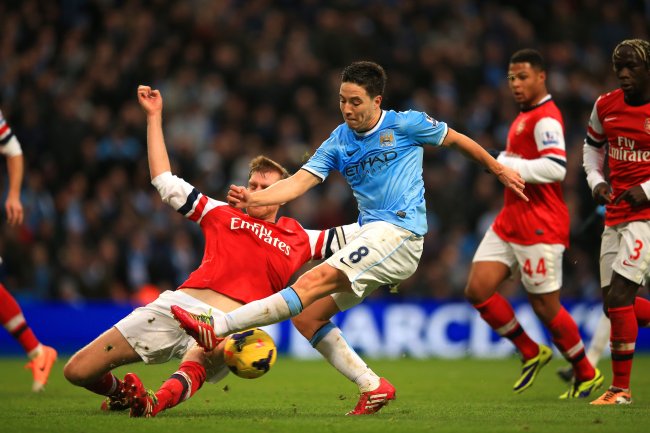 Richard Heathcote/Getty Images
Uncharacteristically enough, both Arsenal and Chelsea have shown their fair shares of porous defence in the recent weeks and will want to turn that around quickly.
Of course, the Gunners were throttled in a 6-3 defeat to Manchester City last weekend. Combined with a 2-0 loss to Napoli in the Champions League right before, goals have been coming rather easy against a club that boasted the EPL's best defence for much of the season thus far.
Returning home will certainly be a big boost for Arsenal, but troublesome defence could still spell disaster against a Chelsea squad that have the capability of scoring goals at will.
Meanwhile, Chelsea have struggled on set piece defence over the recent weeks and Mourinho hasn't been able to find a trustworthy starting back line.
The Blues will try something different when they head to Emirates Stadium, as they have opted to sit out veteran defender Ashley Cole, per Daily Mail's Joe Bernstein. The 33-year-old has started to ponder retirement after the snub from the starting line-up, per Bernstein.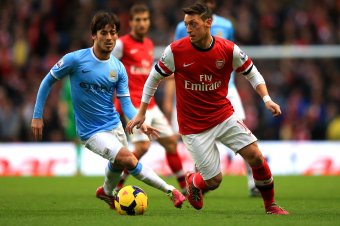 Richard Heathcote/Getty Images
Bottling up Arsenal standout Mesut Ozil will be at the forefront of Chelsea's aspirations, as Mourinho lauded the German as the final piece of the Arsenal puzzle, per the Mirror's Tom Hopkinson.
Chelsea nearly received some good fortune with Ozil needing a rest, but Wenger insisted that he'll still start his record signing in the key battle, per Daily Mail's Andrew Warshaw.
Mourinho coached Ozil at Real Madrid up until the end of the 2012-13 season, so he will need to share his familiarity with the attacker to his defence and make sure he's kept at bay.
Prediction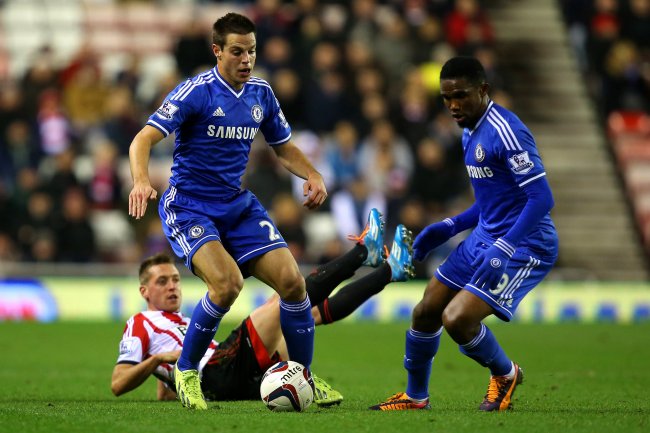 Jan Kruger/Getty Images
In one of the most enticing matchups of the season and one that possesses massive title implications, you have to go with the home club that has been getting it done consistently throughout the season.
Arsenal's recent drubbing at Manchester City was tough to watch for Gunners fans, but nearly everyone has gotten clobbered at Etihad this season. When the Gunners are at home, it's quite the different story as they haven't lost at Emirates since the opening weekend.
Consistency hasn't yet been found in Chelsea's dictionary since Mourinho's arrival, and until he hammers out a starting line-up that he can turn to on a regular basis, that will not change.
Arsenal 2, Chelsea 1