Arsenal's Lukas Podolski is known by team-mates and fans alike as Poldi. However, there is a nickname that might be more imaginative and equally suitable.
During his time at Scottish club Rangers, midfielder Jorg Albertz became known as Der Hammer. It was a tag later inherited by former Aston Villa and West Ham man Thomas Hitzlsperger.
What those players shared, apart from their German heritage, was a stunningly powerful ability to shoot with their left foot.
Podolski has the same gift. When he strikes the ball, goalkeepers fear for their safety.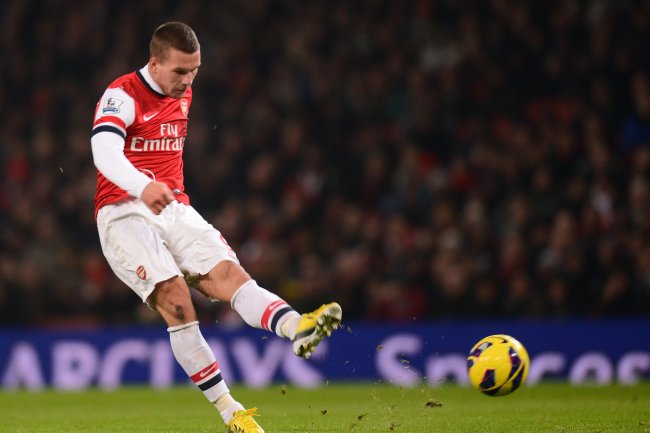 Mike Hewitt/Getty Images
Now, after several months on the sidelines, Arsenal are finally able to welcome their own Hammer back into their armoury.
Podolski has been in training for two weeks now. He was available for the clash with Manchester City a week ago, but Arsene Wenger elected to leave him back in London. Although on the day that decision may have appeared somewhat costly—Wenger was forced to introduce Nicklas Bendtner in place of a tiring Olivier Giroud—it could yet prove to be a wise move.
From Monday, Arsenal face four games in 10 days. It's an exciting time for the supporters but hugely draining for the squad. Wenger will be forced to rotate throughout the festive period, and Podolski will surely be one of the major beneficiaries.
Although Podolski has spent most of his time at Arsenal as a left-winger, he may find opportunities more forthcoming through the middle. Arsenal are well stocked on the flanks—just ask Santi Cazorla, who found himself relegated to the bench against City.
Wenger has spoken in the past about his intention to convert Podolski into a centre-forward, confessing to Nik Brumsack of Arsenal.com in April, "I work a lot with him as a central striker at the moment."
The current incumbent of the centre-forward spot, Olivier Giroud, is beginning to look a little worn by the rigours of the season. The Frenchman hasn't scored in his last five games and looked a touch laboured against Manchester City.
Wenger may opt to ask Giroud and Podolski to share the burden over the Christmas period. The Chelsea game may come to soon for the German to start, but he could well play from the first whistle in the game against West Ham two days later. Wenger would then be able to restore a fresh Giroud for the trip to Newcastle, before giving Podolski another chance at home to Cardiff on New Year's Day.
Even if he only gets a few minutes against Chelsea, the ball only needs to drop on to that remarkable left foot for an instance, and Jose Mourinho and company will feel the full force of the Hammer.
James McNicholas is Bleacher Report's lead Arsenal correspondent and will be following the club from a London base throughout the 2013/14 season. Follow him on Twitter here.