On the screen, Thierry Henry could be seen scoring the goal that capped a remarkable career. On his return to Arsenal after five years away, he marked his second Gunners debut by collecting a neat through-ball from Alex Song to finish in trademark fashion, side-footing across the goalkeeper and in to the corner.
Below the screen, Henry sat, transfixed. One hand clasped that of his young daughter while another covered his mouth, barely masking his emotions.
The setting was Arsenal's exclusive Diamond Club, and I was fortunate enough to be attending a special screening of Arsenal's new documentary to celebrate Henry's career. In a small, private room, Henry was joined by his family, a gaggle of former Arsenal stars and a handful of lucky journalists to watch the story of his time in England unfold.
Without wanting to sound voyeuristic, watching Henry replay the moments in his head was just as fascinating as the film itself. After the screening, Henry himself told Arsenal.com:
At the time when you play you tend to not go and see the game because you're playing.

Obviously now I'm close to the end and I'm seeing all the stuff that I've done... It brings back memories: bad ones and good ones. It gives you goosebumps. You get the feeling like you want to cry; you want to run and celebrate something. It was all those mixed feelings. Whenever it's a moment of joy or sadness, I'm actually reliving that moment again.
His display of emotion while watching the film, underscored by the crack in his voice when he spoke afterwards, was that of a true Arsenal fan. Anyone doubting his commitment to the Arsenal cause need only know that he ranks that goal against Leeds, in an FA Cup third-round tie in January 2012, as the high point of his career.
For Henry, that blissful moment ranks above a World Cup win on home soil. It outstrips a European Championship win, a Champions League Final victory with Barcelona and even completing an unbeaten season under Arsene Wenger.
Why? Because Henry returned to Arsenal not just as another player but as a fan. What fan doesn't dream of scoring the winning goal for the club of their heart?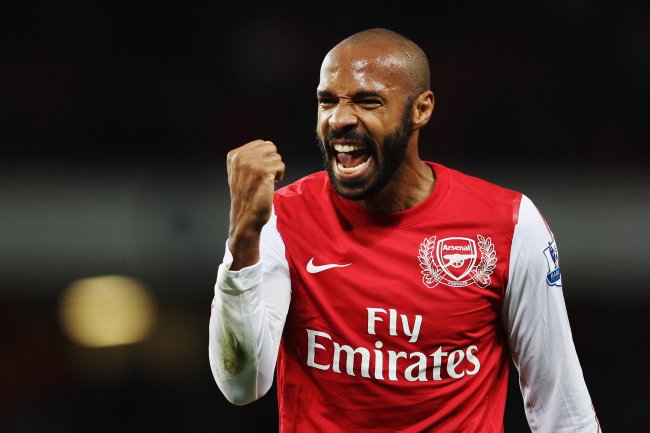 Clive Mason/Getty Images
On that cold January night, Henry did just that.
Henry's bond with Arsenal is a special one, and one that continues even though he is no longer officially affiliated with the club.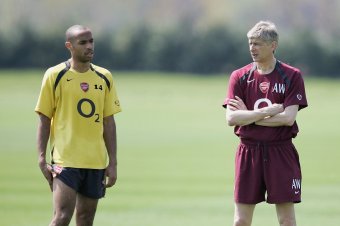 Richard Heathcote/Getty Images
Like all great love stories, it contains elements of serendipity. There was a chance encounter on a plane with Arsene Wenger—the man who had given him his first senior start at Monaco. The Mirror reports on the tale Henry tells in the film:
After the Juve game at the end of the season I went back to Paris. And who was on the plane....the boss [Arsene Wenger] was on the plane.

And that's when I told him that I would love to join Arsenal.

And after it, that's what happened.
Henry insists he did not fail at Juventus, contrary to popular belief. However, when the Turin club made it known he was available for transfer, there was only one club he was interested in joining: Arsenal.
Henry knew Arsenal because of their clutch of French internationals, particularly Patrick Vieira, Emmanuel Petit and Nicolas Anelka—the latter of which Henry was earmarked to replace.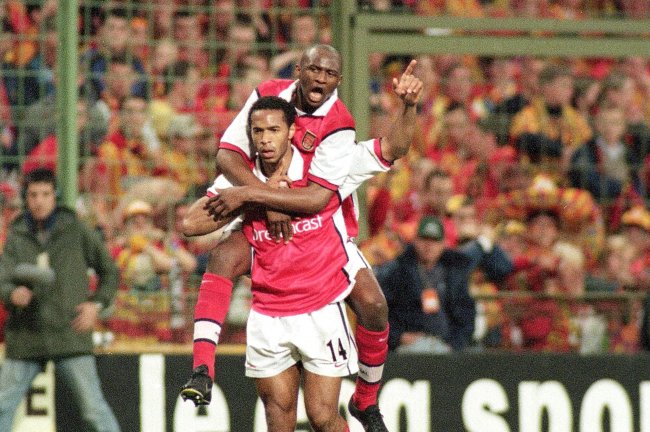 Laurence Griffiths/Getty Images
However, he first heard of the club thanks to the exploits of an Englishman: Ian Wright. Growing up on the other side of the channel, Henry had admired Wright's showmanship and inventive finishing.
The English influence was strong on Henry. When he first entered the Arsenal dressing room, he knew he had to prove himself. Speaking in the Arsenal Legends film, he says:
You don't arrive at Arsenal football club when you have the likes of Tony Adams, Martin Keown, Lee (Dixon), Nigel (Winterburn) and Ray Parlour.

Before I arrived, those guys won the double.

Some of them were part of the team that won that amazing league title in '89.

Even though I arrived here as a world champion, I was nobody. And rightly so.

I didn't do anything yet for Arsenal football club. I didn't do what I could do; I didn't do anything. So who was I to just do anything or act in a different way?

I was just a follower at the beginning.
Henry knew that he had to win the respect of the old guard, and he did, by fighting with them on the pitch and against them on the training field. In the early days, he found himself being kicked off the London Colney pitches by the likes of Keown and Adams, but in time, he learnt to give as good as he got—better, even. Within months, Henry had transformed in to a devastatingly effective centre-forward.
Henry was welcomed into that English core. At the film's unveiling, it was striking to see the warmth of embrace between Henry and the likes of Keown, Parlour and David Seaman. The Frenchman bridged two eras and later took on the mantle of leadership and tradition these players had established.
In conversation after the screening, Ian Wright revealed that what we loved most about Henry was the degree to which he "got" the rivalry with Spurs. Despite being from a foreign country, Henry embraced and understood what these games meant to the fans.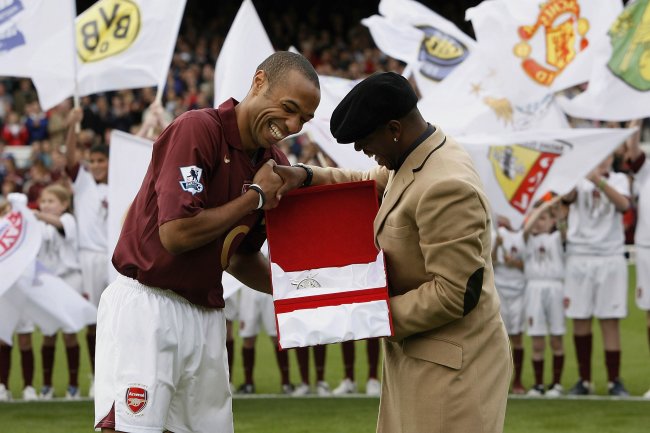 Pool/Getty Images
The most obvious example of Henry's enmity for Tottenham came in 2004, when Arsenal clinched the Premier League title at White Hart Lane. The Gunners travelled to face their rivals needing just a point to secure top spot. The Arsenal players had initially been asked to avoid celebrating in the event of winning the trophy, to prevent crowd disturbance. However, after Mauricio Taricco gloated at Henry after Tottenham's late equaliser, the Frenchman decided to take matters in to his own hands:
"They made it 2-2; Taricco celebrated so much he injured himself. I said, 'We need a point. Now we celebrate on your pitch.'"
Henry wasn't prepared to be mocked by a hated rival. He is an intensely proud man.
People eulogise about Henry's combination of pace and panache, but rarely do they credit his strength of character. It's a trait he says he owes to his father, who was a strict disciplinarian and harsh critic of the youthful Henry's football.
Henry was occasionally criticised for his muted celebrations. However, that casual response to scoring was not arrogance: It was the reaction of a player still hearing his father's voice castigating him for earlier misses. Henry, like his father, wore the perennial frustration of the perfectionist.
The truth is that much of what Henry produced in an Arsenal shirt was close to perfection.
Watching his greatest moments again, one is reminded of his extraordinary set of gifts. Arsenal may never see his like again.
Fittingly, a statue has been erected outside of the Emirates Stadium in permanent salute to his achievements. It's a suitable tribute: Henry is a man, now cast in bronze, who gave so many golden memories to the Arsenal fans.
Thierry Henry is the "Invincible" who became immortal.
James McNicholas is Bleacher Report's lead Arsenal correspondent and will be following the club from a London base throughout the 2013/14 season. Follow him on Twitter here.