Grading the Los Angeles Angels' Moves so Far This Offseason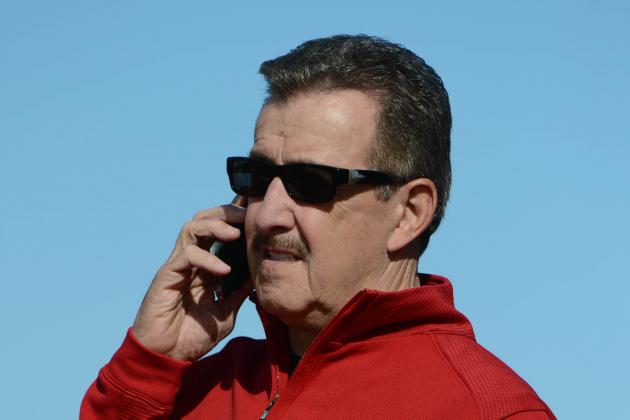 Kyle Terada-USA TODAY Sports

When an MLB organization like the Los Angeles Angels heads into the offseason strapped for spending cash, with a lack of depth in the farm system and available MLB-level trade chips that won't deplete the team, making moves becomes a real test.
A test that has constantly changing questions with difficult answers.
Give the Angels credit, though. General manager Jerry Dipoto and manager Mike Scioscia have surprisingly come together, philosophically, and are doing their collective best to cut the proverbial mustard.
Have the they done enough?
They haven't completed any monster deals like past offseasons—unless you count Mike Monster, the feel-good story who will be an interesting scenario during spring training. And there could be some concern the team is still missing a power bat and a starting pitcher. (Raul Ibanez might alleviate part of that issue, according to MLB.com's Ken Gurnick.)
Because the AL West has seemingly grown more competitive each day this winter, leaving anything off the shopping list could be detrimental. However, there are glimpses of hope, all revolving around the moves already completed by the organization.
How much hope?
Well, let the grading begin…
Begin Slideshow

»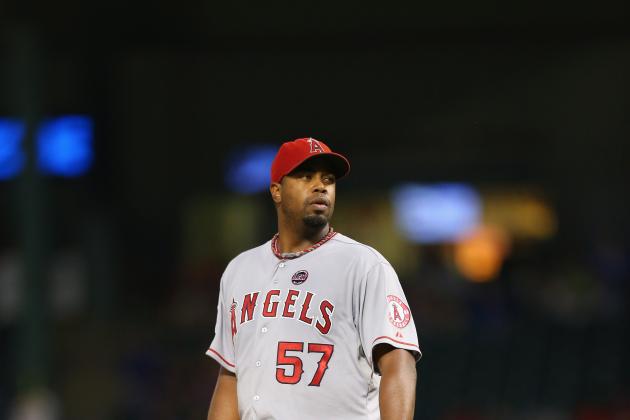 Ronald Martinez/Getty Images

Because the non-tender candidates for the Angels were almost all no-brainers, there wasn't a ton of second-guessing occurring when third baseman Chris Nelson and pitchers Juan Gutierrez, Tommy Hanson and Jerome Williams were actually non-tendered.
Williams, a flexible option out the bullpen or in the rotation, stood as the only player of the four whose negotiations—if they had happened—would have made sense. Though he struggled to command his sinker at times in 2013—he surrendered 23 home runs—there were moments when Williams had proven his worth. His 4-2 record over the final 10 starts was proof of that.
However, the club needed to make room on the roster for right-handed reliever Joe Smith and, more importantly, they needed to start somewhere in the quest to save cash for other acquisitions. In all, the team saved around $10 million from their non-tender decisions.
Grade: A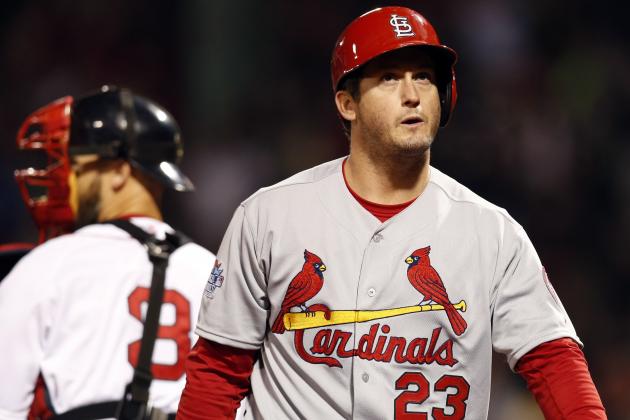 Greg M. Cooper-USA TODAY Sports

With the Angels' need to acquire pitching grabbing most of the the headlines, filling a hole at third base kind of flew under the radar at the end of the season.
Following the Alberto Callaspo trade last season with Oakland, however, there hasn't been a real solid amount of productivity from the hot corner. And with options such as Luis Jimenez, Chris Nelson or the possible move of Grant Green from second to third not really building confidence, a move was necessary.
Originally, 2014 was to be Kaleb Cowart's year. But the Angels' top prospect has struggled at Double-A, and that time table is not going to be fulfilled. Yet.
Enter David Freese.
Freese's numbers dropped in 2013, with his batting average dipping below .290 for the first time; all the way to .262. With that, his OPS fell significantly, landing more than 60 points below his career OPS of .783. Both areas could be concerning, especially if a 30-year-old ex-Cardinal coming over to the Angels is scary.
That's understood.
However, Freese still has the ability to be an extreme asset to any team. He may not have the glove of other top third baseman, but a career .950 fielding percentage is not low enough to start shouting, "Pedro Guerrero!" Regardless, he's an upgrade.
Salas, the other piece in the trade, will add to the needed depth options in the 'pen. He is a solid reliever, who has had some success in the closer role (24 saves in 2011). Although there isn't anything amazing about his stuff, his low cost didn't harm the Angels at all, and if he can provide a spark here and there then it's a good pickup.
Sure, much like the Trumbo deal, this trade meant giving up another fan favorite. This time, it was outfielder Peter Bourjos. In a crowded outfield, though, neither Randal Grichuk or Bourjos had much of a future with the Angels.
Grade: B (The $4 million the Angels took on keeps this deal from being an A.)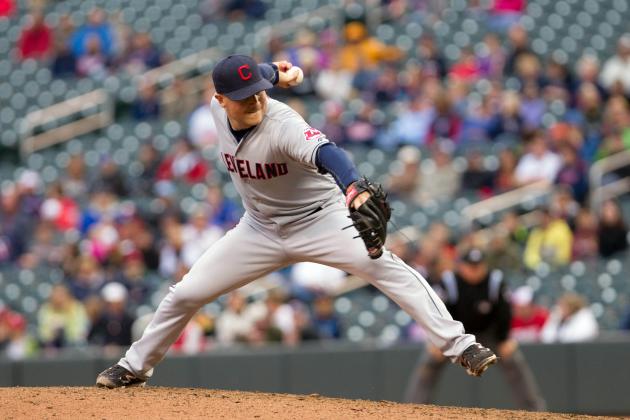 Brad Rempel-USA TODAY Sports

Out of all the moves the Angels have orchestrated this offseason, signing Joe Smith to a three-year, $15.75 million deal was the most unexpected.
It's not that the deal doesn't fill a need. The Angels' bullpen finished 2013 with an ERA of 4.12 (per MLB.com's Alden Gonzalez), bad enough for 26th in the MLB. They need help.
It's the money spent, however, that makes this deal surprising—$15 million-plus is a hefty salary to throw at a non-closer. Maybe that's just a club's desperation for stopgaps in the late innings, and their extreme willingness to spend for it.
Let's face it, the relief market has got more than a few questionable/bloated salaries this offseason—Grant Balfour, Joe Nathan and Jim Johnson.
Smith is an interesting story, though. While at Wright St. University (Ohio), he decided to drop his delivery to side-arm release following injury issues. The move was a success and something of a rarity: Unlike many pitchers that drop down to side arm, Smith gained velocity with his fastball.
From that point, he has been a solid reliever. The last three years, all with the Cleveland Indians, he has kept his ERA under three, while holding a solid strikeout-to-walk ratio (2.35).
Now, along with Ernesto Frieri and Dane De La Rosa, Smith gives the Angels a solid right-handed group for the seventh, eighth and ninth innings.
But that money?
Grade: B- (If this move means that CBS Sports' Allie LaForce will be attending Angels games, I'm willing raise it to an A-.)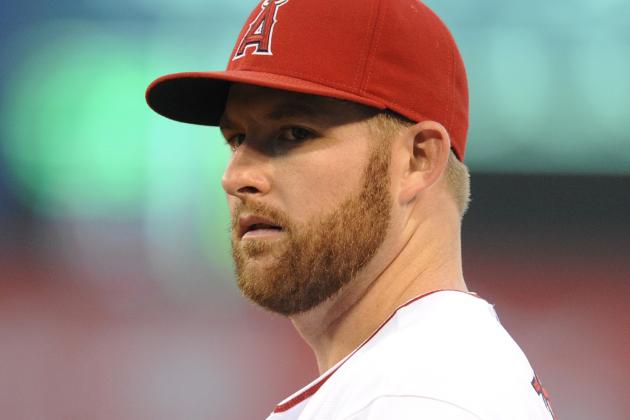 Kelvin Kuo-USA TODAY Sports

The Angels had to act quickly when the right deal came across the table during the Winter Meetings last week. Waiting, looking for it to be absolutely perfect wasn't a realistic option.
The trade that sent Mark Trumbo to the Arizona Diamondbacks—in a three-team deal also involving the Chicago White Sox—for Tyler Skaggs and Hector Santiago was the right deal. It was the right move.
According to MLB.com's wonderful writer, Bernie Pleskoff, it was an old-fashioned trade that worked for every team.
For the Angels, the organization needed to address the back end of the rotation—now and for the future. The move did just that.
Skaggs, a tall lefty with good a curve ball that can make his 88-90 mph fastball look quicker to the hitter's eye has only to develop by getting more MLB innings. Originally sent to Arizona in the Dan Haren deal, Skaggs returns to the Angels where he should immediately fit into the back of the rotation.
That's a plus.
Santiago also has upside. Joining the Angels via the White Sox, he has the ability to be either a spot starter or a reliever, filling in as a younger, left-handed version of Jerome Williams. He still has to work on his command—an issue that always seems to hound left-handers—but, according to Pleskoff, scouts like his repertoire of pitches, and he can only get better with coaching.
That leaves a major part of this deal at the hands of Angels pitching coach Mike Butcher—which may or may not be a good thing. But it's still a solid deal.
It doesn't make them great. This isn't Matt Garza or a Zack Greinke-like deal. But Skaggs and Santiago are two solid left-handers who can help this team overcome the inconsistency of last year—where the revolving door of the No. 4 and No. 5—sometimes even No. 3—options seemed to never end.
Yes, there is still the matter of a 30 home run, 100 RBI kind of guy—a local guy, at that—not in the Angels' lineup anymore. Not in the clubhouse, either.
Mark Trumbo will be missed, no question at all. That includes off the field as well as on it. But the extra cash the team created—now around $20 million—will help the Angels negotiate with free agent pitchers or possibly veteran designated hitters, ultimately overshadowing the value Trumbo carried.
Grade: A
Christian Petersen/Getty Images

It wasn't the loudest way to end the Winter Meetings, but picking up Brian Moran—the Toronto Blue Jays' Rule 5 draft selection—was definitely an interesting and creative move .
The left-handed reliever has done well in his five-year minor league career, posing an ERA of 3.06 in just under 200 games (199). There have been struggles, at times, with runners on base, leaving some concern about his ability to hold during crunch time. But the prototypical makeup and his ability to handle the lefty hitters, however, helps ease that concern.
Moran knows lefties: In 2013, while playing with the Tacoma Rainiers (Triple-A affiliate of the Seattle Mariners), he had an ERA of 2.78 against lefties, with 48 strikeouts and six walks.
He isn't the most overpowering pitcher—mid-to-high 80s range with his fastball—but his proven success as a specialist makes for a nice, low-cost addition to the Angels' bullpen. And with newly acquired power hitters looming within the AL West—Prince Fielder in Texas and Robinson Cano in Seattle—having a left-handed specialist is never a bad move.
It was certainly worth the $244,000 in international cap space money the Angels gave up to get him from Toronto.
Grade: B (If Moran can pitch better when behind in the count, this could possibly be an A.)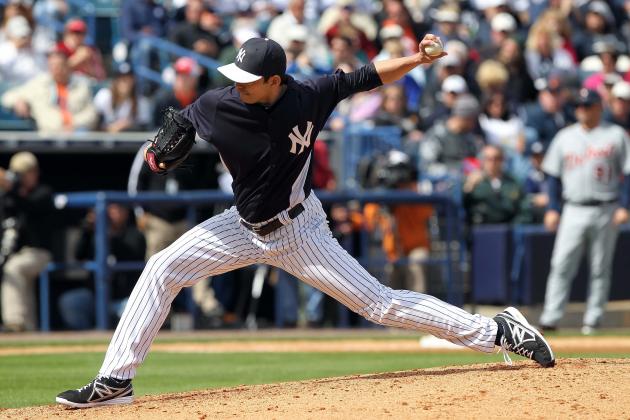 Kim Klement-USA TODAY Sports

Orangel Arenas, Chris Volstad, Julio Concepcion, Wade LeBlanc, Jimmy Swift, Luis Martinez, Michael Monster and Clay Rapada aren't well-known names, but they are all important players for the Los Angeles Angels.
They are the unknown element, all inked to minor league contracts.
Both Clay Rapada, a left-handed option out of the 'pen who could provide an option for the Angels if needed, and Wade LeBlanc, another left-hander, are two spring training invites to watch. And, of course, keep an eye on Michael Monster—if he succeeds, it is one of the more interesting comeback stories in MLB lore.
Ultimately, if any of those eight players contribute—whether that be in the minor leagues or as a surprise on the 25-man MLB roster—it's a win-win.
If not, there isn't any Vernon Wells-like money left for the Angels to eat.
Grade: TBD (A,B,C,D...maybe an F)
Unless otherwise noted, all stats and contract info were courtesy of baseball-reference.com.
Follow Rick Suter on Twitter @rick-suter.