Can the Arsenal Squad Stick Together Under Pressure?
Use your ← → (arrow) keys to browse more stories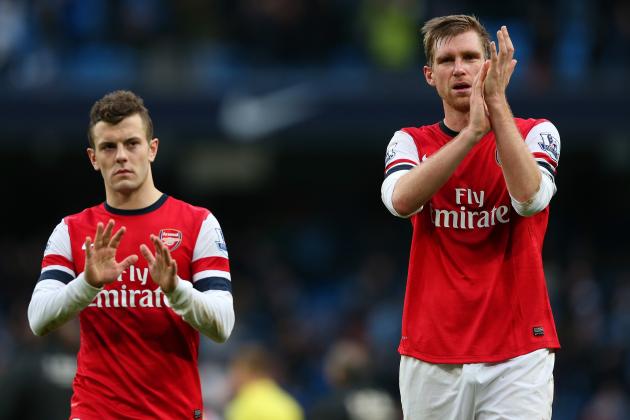 Clive Brunskill/Getty Images

Arsenal's squad will be tested to show both unity and resolve amid intense scrutiny during a congested festive period packed with tough fixtures.
The scrutiny has intensified thanks to what is something of a mini slump for a team that has otherwise been a model of consistency this season. The Gunners haven't won in their last three matches, and each failure has been more costly than the last.
It began with a tame draw at home to Everton that prevented Arsenal from crafting a seven-point lead atop the English Premier League. That was followed by a limp display in a 2-0 defeat to Napoli in the UEFA Champions League.
That condemned the Gunners to second place in their group. Qualifying as runners-up has only earned them a tie against last season's winners and current favourites, Bayern Munich, as confirmed by Arsenal.com.
Then there was last Saturday's 6-3 drubbing at the hands of Manchester City. That result reduced Arsenal's EPL advantage to a mere two points before they face three games in six days. That run begins with next Monday's home encounter with Chelsea, another title rival.
The defeat at the Etihad Stadium revealed some cracks appearing in this squad—things that should worry manager Arsene Wenger. The most notable was Per Mertesacker bellowing at teammate and fellow countryman Mesut Ozil for failing to applaud the traveling support.
Per Mertesacker was absolutely right to blast Mesut Ozil.
Mertesacker was absolutely right to chide Ozil for his cavalier behaviour. It sent entirely the wrong message and one that could rile other factions within the squad.
Ozil's actions separated him from the team when they should have been unified. Just like the revels of victory, a squad has to take the pain of defeat together.
When a new player, especially one adorned with a hefty price tag and a lavish weekly wage, shuns the group, it could create the impression he thinks he is above the rest.
Whether that is true or not is certainly up for debate. But it only takes a few to perhaps misinterpret Ozil's actions, and Arsenal are in trouble.
The notion of factions is also potentially problematic for this Gunners squad. After all, it features a clutch of British players, a clutch of German imports, a host of Spaniards and is underpinned by a French contingent.
In-fighting among and between different factions has doomed many of Wenger's squads in the past. It might even have happened to the great 'Invincibles' squad in 2004, an idea hinted at by Tim Stillman, writing for Arseblog.com:
However, Arsene will know from experience that where there's a core, a clique isn't far away. I don't profess any inside knowledge whatsoever, but I often wondered if the Invincibles side was dismantled so swiftly as a result of internal strife as much as stadium debt.

It's guesswork on my part, I'd like to appendage my guesswork as 'educated' but I'll leave that for you to decide. But it looked like a Franco Spanish split might have expedited some departures in that squad. Stories leaked that Lauren (raised in Seville from a very young age) and Patrick Vieira came to blows shortly after a 1-1 away draw with Rosenborg in September 2004. A month later, controversy ensued as Spanish coach Luis Aragones was filmed racially abusing Thierry Henry in a less than charming rant to club colleague Jose Antonio Reyes. Reyes was later duped into telling a Spanish radio station that he was playing with 'some bad people', suggesting that he was ostracised.
That's obviously not confirmed, but it is easy to imagine. The Vieira-Lauren spat even made the UK press when it was reported by The Guardian's David Plummer in October 2004.
Whether arguably Wenger's greatest team was indeed undone by in-house animosity is up for debate. But it certainly isn't the only time squabbles within the squad have appeared to undermine Arsenal.
The 2007-09 squad, Wenger's best since moving to the Emirates Stadium, seemed littered with these problems. Strikers Robin van Persie and Emmanuel Adebayor were clearly far from bosom buddies and their tensions spilled over once Adebayor had joined City.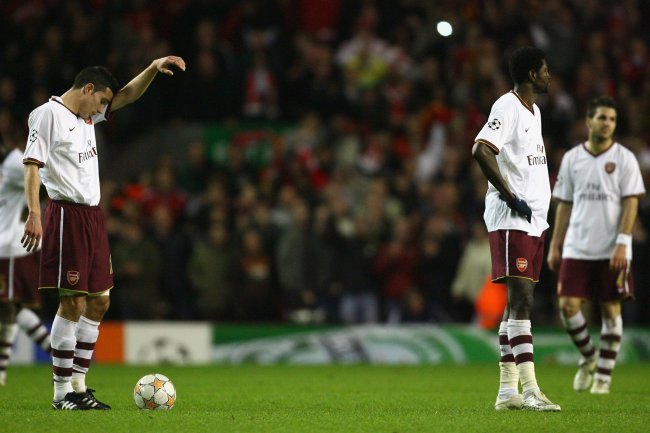 Alex Livesey/Getty Images
Similarly, there was Samir Nasri's refusal to shake hands with former teammate Williams Gallas ahead of a North London derby in November 2010. That spoke of ill will between the pair that must have been at least simmering when they both played for the same club.
Gallas, so often a divisive figure, also appeared to share an uneasy relationship with Kolo Toure. With this much tension behind the scenes, is it any wonder Arsenal often imploded late in seasons when the pressure was on?
That's what pressure can do to a squad where unity is only surface deep. The current team is set to face that same level of pressure.
A defeat against Chelsea could see them slip as low as fourth. That would be the cue for the familiar and not unjustified accusations of a team that can't beat the best and often flatters to deceive.
That kind of relentless media narrative either binds a group together or rips it apart. Tears in the fabric were obvious against City.
Aside from Mertesacker's rant, Arsenal often resembled a frustrated bunch during the game. Every misplaced pass was followed by a disgusted stare or arms thrown up in frustration.
For a team that has thrived as a unit, the Gunners looked an awful lot like a bunch of discontented strangers at times in Manchester.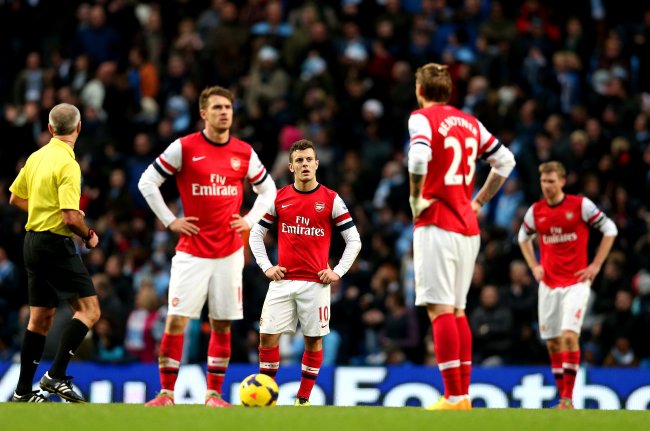 Clive Brunskill/Getty Images
But does all of that necessarily mean Arsenal are destined for another collapse brought on by in-fighting? It's perhaps too easy to assume this group of players will let that happen.
After all, their history is one of unity in adversity. That bond was forged during last season's 10-game unbeaten run to secure Champions League football.
Then, Arsenal came together in the midst of their lowest point in a deeply trying season. Defeats to Munich, Blackburn Rovers and Tottenham Hotspur appeared to leave Wenger's team fatally wounded.
But the group rallied thanks to key figures like Mertesacker. The presence of a vocal leader like the experienced centre-back provides optimism this team can stay together despite the pressure.
While his lament of Ozil may have been unsavoury to watch, it is good to know Arsenal have a player willing to get in the face of the so-called "star" if he deems it necessary.
Mertesacker is not the only member of this squad prepared to hold others to account. Mikel Arteta and Mathieu Flamini are both prepared to aggressively challenge their teammates when their instructions are not heeded.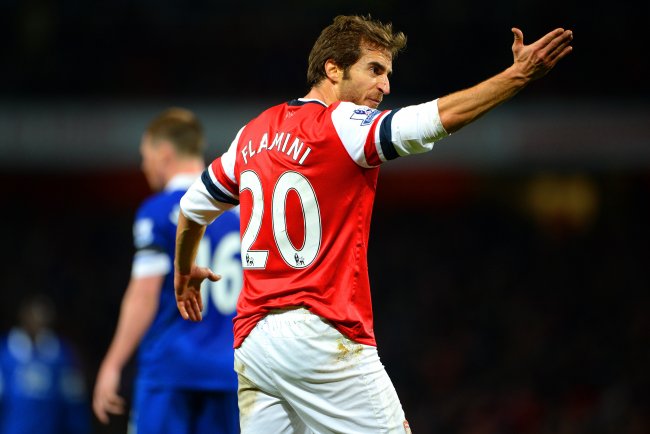 Michael Regan/Getty Images
These are players who can keep both the intensity and anxiety levels within the squad high. They will let others know what is expected in every game, regardless of the significance or the opposition.
They can provoke teammates to focus and show the initiative and desire to seize games and not shy away from the occasion. Those qualities will be critical over the festive period.
Arsenal face a tough week of press coverage after the defeat at City and drawing Munich in Europe. Questions about the veracity of their trophy-winning credentials are inevitable and perfectly warranted after a 6-3 defeat.
But it will be the squad's reaction to these questions and the pressure they create that counts. If the squad stays together, Arsenal can silence their critics.
The way to do it is to respond to pressure and adversity not with bickering and self-doubt, but instead, with the same unity and resolve that got Arsenal to the top of the EPL table in the first place.
Whether they will, or whether one more bad result against a title rival will turn spats into serious rifts, won't be known for sure until the games are played.