Arsenal must feel their luck in cup draws has run out.
This season, they have been drawn in the Champions League's most difficult group, they faced Chelsea in the Capital One Cup, and were recently paired with rivals Tottenham in the FA Cup.
Adding to that, they have now been handed the task of overcoming reigning champions Bayern Munich in the Champions League's knockout stage.
It's probably one of the two most difficult draws Arsenal could have faced. Barcelona's lax defending would have made them more palatable, while Atletico Madrid and PSG both lack European pedigree. Real Madrid would have been daunting, but on paper Bayern looks to be something of a disaster.
Last season, Bayern swept all before them. Their Wembley win over Dortmund allowed them to complete a historic treble.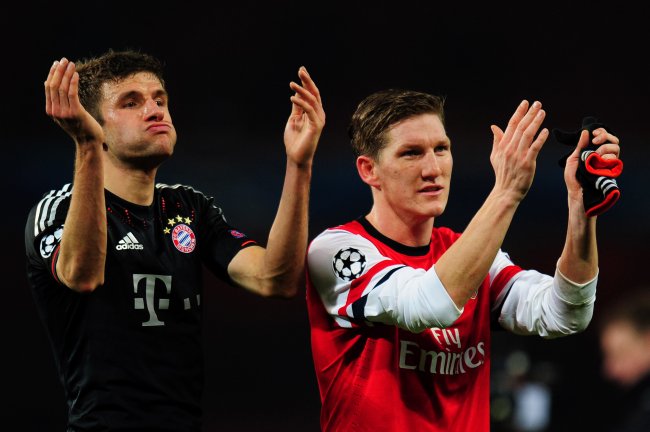 Shaun Botterill/Getty Images
Arsenal know about their brilliance only too well. Bayern knocked Arsenal out in the same round last season. The damage was done in the first leg in London, when Bayern waltzed to a convincing 3-1 victory.
This season, under new manager Pep Guardiola, Bayern have stepped up a gear. Not only have they snared Mario Gotze from rivals Dortmund, but they have introduced Guardiola's trademark possession-based football.
Bayern used to blow teams away; now they suffocate them. The German giants have even been known to employ Guardiola's innovative "False No. 9" system, with Gotze echoing the intelligent movement that made Lionel Messi such a force in the role in Barcelona.
It's not going to be easy for Arsenal to live with a revitalised Bayern.
However, the Gunners already have a template of how to dismantle their opponents.
Can Arsenal beat Bayern Munich?
In the second leg of last season's tie, Arsenal produced a masterclass of counter-attacking football to win the game 2-0. Although it was not ultimately enough for the Gunners to qualify, it sent a powerful message to Europe that Arsenal remained a force to be reckoned with. It also proved to be the catalyst for the run of games that saw Arsenal qualify for the Champions League once again.
That was the match in which Arsene Wenger first cast Thomas Vermaelen aside in favour of a partnership between Per Mertesacker and Laurent Koscielny. Wenger will now be desperately hoping that Koscielny recovers from the knee injury he picked up against Manchester City to face the Germans once again.
If Arsenal can keep it tight at the back, they have the players to do damage further upfield. Mesut Ozil will be particularly keen to impress against his countrymen, and by then former Bayern star Lukas Podolski should also be back to somewhere approaching full fitness.
Bayern look like an imposing opponent, but not an impossible one.
James McNicholas is Bleacher Report's lead Arsenal correspondent and will be following the club from a London base throughout the 2013/14 season. Follow him on Twitter here.