Many predict WBA champion Adrien "The Problem" Broner will defeat Marcos "El Chino" Rene Maidana on Saturday, Dec. 14 at the Alamodome, but just winning isn't going to be enough for the champion to raise his stock.
The 24-year-old is already considered one of the brightest young stars in the sport, but he is largely untested. In the closest thing to a stiff challenge he's faced, Broner won a narrow split decision over Paulie "The Magic Man" Malignaggi in June to take the WBA title.
In that fight, a few things may or may not have been exposed in Broner's game. The boxing world will be watching to see if The Problem has the answer for everything Maidana brings into the ring. Here's what Broner needs to accomplish—aside from winning of course—to make this an impressive performance.
Improve His Defense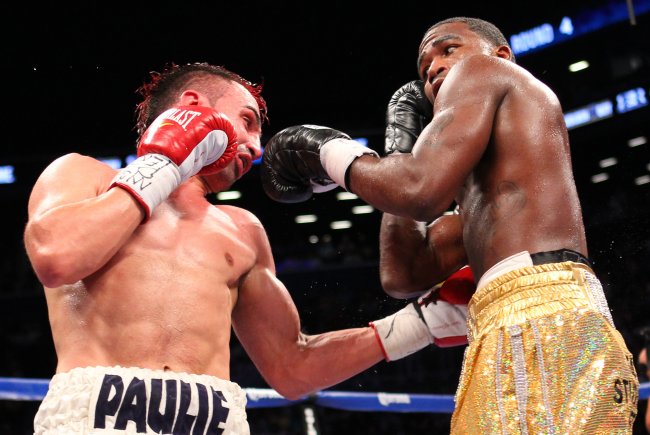 Ed Mulholland-USA TODAY Sports
Perhaps because he was fighting the light-hitting Malignaggi, Broner allowed himself to take more shots than he normally would have in his last fight. However, per CompuBox, Broner also ate 39 percent of Gavin Rees' shots in the fight before he defeated Malignaggi.
One thing is for sure: He can't afford to allow Maidana to hit him that regularly. Without question, Maidana is the biggest puncher Broner will have faced. If the 30-year-old Argentinian is able to tee off on Broner's body and head, we could see The Problem's chin tested more than he may want it to be.
Take a Solid Punch
Broner has yet to be hit by a legitimate. hard-punching welterweight. Maidana certainly qualifies with 31 KOs to his name. He's stopped tough fighters like Josesito Lopez and Jesus Soto Karass. If Broner can take a shot from him, any questions about his chin will fade.
Based on The Problem's stocky build, thick neck and strong calves, it looks as if he should be able to take a decent punch. But you never know for sure until you see a fighter get hit.
Drop Maidana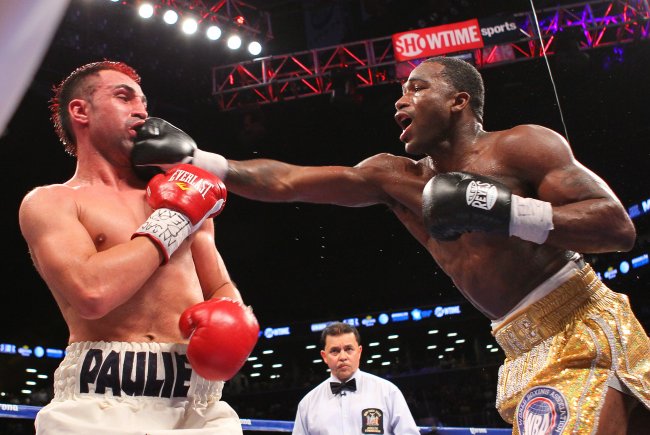 Ed Mulholland-USA TODAY Sports
Broner carried the reputation as a big-time puncher with him from his days as a lightweight, but he landed a lot of hard shots on Malignaggi and never seemed to hurt him. Truth be told, The Magic Man has a good chin, so we don't know if the results of the punches were a product of Malignaggi's toughness or a void of power at welterweight for Broner.
Though Maidana has been rocked and Amir Khan dropped him with a body shot in the first round of their bout, El Chino has never been stopped.
If Broner becomes the first fighter to stop Maidana, it will legitimize his power.
Follow me for news and musings on The Sweet Science.