The 5 Most Exciting Talents in the NASCAR Next Program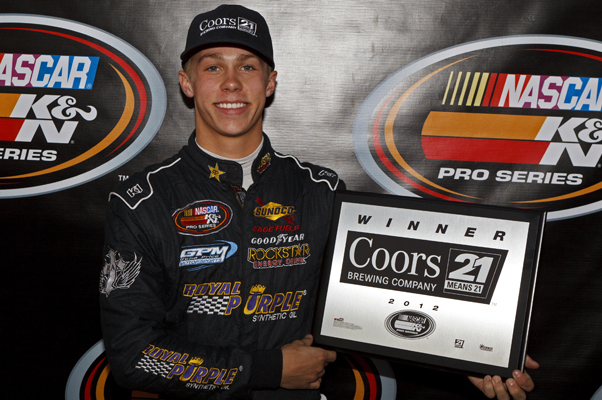 Photo Credit: www.dylankwasniewski.com
18-year-old Dylan Kwasniewski has been a standout in the NASCAR Next program, as he won the 2013 NASCAR K&N Pro East Series championship on the strength of six wins in 14 starts.
A program used to bring recognition to NASCAR's up-and-coming talent, the NASCAR Next program continues to evolve as it approaches its fourth year.
Originally known as the Next 9 program, NASCAR Next showcases drivers from all across America, as well as Canada and Mexico. According to NASCAR Vice President of Industry Services Jill Gregory,
This program has made great strides in a short time. The evolution of NASCAR Next builds on that success with the influx of young, talented drivers continuing throughout all of NASCAR's racing series. This program provides a platform to help foster their growth within our sport and introduce these young and talented drivers to NASCAR fans, who will likely be hearing more about them in years to come.
Here's a look at some of the hottest talents from the 2013 NASCAR Next class.
Begin Slideshow

»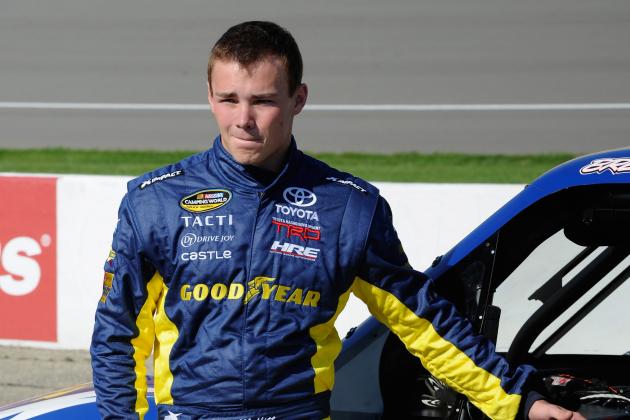 John Harrelson/Getty Images
21-year-old Moffitt has been a title contender in the NASCAR K&N Pro Series East since his debut in 2009.
Iowa native Brett Moffitt has been a K&N Pro East Series contender since his debut in 2009 at the age of 16. In 61 starts, he has posted nine wins, 33 top-fives and 44 top-10s. Add to that 10 poles and the fact that he has never finished lower in points than third in five seasons, and it's a wonder why he hasn't hoisted the championship trophy yet.
His experience in any of the major touring series has been minimal, with only one Nationwide start in 2012 that resulted in a top-10 while driving the No. 99 Toyota for Robby Benton, as he finished ninth at Iowa. Moffitt also posted top-20 finishes in both of his Camping World Truck Series starts in 2013, with a 14th at Kentucky and a 17th at Michigan.
Moffitt has proved himself to be a capable driver who knows how to take care of his equipment. Experience could pay dividends for him, so a limited schedule in a major series could produce some positive results.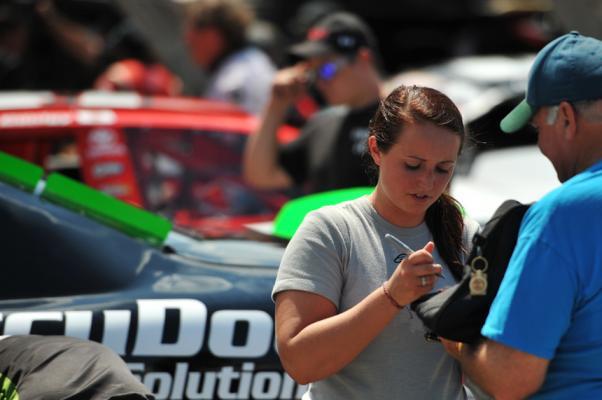 Getty Images
Ruston posted the highest finish in the K&N Pro East Series for a woman as she finished third at Greenville Pickens Stadium.
Kenzie Ruston completed her rookie year in the NASCAR K&N Pro Series East with a sixth-place points finish, having earned four top-fives and six top-10s in 14 starts. Ruston, a native of El Reno, Oklahoma, earned the highest finish for a woman in the series when she piloted her Turner Scott Motorsports Chevy to a third-place finish at Greenville-Pickens Speedway in the second race of the season.
Turner Scott Motorsports have an uncanny knack of picking up drivers with strong talent, and Ruston, who got her start racing Bandoleros at Texas Motor Speedway, has shown terrific car control and has a knack for taking care of her tires, according to Turner Scott co-owner Harry Scott.
Need proof? Check out her save(s) at Bowman Gray Stadium earlier in the year.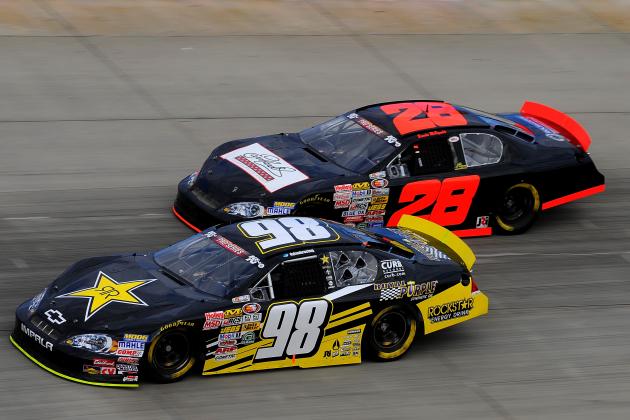 Will Schneekloth/Getty Images
Kwasniewski (No. 98) is a champion in both the K&N Pro West Series and K&N Pro East Series.
Las Vegas native Dylan Kwasniewski looks to join the ranks of fellow Las Vegas standouts Kurt and Kyle Busch as a NASCAR superstar, and from the looks of it, it looks like a great possibility. At 18, he holds a championship in both the K&N Pro West Series and the K&N Pro East Series.
Kwasniewski, who debuted in the Pro West Series in 2011, won the Rookie of the Year title off the strength of two wins, eight top-fives and nine top-10s, as well as a fifth-place points finish. His championship campaign in 2012 yielded three wins, 12 top-fives and 15 top-10s in 15 starts.
His Pro East Series title run yielded similar results, with six wins, eight top-fives and 10 top-10s in 14 starts. With that being said, Kwasniewski is a driver on the rise, and it will only be a matter of time before he's a consistent threat to win a major series.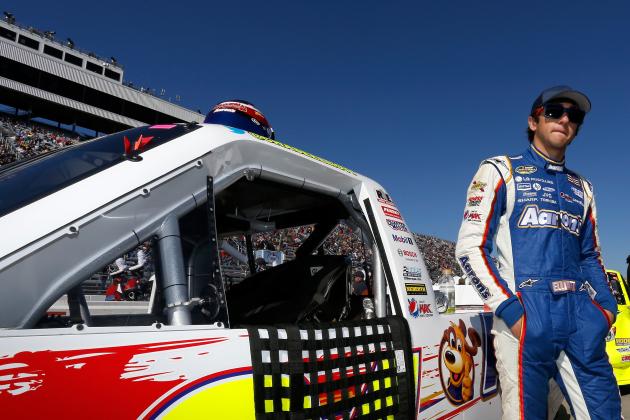 Geoff Burke/Getty Images
Elliott won his first Camping World Truck Series race at Canadian Tire Motorsport Park in September.
Being the son of 1988 Winston Cup Champion Bill Elliott, Chase Elliott has had to rise up to big expectations. Not only has he risen up to them, but he has surpassed them in his short NASCAR career.
Along with running five ARCA events this year, where he won at Pocono and earned three top-fives to go along with four top-10s, Elliott also ran nine Camping World Truck Series events. In his debut at Martinsville Speedway, Elliott piloted his No. 94 Chevy to a strong sixth-place showing. He proceeded to back that up with five straight top-fives, including a win at Canadian Tire Motorsport Park in the truck's first trip to Ontario.
In nine starts, Elliott earned seven top-10s and would have made a clean sweep of the season if not for a pair of crashes at Iowa and Martinsville later in the season. But a 10th-place at Phoenix in his last start of 2013 gave him momentum for his 2014 campaign, where he is sure to solidify his place in the sport.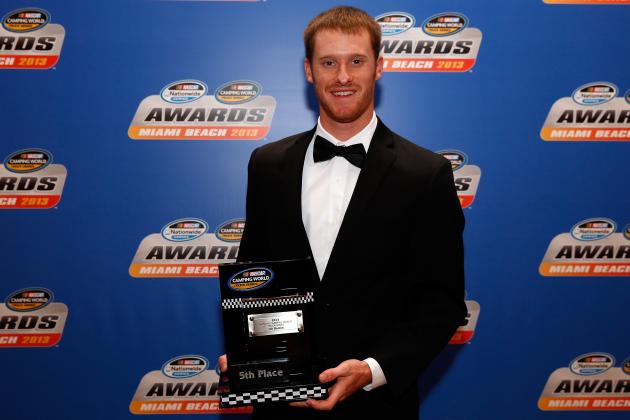 Chris Graythen/Getty Images
Despite finishing fifth in points for the 2013 Camping World Truck Series season, Burton lost out in the Rookie of the Year race to Ryan Blaney.
Rookies don't usually contend for championships, but there was a stretch in 2013 where 20-year-old Jeb Burton was in the thick of the hunt. As a matter of fact, Burton managed to stay in the top-five in points throughout the course of the season.
After finishing fifth in the season opener at Daytona, Burton put on a strong showing at Martinsville in the second race of the season, where he earned his first of seven poles for 2013 and managed to lead 154 of 250 laps before finishing third. That performance put him second in points behind Johnny Sauter, where he managed to stay for eleven straight races before a 12th at Bristol and a 22nd at Ontario dropped him to fourth in points.
Ultimately, Burton would finish fifth in points with a win at Texas in June, five top-fives and 11 top-10s in 22 starts with only one DNF. Burton plans to run the entire 2014 Camping World Truck Series schedule, as well as a limited Nationwide Series schedule. Expect great things (such as a 2014 Camping World Truck Series championship) from the son of 2002 Daytona 500 winner Ward Burton.
Follow Joseph on Twitter: @ThatSheltonGuy