Fresh off of two disappointing results in a row, Arsenal will face arguably their toughest test of the season against Manchester City on Saturday.
City have been impregnable at home this season, and seem to only be set back when they are on the road. Old Trafford might historically be Arsenal's bugaboo, but this season Manchester's most formidable fortress is sky blue.
Making matters worse for Arsenal, they will be forced to play City in a morning game less than three days after exerting themselves in a frantic Champions League game against Napoli. Almost all of that time will be taken up by travel, so the Gunners will have almost no time to rest their legs in the middle of a bruising schedule.
Moreover, City had the luxury of resting most of their best players against Bayern Munich in midweek, and they played a day earlier than Arsenal anyway.
The Sky Blues' victory over the reigning Champions League winners will surely boost their confidence ahead of a matchup with the Premier League leaders.
This is certainly not the best match for Arsenal to regain their momentum. Their ability to win trophies has been brought into question by crumbling late in both the Everton and Napoli games, forcing fans to search for consolation.
Normally, squad rotation would be the answer to the Gunners' problems, but Arsene Wenger played something close to his best squad in Naples. At least Arsenal have nine days between Saturday's fixture and their clash with Chelsea, giving them extra incentive to spend every ounce of energy at the Etihad.
Here's a look at how Wenger might structure his starting XI.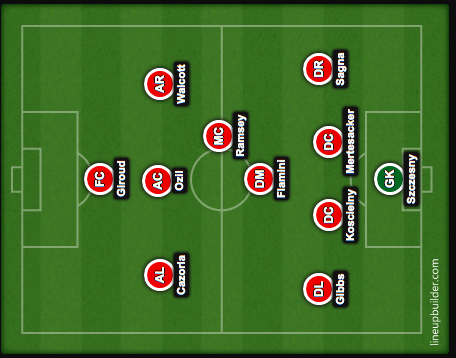 via lineupbuilder.com
A few notes:
John Cross of The Mirror reports that Bacary Sagna is once again fit. This is a massive boost for Arsenal's defense, which has been noticeably weaker since Carl Jenkinson came in in relief.

Jenkinson is not as bad as many in the Twitterverse portray him, but his ball control is substandard, and he lacks Sagna's defensive power and cleverness. While his constant running and willingness to sacrifice himself for the team are admirable, Sagna is certainly better in all aspects of the game.
Furthermore, starting Sagna will allow Arsene Wenger to finally, finally, give Theo Walcott his first start on the right wing since returning from injury weeks ago.
Perhaps Wenger was reticent about giving Jenkinson so little cover, as Walcott spends a disproportionate amount of time further up the pitch. But with Sagna doing the defensive work, Walcott will be able to scare City with his pace and give Arsenal a vital attacking outlet.
The Gunners have sorely missed his ability to get in behind defenses on the counterattack and poach goals. Walcott was the team's leading scorer last season, after all, and he needs to become a regular again.
Mikel Arteta, who had a terrible game in midweek despite the harshness of his two yellow cards, needs a breather while Arsenal try other options.
He has just not been the dynamic metronome he was last season. Perhaps his slippage is due to age or simply poor form, but Arteta's performances have swung from the excellent to the abysmal this season.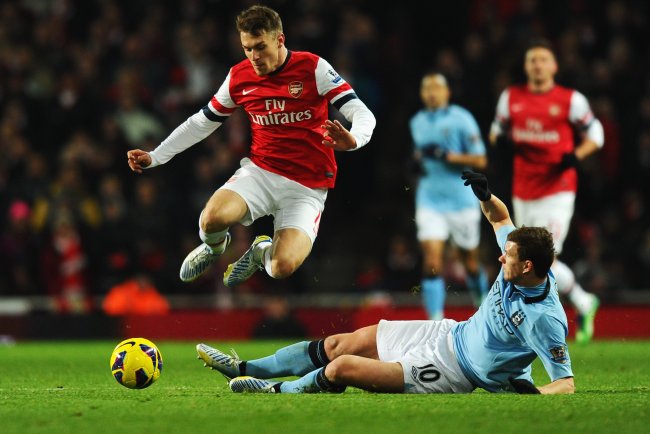 Mike Hewitt/Getty Images
Meanwhile, Mathieu Flamini does a very comprehensive and hardworking job every time he is placed in defensive midfield. He never shies away from confrontation of any kind, and although he is not as technically skilled as others in Arsenal's squad, he still picks his moments to surge forward.
He needs to start against a devastatingly effective attacking side. And he will be helped by the return of Aaron Ramsey, who hopefully is revitalized after only making a cameo appearance off the bench versus Napoli.
It was evident against Everton that Ramsey's season of tireless running had caught up with him, and he was not the box-to-box force he usually is. Wenger wisely decided to allow Ramsey some recuperative time in Naples.
Arsenal will have to hope Wenger's decision pays off against City. The Gunners are going to need every drop of energy they can muster to both stymie the Citizens' attacking juggernaut and break down a staunch defense that once again has Vincent Kompany at its heart.
Arsenal have demonstrated all season that they can run with the very best in Europe on their day.