To those supposed few who are out there protesting the No. 3 car's return to the Sprint Cup Series with Austin Dillon behind the wheel: What's the beef, people?
Dillon's grandfather and car owner, Richard Childress, has done a respectable job preserving the dignity and heritage of the No. 3 since it was last driven in the Cup Series by Dale Earnhardt in the 2001 Daytona 500. Earnhardt lost his life that day in a last-lap accident.
They took their time putting the No. 3 back on the track in any capacity in NASCAR, with Dillon running it first in the Camping World Truck Series and then in the Nationwide Series. He won championships in both series, by the way.
Every step they took with the No. 3, they first asked the blessings of Dale Earnhardt Jr., the elder Earnhardt's son and a racing icon in his own right, and his sister Kelley.
Does Austin Dillon have the right to drive the No. 3 car in NASCAR's Sprint Cup Series?
They did so again before deciding to take this final step: bringing the iconic car back into NASCAR's top national touring series where the late Earnhardt earned a record seven championships, tied with Richard Petty for most all-time. All but one of those titles came driving for his good buddy Childress in the No. 3 (many people forget that Earnhardt drove the No. 2 car to the first of his championships for car owner Rod Osterlund in 1980, before switching to RCR and the 3).
Dillon said that every time he has asked Earnhardt Jr. about driving the car, NASCAR's most popular driver has been nothing but supportive. Dillon said he experiences the same supportive vibe every time he intermingles with throngs of fans at autograph sessions.
You have to be comfortable with what you're doing and, I guess, approach it with grace. I got the approval of the people I felt I needed to get in the seat with the number. I've been able to run it for four years now, and have so many good times with it.

To see the fans' eyes light up at every autograph session, asking us if we're going to bring it back, asking us those questions, I really had no doubt this was the right thing to do. … At autographs, I've never had anybody not be positive about it. If I was getting beat up every time I went to an autograph session, that would make you think twice about it. But every time it was like, 'Man, we want to see that number back. We're excited about it.'
Childress said that for every negative call or comment received about the return of the 3 at the Richard Childress Racing shop, there have been 95 positive ones.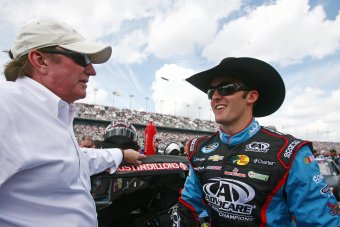 Jerry Lai-USA TODAY Sports
"You're never going to please everyone," he said. "You could win a million dollars and someone would want to know why you didn't pay the taxes on it."
Dillon said he wants to drive the 3 not only because it was Earnhardt's number, but because it was his grandfather's before that, back in the day when Childress drove a race car. Plus, there is the pizza angle:
What we did when I was growing up, if I wasn't at the race track on Sunday, I was sitting with my grandmother on the couch watching the race. And the biggest thing that would happen was if won the race, we would get pizza. I associated winning with pizza and Dale Earnhardt and my grandfather. When my grandfather came home, he was bringing the pizza with him and it was because of Dale Earnhardt and all of the stuff that black 3 was able to do as far as winning races and winning championships.

That was always what we pulled for – and I loved having pizza.
Childress recalled being with Earnhardt not long before his death. Childress said the legendary driver mentioned that he would someday want someone in their inner circle driving the No. 3 when Earnhardt no longer could.
"Having my own grandson be able to get in the car is really special," Childress said. "I just think back to the conversation Dale Earnhardt and I had riding back one night from a hunt in New Mexico.
"Those are the kind of things that help you feel good about, 'Hey, it's time to bring it back—and to bring it back with family.' I would never put no one in it except an Earnhardt or one of my family members."
Childress said he's flattered that Dillon mentioned the fact that ol' granddad used to run the 3, too, but joked that he did so then only because he was broke and wanted a single-digit number as opposed to a double-digit one that would have cost more to paint on the side of the car. They both know who really made the number famous in racing. Childress said:
As a kid, Austin was a big Dale Earnhardt fan. I've got pictures of him as a kid in a Goodwrench uniform with Dale holding him and (long-time Earnhardt pit-crew member) Chocolate [Myers] holding him as a baby. Austin used the No. 3 when he played in the Little League World Series [in 2002]. He had it on his go-karts.

I just found these little go-karts while cleaning out the barn [Tuesday]. There were two of them and both of them had the No. 3 on 'em. They were beat all to pieces, but he's always loved that number and that's what he always wanted to be associated with. As he got older and understood that I was a driver, and watching Dale, he understood the history of the number.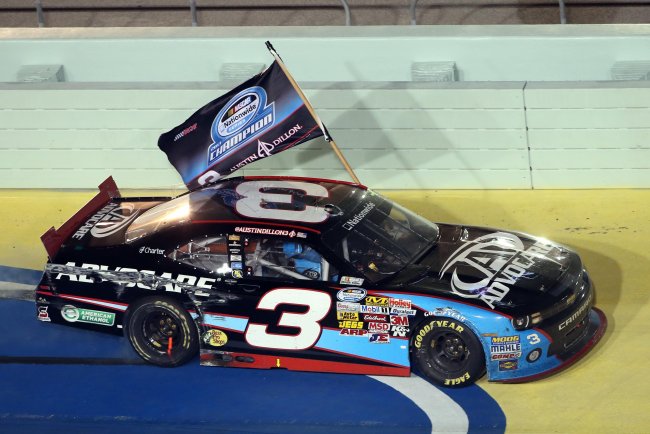 Jerry Lai-USA TODAY Sports
Dillon understands far more than just that. He also clearly understands why some people don't want him to drive the car with the famous number on it in the Sprint Cup Series.
But he said, correctly, that they'll just have to deal with it.
This is a great thing for NASCAR—not just for the makers of No. 3 die-cast cars and the sellers of No. 3 souvenirs, but for the fans who will now have the opportunity to buy all that stuff, too.
Furthermore, it will make for a more interesting season in 2014 and beyond as everyone wants to see how Dillon does in the No. 3.
The late Dale Earnhardt would have approved. Childress said he's sure of it. Who else has the right to say otherwise? Dillon said:
Certain people, I feel like if I went out there and drove the No. 59, they'd say I didn't deserve to drive it and be in the Cup Series. Look at Jimmie Johnson. He's a six-time champion and people still talk crap about him—that he shouldn't be winning or he's cheating or whatever. The guy didn't cheat to win and he's obviously done a good job, but in sports, you're always going to alienate someone no matter what you do or how you do it.

You're open to criticism at all times. It's just up to you how you handle it.
All quotes for this article were obtained firsthand by the writer.
Follow Joe Menzer on Twitter @OneMenz