Most American fight fans have no idea who WBA light heavyweight champion Beibut Shumenov (13-1, 8 KO) is, but he's working hard to change that. Shumenov is set to defend his title Saturday, Dec. 14 against Tamas Kovacs (23-0, 14 KO) at the Alamodome in San Antonio.
As part of the undercard for Adrien Broner vs. Marcos Rene Maidana, Shumenov continues his quest to establish his name in the states. This will be the third straight fight in the United States for the 30-year-old from Kazakhstan and his fifth in the last six bouts.
Like his more well-known countryman, Gennady Golovkin, Shumenov's hunger for top-level competition knows no geographical limits.
Kovacs is a 36-year-old, undefeated, late-comer to the sport. He turned professional at the age of 30 and has yet to face anyone of note. Shumenov has an opportunity to impress and perhaps create an opportunity for a much bigger fight the next time out.
It should be an excellent card with the Broner-Maidana clash headlining an event that also features: Keith Thurman vs. Jesus Soto Karass, Leo Santa Cruz vs. Cesar Seda and Jermain Taylor vs. Juan Carlos Candelo.
Looking for the viewing information for this Texas-sized quadruple header? I got you.
When: Saturday, Dec. 14 at 8 p.m. EST
Where: The Alamodome in San Antonio, Texas
TV: Showtime

The Book on Shumenov and Kovacs
A Peculiar Road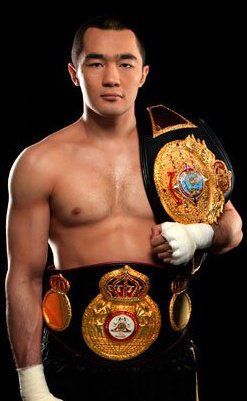 image from Beibut Shumenov's Facebook
How many fighters are multilingual? Perhaps a few. How many are also millionaires from their work as a businessman/lawyer? Maybe just one.
Shumenov's path to coronation hasn't been easy, though. He had to battle through a childhood filled with illness after having been accidentally poisoned, per Bill Dwyre of The Los Angeles Times. As an amateur boxer, he reached the 2004 Olympics but broke his hand in his first fight. He subsequently lost his second bout, per Anson Wainwright of The Ring Magazine.
He captured a world title in just his 10th professional fight but has since had deals to unify championships at 175 pounds fall through. He's been out of action for 18 months and is finally set to return to the ring for his fifth title defense.
Shumenov doesn't fight for money. He has plenty of that from working as an attorney with his family's businesses. Per Dwyre, the Shumenov's are among the wealthiest families in Kazakhstan.
It seems if American television gets a hold of Shumenov's story, his star will rise. Shumenov told Dwyre he was inspired by Mike Tyson. Perhaps he should follow in his foot steps and have a movie about his life produced while he is still an active fighter.
He certainly has an interesting background.
Fighting In America for the First Time
While Shumenov is well-acquainted with American culture, having shifted his residence to Las Vegas, the Slovakian-born Kovacs will be fighting in the states for the first time Saturday.
This is a significant step up in competition for him. Only two of his last four opponents even have a winning record. His last win came over a journeyman workhorse from Tanzania named Said Mbelwa in June.
Mbelwa has remarkably fought four times since that eight-round bout. Kovacs is looking to make a name for himself at Shumenov's expense. Talk about having eyes for ruining a perfectly good story.
Who wins Shumenov-Kovacs, and how?
Prediction
Kovacs is a stalker—in the boxing sense of the word. He likes to walk his opponents down and loves to launch power shots early and often. His style actually plays right into Shumenov's hands, though.
The champion is comfortable fighting moving backward. He uses lateral movement and backpedaling to disturb the timing of his opponents. He unpredictably plants and fires a flicking jab and/or hard right-hand leads.
A fighter who doesn't naturally give him the looks he needs could give him more trouble, but Kovacs will more than likely walk into enough straight rights to find himself in peril. Shumenov will remain champion with a relatively easy, eighth-round TKO of Kovacs.
Follow me for news and musings on The Sweet Science.